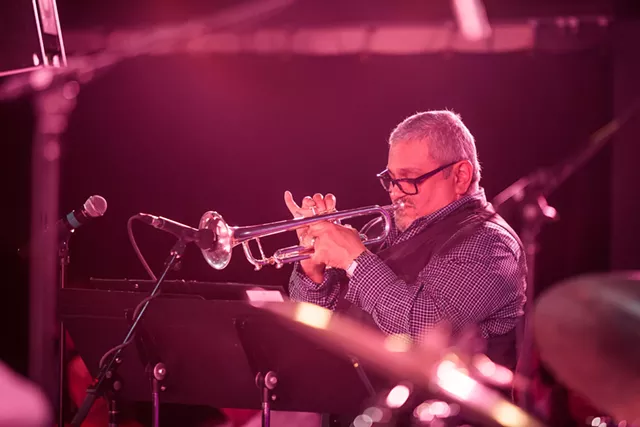 File: Luke Awtry Photography
Ray Vega
More live music is coming to the Burlington area, courtesy of the
Flynn
. On Friday, the performing arts center announced a new series called Hurly Burly, a string of free, outdoor, socially distant performances co-presented by the University of Vermont's
Lane Series
and the
Burlington Discover Jazz Festival
. Beginning on Saturday, August 15, with Latin jazz trumpeter, educator, bandleader and VPR host
Ray Vega
, the series will continue through September.
"Hurly Burly is an experiment," Flynn artistic director Steve MacQueen wrote in a press release. "If people can't come to the arts, then we'll bring the arts to the people, and we'll do it as safely as possible."
The series focuses largely on voices of color, as MacQueen pointed out, "in order to reinforce the Flynn's commitment to equity and anti-racist practices." Show locations will be announced via the Flynn's social media accounts on the day of, and artists will perform on an improvised stage affixed to a flatbed truck.
Subsequent performers include Middlebury College assistant professor of music
Matthew Evan Taylor
on Sunday, August 16; jazz singer
Ro Freeman
on Saturday, August 22; the
Vermont Symphony Orchestra
with an ensemble from
Lyric Theatre Company
on Sunday, August 23; Afro-fusion artist
KeruBo
on Saturday, September 12; percussive powerhouse
Burlington Taiko
on Sunday, September 13; cumbia band
Mal Maïz
on Saturday, September 19; and blues outfit
Dwight & Nicole
in collaboration with composer and activist
Daniel Bernard Roumain
(aka DBR) on Sunday, September 20.
"I love this group of artists," MacQueen wrote, "and I am really excited to see how the whole harebrained scheme works out."
Hurly Burly is the first live entertainment the Flynn has offered since it canceled the end of its 2019-20 season in March due to the coronavirus pandemic. In June, the venue confirmed that no Main Stage shows would be booked for the remainder of this year.