The murals along the Bank Street edge of the would-be CityPlace construction site in Burlington have been temporarily removed, as an SD Ireland crew works on restoring the sidewalk there. Over the weekend, the murals, mounted on plywood, were placed haphazardly in the pit, prompting concern from observers that the artwork was being mishandled. City staff and SD Ireland insisted that none of the murals was damaged.
A
Seven Days
reader spotted the murals in the pit over the weekend and photographed them, concerned that they were going to be trashed.
Burlington City Arts
commissioned 25 8-by-10-foot murals in October 2019 to adorn the construction barriers around the lot where the former mall stood, paying each artist $1,000 for their work. Last week,
the city announced
that Brookfield Asset Management, the project's majority owner, wants to abandon plans to build two 10-story structures on the lot.
SD Ireland crews began work on Friday afternoon to move the outer fence of the lot and restore the public right-of-way, including installing new curbs and parking meters and repainting the crosswalk. The work required removing 12 or 13 of the murals, according to Olivia LaVecchia, spokesperson for Mayor Miro Weinberger. While SD Ireland is under contract with the developers for that work, the city approved the temporary removal of the murals, LaVecchia wrote in an email, "which necessarily implies taking all reasonable care."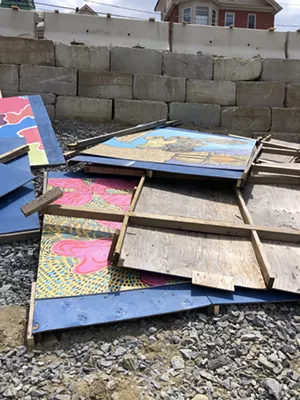 On Monday, an emailed statement from BCA read, "Burlington City Arts is disappointed to see that the murals on Bank Street were treated carelessly when they were temporarily moved to restore the right-of-way. We are working with the contractor at the site to confirm that the murals are undamaged, to ensure that they will now be stored safely, to get them reinstalled as quickly as possible, and to make sure that the contractor uses more care and respect in its interactions with public art going forward."
John Magnus, a project manager for SD Ireland, said the company's team hadn't done anything wrong in their handling of the murals.
"They were handled very carefully. They were all removed, and they were picked up with an excavator with a sling, and they were laid on the bank," he said. "The placement of them was random, but they were handled with kid gloves."
LaVecchia wrote in a follow-up email that the city had spoken with SD Ireland about the murals and been assured that none of them was damaged, adding that SD Ireland staff would "send photos to confirm that they have been safely and appropriately stored."
"They're available for inspection if anyone wants to take a look," Magnus said. The company's goal is to have the work on Bank Street completed by the middle of August, he said.
The murals removed appear to include works by artists
Cole Glover
,
Wylie Garcia
,
Abby Manock
and
Rob Hitzig
.