Where do we find entertainment these days? On our laptops and in our living rooms. The streaming options are overwhelming — and not always easy to sort through. So, in this weekly feature, I review a movie or series that might otherwise be easy to overlook.
The film:
Palm Springs
Where to see it:
Hulu
The deal:
At a swanky wedding in the desert, two disaffected guests meet cute — sort of. Sarah (Cristin Milioti), the sister of the bride, is drinking hard and on the verge of making a scene. Nyles (Andy Samberg), a bridesmaid's date, isn't particularly concerned when he catches his girlfriend (Meredith Hagner) hooking up with a groomsman. In fact, he isn't particularly concerned about anything, including the armed mystery man (J.K. Simmons) who appears from nowhere and attacks him just as he and Sarah are about to have an ill-advised hookup of their own.
When Sarah follows Nyles into a cave, she discovers the source of his perpetual chill: Whatever happens on the wedding day, he wakes up in the morning to find that … it's the wedding day all over again. Death and escape are equally out of reach. And now Sarah is caught in the time loop with him.
Will you like it?
This Lonely Island production doesn't go quite as far as name-checking
Groundhog Day
, but it doesn't hide the similarities. And that's fine. Since the release of the Bill Murray classic, the time-loop concept has become a subgenre unto itself (see below), and
Palm Springs
manages to do some fresh and clever things with the notion of people trapped in a hell of eternal recurrence. Perhaps more importantly, it resonates with 2020 viewers who have to keep checking to remind themselves what day of the week it is.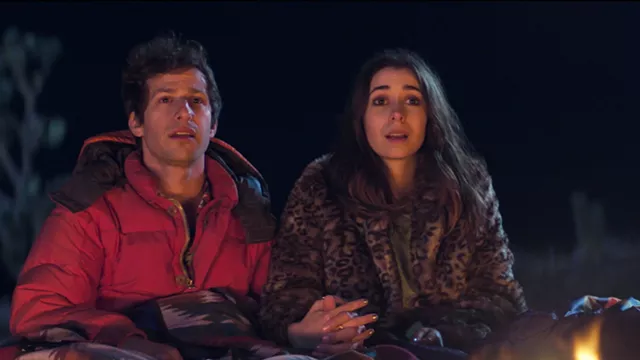 Hulu
Andy Samberg and Cristin Milioti relax into the time-loop lifestyle in Palm Springs.
The biggest surgery that director Max Barbakow and writer Andy Siara performed on the
Groundhog Day
template is putting the lovers of this rom-com in the time loop together. So, instead of the story of a man repeating his courtship of a woman until she reciprocates his feelings, we have the story of two people facing the prospect of starting a romance with personal baggage they can't unload. How far can this relationship go when Nyles wakes up every morning in bed with his girlfriend, and Sarah keeps reliving a mistake that casts doubt on her ability to commit to anyone?
While the leads have good chemistry, most of the supporting characters are underwritten — with the exception of Simmons, who brings both manic energy and gravitas to his role. Overall,
Palm Springs
achieves a healthy balance of comic wackiness and moody thinkiness. The resolution doesn't have the emotional pull that
Groundhog Day
's did, but plenty of subversive jokes and insights are scattered along the way.
Most thought provoking, perhaps, is Nyles' ambivalence about escaping the time loop. It's not clear how long he's been repeating the same day (months? years? centuries?), but it is clear he's come to appreciate the predictability of limited options. With so much uncertainty waiting on the edges of our lives, how many of us feel the same?
If you like this, try...
Destination Wedding (2018; Amazon Prime Video, rentable on various services): If you like the prickly romantic chemistry in Palm Springs, you might like the downright misanthropic chemistry of Keanu Reeves and Winona Ryder in this oddball rom-com, featuring one of the most (intentionally) awkward sex scenes ever filmed.
Groundhog Day (1993; Netflix, rentable on various services): It's an obvious choice, yes, but the comedy classic that spawned the time-loop trend is always worth revisiting.
Like time-loop movies? Don't like rom-coms? The Groundhog Day template has also inspired horror (Happy Death Day), action (the underrated Tom Cruise/Emily Blunt vehicle Live Die Repeat: Edge of Tomorrow) and soul-searching comedy-drama (Netflix's "Russian Doll"), among many other examples.