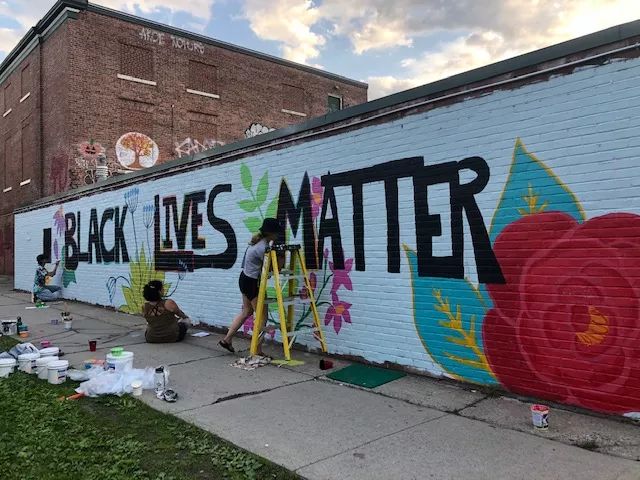 Courtesy of Jamie Bedard
Arts So Wonderful muralists at work in downtown Burlington
There's a pandemic going on, but not all artists have remained cooped up at home. The evidence? New public art has been popping up around Vermont, including Black Lives Matter-related murals and an outsize sculpture in Burlington.
While we can't include
all
the new public artworks spied around the state, here's a short sampling.
BLM Art and Vandalism
When Jamie Bedard started work on a Black Lives Matter mural on the wall of the old YMCA building in Burlington, she was surprised by how much attention she got. On the first day, when Bedard was painting with a group, a passerby stopped to ask why they weren't painting All Lives Matter instead. Bedard and her friend did their best to explain the importance of recognizing Black oppression.
"It was a good way to talk about it together with someone," Bedard said. "Just having that experience once, I feel better going into that conversation again."
But on her second day of painting, when Bedard was alone, things were less civil.
"People were shouting out things like, 'All Lives Matter,' and 'White Power.' I was just shocked," Bedard said. "I actually got the police called on me." She assured officers that she had permission to paint on the building.
Bedard, an art teacher, paints murals regularly for
Arts So Wonderful
, a nonprofit founded by Bruce Wilson to provide artistic opportunities for young people and to create public art. The Arts So Wonderful crew often paints electrical boxes and walls that are otherwise frequently tagged with graffiti. Its members have painted several other colorful murals in Winooski, Burlington and beyond over the past few months.
Burlington's Black Lives Matter mural has been vandalized once, but Bedard returned to touch it up.
"I actually started adding more flowers to it," she said. "If it does keep getting vandalized, I'll just keep adding more flowers."
In Rutland, a massive painting of a child's face and sunflowers is in progress on the back wall of the former Strand Theatre, facing the city's Center Street Marketplace Park. Artist Lopi LaRoe, known as
LMNOPI
, is calling the nearly four-story mural "We Who Believe in Freedom Cannot Rest Until It Comes."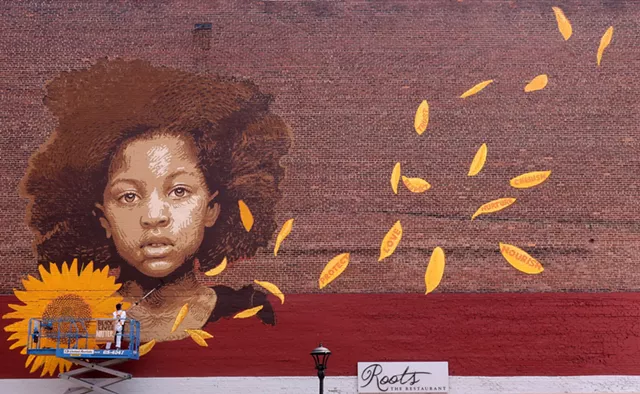 Courtesy of Lopi LaRoe
Artist LMNOPI working on "We Who Believe in Freedom Cannot Rest Until It Comes" in Rutland
"I hope that by creating this mural in the commons of downtown Rutland, our [Black, Indigenous and people of color] community members, especially the kids, will feel seen, appreciated, welcomed and know that we are fighting for a better world for them," LMNOPI wrote in a recent press release. "This mural is an act of love. Let it serve as a rallying cry for those of us who believe in freedom."
The artist is also no stranger to vandalism. Last fall, her Rutland mural of climate-crisis
activist Greta Thunberg was defaced
. LMNOPI restored it.
An official unveiling and reception for the new work will be held in the Center Street Marketplace Park on Monday, July 20, at 6 p.m.
In Swanton, the village's board of trustees voted to remove public art walls after they became a source of community strife,
according to reporting by VTDigger.org
. Some local residents have painted Black Lives Matter messages and images on the boards, and other residents promptly covered them up. Trustees decided the art walls, which are free to be painted by anyone in the community, were not intended to be used for "political messages."
Big Bird
If you've driven along Maple Street in downtown Burlington recently, you've probably spotted a giant red-winged blackbird peering down at passersby from its perch on a tall cattail. It's the latest larger-than-life public sculpture from
Jake Pill
and
Kyle Sikora
, the artists behind the honeycomb and bee installation on a wall of the Cathedral Square senior living facility in South Burlington.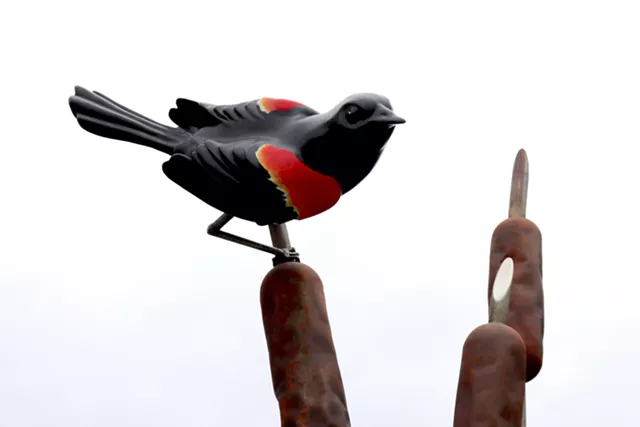 Margaret Grayson ©️ Seven Days
"Bird and Cattails" in Burlington
Pill and Sikora met while working at Conant Metal & Light. They originally proposed the sculpture "Bird and Cattails" to
Burlington City Arts
for potential placement near the long-delayed CityPlace Burlington development. Instead, BCA suggested the pair site it in the rain garden at the intersection of St. Paul and Maple streets.
"It ended up being pretty tricky to place them in the rain gardens," Pill said. A rain garden is designed to capture stormwater runoff and absorb it into the soil, so Pill and Sikora had to work closely with the Department of Public Works on their design to make sure it didn't interfere with the garden's functionality.
They went with a red-winged blackbird because it's native to Vermont's wetlands and has a symbiotic relationship with the cattails. The artists like to highlight natural relationships and local ecology in their work, Pill said, "especially because a lot of this public art comes out of city development and growth."
The sculpture is crafted from foam, fiberglass and steel, and painted with the kind of paint that gives roller coasters their bright finishes. Vermont weather requires a lot of consideration, Pill and Sikora said, especially if a work needs to last for years.
Out of Step
Screenshot ©️ Seven Days
July 16 tweet from University of Vermont police
A statue on the University of Vermont campus is missing its prized accessory. UVM Police
tweeted on Thursday
that the cane held by the statue of the Marquis de Lafayette on the University Green had been stolen and requested tips on its possible whereabouts. The statue depicts the Revolutionary War officer who
visited Burlington
for one day in 1825. (But you might know him better from the musical
Hamilton
.)