Sam Kerson
A panel on the VLS mural
Vermont Law School
announced that it will paint over a campus mural that depicts enslaved people and Vermont's role in the Underground Railroad, after students objected to its inaccurate portrayal of Black people.
The mural has been in the Chase Community Center on the school's Royalton campus since 1993, and conversations about its perceived racism have taken place since at least 2013, according to a statement from VLS students Jameson Davis and April Urbanowski.
"There was/is a group of BIPOC students who felt the mural to be inaccurate and dispiriting — so much so that a few decided not to study or interact with that part of campus," Davis and Urbanowski wrote.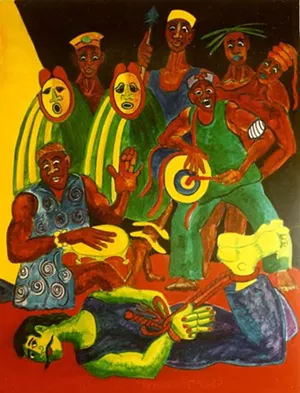 Sam Kerson
A panel on the VLS mural
In a July 6 statement to the VLS community,
originally reported by the Valley News
, Dean Thomas McHenry wrote that issues with the mural had been "recently brought to my attention." The mural, he wrote, was installed at the school "with the intention of honoring African Americans and abolitionists involved in the Underground Railroad. However the depictions of the African Americans on the mural are offensive to many in our community and, upon reflection and consultation, we have determined that the mural is not consistent with our School's commitment to fairness, inclusion, diversity, and social justice. Accordingly, we have decided to paint over the mural."
An email to McHenry was returned by a representative from a public relations firm, who said the school had no further comment on the mural.
Various panels of the piece depict Black people being whipped by a slave owner and attacked by a dog; Black people drumming and holding tribal masks over a tied-up slave owner; a blond white woman hiding Black people from a bounty hunter; and famous abolitionists including John Brown, Frederick Douglass, Harriet Tubman and Harriet Beecher Stowe. The characters are painted in a cartoonish style, and the slave owners have green skin.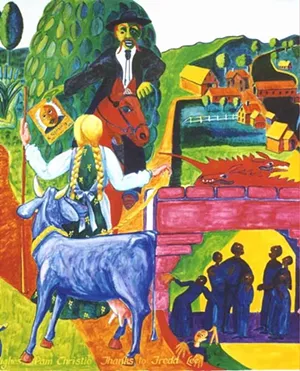 Sam Kerson
A panel on the VLS mural
In their statement, Davis and Urbanowski objected both to the exaggerated features of the Black people depicted in the mural and the framing of white people as "saviors" in the abolition movement. They said that students, both in 2013 and more recently, raised concerns that the mural depicted Black people as savages and caricatures, and that the depiction of white slave owners with green skin "disassociates the white bodies from the actual atrocities that occurred."
The white people painted in an abolitionist role have white skin; this "perpetuates white supremacy, superiority, and the white savior complex," they wrote.
The students' objections center on the mural's role in making Black students feel uncomfortable and alienated on their own campus. According to the VLS website,
31 percent
of students are people of color.
Sam Kerson
, a visual and performance artist and founder of Dragon Dance Theatre, approached the law school with the mural concept in 1993 and was awarded a grant by the
Puffin Foundation
for its painting.
Kerson
described the mural in detail in a film
by longtime Vermont filmmaker and activist Robin Lloyd. She came to the mural's defense in a July 10 email to local journalists and Burlington city councilors.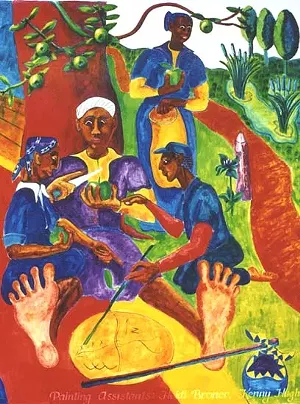 Sam Kerson
A panel on the VLS mural
"An educational institution, especially a law school, should understand the danger of such a decision — removing public art that has been endorsed and created through a community process, merely because it may offend a certain group," Lloyd wrote.
Kerson, who now lives in Québec, wasn't immediately available for an interview, but said in an email he had been in communication with McHenry about the mural's future. He told the
Valley News
that he objects to the mural's impending removal, comparing it to "burning books."
Davis and Urbanowski said they would like to see a new mural commissioned that allows a Black muralist to tell the stories of Black people, including a more accurate reflection of historical events. They're also requesting that the school install a reading corner with Black literature.
"We do not dispute that Sam Kerson sincerely attempted to create a piece of art that would 'celebrate the efforts of Black and white Americans in Vermont and throughout the United States to achieve freedom and justice,'" the students wrote, quoting
Kerson's website
. "Unfortunately, not all intentions align with interpretation, with this mural serving as a current example."