File Photo ©️ Seven Days
Gordon Stone
Iconic Vermont musician
Gordon Stone
died early Friday morning, according to his wife, Jennifer Harwood Stone. He was 70.
She announced Stone's death today in a post on his personal Facebook page:
Hi friends, it is with great sadness that I have to share the news of Gordon's passing. For those who knew him, played with him, or just enjoyed his music understood how truly gifted and talented he was.

He left us a beautiful gift in the form of his music.

We will all feel this loss deeply but hopefully we can also feel comfort in knowing he is now at peace.

I will miss my partner in life. He was like no other. I am grateful for the time we had together on this earth. Rest now.

There will be a private social distancing gathering for close friends and family at some point soon.

Light a candle, say a prayer, smile, play Gordons tunes and send him love for his journey.

Thank you all for friendships and musicianship.

- One Love
- Jennifer Harwood Stone
Stone was a world-renowned banjo and pedal steel guitar player, perhaps best known for his early collaborations with Vermont jam legends Phish — he played on the band's 1992 album
A Picture of Nectar
and its 1993
Rift
. Stone also frequently collaborated with Phish bassist Mike Gordon, to whom he once gave banjo lessons.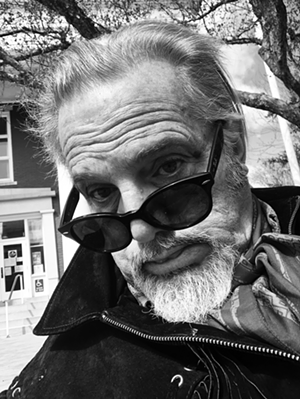 Courtesy of Gordon Stone
Gordon Stone
Stone was a cofounder of the pioneering progressive bluegrass band Pine Island, who were based in Burlington in the 1970s. In the '80s he was a member of the local new wave rock band the Decentz, as well as the acclaimed Vermont bluegrass band Breakaway.
In the 1990s he formed the genre-hopping Gordon Stone Trio, whose ever-shifting lineup over the years featured some of the area's finest bluegrass and jazz players. That band's fusion of bluegrass, jazz, funk and world music was a hallmark of Stone's expansive work as a composer, evident throughout his five solo releases dating back to his 1981 debut
Scratchin' the Surface
.
A student of the late banjo great Bill Keith, Stone approached his music with a unique ear for melody and rhythm, coupled with almost peerless technique.
"He's fearless," banjo player and Stone contemporary Tony Trischka told
Seven Days
in a June interview for an as-yet-unpublished story about Stone. "His timing, his groove. He's a master of syncopation and does these subtle things that are fantastic. He has great tone, and he takes chances."
Courtesy of Astrology Days Records
'The Music of Gordon Stone: A Retrospective Anthology'
Prior to his death, Stone had been working on a new record,
The Music of Gordon Stone: A Retrospective Anthology
. The double album features selections curated by Stone from throughout his career. It was scheduled for release on Friday, July 10, the day Stone died.
The album is a project of
Astrology Days Records
, a new label helmed by Stone's friend and banjo protégé, Patrick "Pappy" Biondo, and John Morgan Kimock. In a phone call, Biondo said he and Kimock are in the process of deciding how and when to release the record posthumously.
Stone's long struggles with drugs and alcohol were well known to his friends and collaborators. He had checked himself into rehabilitation center in California earlier this year. In a phone call, Harwood Stone declined to comment on the cause of Stone's death but said that results from a medical examiner would be available soon.
According to Harwood Stone, a private celebration of Stone's life will be held at a date to be determined.