Courtesy of Garret Harkawik
Ted Pelkey's 700-pound sculpture
There's something about a giant upturned middle finger that captures the public's attention — especially when it weighs 700 pounds, is mounted atop a 16-foot pole and is illuminated 24-7 for the whole world to see.
Westford resident Ted Pelkey spent 11 years and more than $75,000 in legal fees fighting the Westford Development Review Board after it denied him a permit to build an 8,000-square-foot commercial garage. Stymied in his legal fight, Pelkey decided to air his extreme displeasure in a creative, if vulgar, manner. His $4,000 chainsaw-carved "fuck you!" to town officials soon went viral, attracting national media coverage, from CNN to the
Boston Globe
. The sculpture attracted so much attention that musician Robert Richie, aka Kid Rock, commissioned Pelkey's chainsaw artist, Charlie O'Brien, of Waterbury Center, to make one for him, too.
Now, Wilmington, Vt., filmmaker
Garret Harkawik
has weighed in on the conflict with his aptly titled short film:
A Very Large Gesture
. While some people might wonder whether there's anything left to say about Pelkey's colossal bird flip, Harkawik's nearly 15-minute documentary touches on the intriguing backstory to Pelkey's 15 minutes of fame.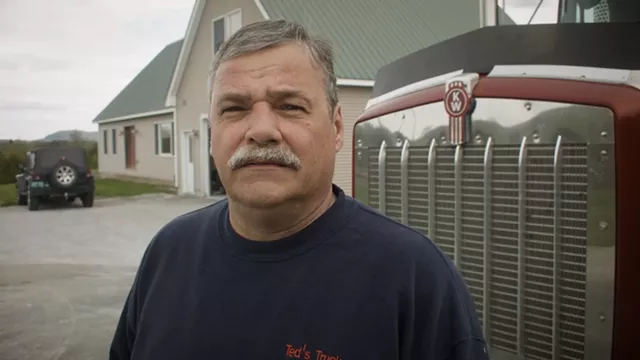 Courtesy of Garret Harkawik
Ted Pelkey
"Being that I live in Vermont, I know how these things work," Harkawik explained in a recent
Seven Days
interview. "The town of Westford is not this huge, sprawling, bureaucratic body. I knew there was more to the story."
Turns out, there was bad blood between Pelkey and Westford officials dating back nearly a decade. In 2011, Pelkey allegedly threatened to shoot a town official if he set foot on Pelkey's property, resulting in a complaint filed with the Vermont State Police. Then in 2016, after Pelkey's initial application for the garage was rejected, he allegedly sent then-Development Review Board chair Matt Wamsganz a threatening text; Pelkey was issued a no-trespass order barring him from future town meetings.
In the film, Harkawik doesn't pull all the loose threads in this small-town saga, nor does he lay out the town's entire case against Pelkey; citing ongoing legal concerns, Westford officials declined Harkawik's interview requests. Still,
A Very Large Gesture
manages to shift the narrative on Pelkey's pièce de résistance from a standard David-versus-Goliath tale to something more nuanced.
A Very Large Gesture
is the sixth documentary released by the 34-year-old Buffalo, N.Y., native. To date, his most widely acclaimed film has been his 2019
Doom Vibrations
. The 25-minute documentary profiles Brookfield, Conn., resident Steve Kohlhase and his 10-year quest to identify the source of a constant, low-frequency hum in his home, which for years caused him severe headaches and insomnia.
Doom Vibrations
was released as part of
The Atlantic
Selects film series and screened at the 2019 Vermont International Film Festival. To date it's been viewed online more than half a million times.
Why did Harkawik decide to profile Pelkey, given all the media coverage that Pelkey and his huge wooden appendage have already received?
Obviously, the story has a strong visual component, Harkawik explained. And one practical consideration for all of his documentaries is whether the subjects are willing to be interviewed on camera, which Pelkey was, and whether they're within a three-hour drive of Harkawik's home. "Another box checked," he added.
Pelkey's story also fits into a larger point that Harkawik said he wanted to make with
A Very Large Gesture
: After 10 years of being embroiled in a frustrating and costly legal conflict, Harkawik explained, "Ted channeled his anger into something creative instead of something aggressive."
"Whether the finger's helped my case or hurt it, it's made me feel better," Pelkey explains in the film. "I could have stood out by the road and screamed [fuck you] all day long, and nobody would have listened. You put that finger up there and it doesn't say anything. It's quiet [but] it makes a statement. And people are hearing it, loud and clear."
A Very Large Gesture
is available to stream for free on
Vimeo
and on
Harkawik's website
. The film score is also available on
Bandcamp
and
Spotify
.