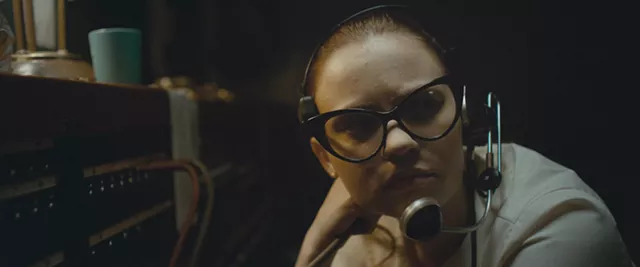 Courtesy of Amazon Studios
Sierra McCormick as a teen switchboard operator in The Vast of Night
Where do we find entertainment these days? On our laptops and in our living rooms. The streaming options are overwhelming — and not always easy to sort through. So, in this weekly feature, I review a movie or series that might otherwise be easy to overlook.
The film:
The Vast of Night
(2019)
Where to see it:
Amazon Prime Video
The deal:
No need to adjust your television. If your HD picture is suddenly fuzzy black-and-white, that's because it's the 1950s and you're watching "Paradox Theater," an anthology of tales of the unexplained. This week: What caused the bizarre noise that rippled over the airwaves in the town of Cayuga, N.M., one dark night while everyone was in the high school gym cheering on the basketball team?
Well, almost everyone. That doesn't include our main characters: Everett (Jake Horowitz), a hot-shot young radio DJ; and Fay (Sierra McCormick), a 16-year-old bobby-soxer/science enthusiast who works at the telephone switchboard. The story opens with Fay showing Everett her new prized possession: a portable cassette tape recorder.
Hopped up on dreams of futuristic gadgets like "tiny TV-telephones," Fay alerts Everett when a weird vibration disrupts her phone lines and his radio signal. Everett plays the mysterious sound for his listeners, drawing responses from a veteran (Bruce Davis) and a shut-in (Gail Cronauer) who have stories of strange sightings and government cover-ups. Is something out there, hovering over Cayuga? Something not of this Earth?
Will you like it?
Do you like classic "The Twilight Zone"? Do you like radio plays such as Orson Welles' "The War of the Worlds"? A Slamdance Film Festival audience favorite,
The Vast of Night
is self-consciously retro, and sometimes static enough to try viewers' patience. During the veteran's long monologue, for instance, director Andrew Patterson cuts to a gray screen, forcing us to focus solely on the actor's vocal performance.
And yet, because this
is
"Paradox Theater" — the film's framing conceit —
The Vast of Night
can suddenly become incredibly kinetic. Right in the middle, a bravura tracking shot sweeps us through town, more reminiscent of
1917
than of stagy midcentury television. (Read about how that shot was done
here.
)
Patterson (who doesn't give himself an on-screen credit) is an Oklahoma commercial director who funded the film himself and snagged an accomplished cinematographer (M.I. Littin-Menz) to create its dark, dreamy visual textures. Patterson and cowriter Craig W. Sanger pay almost obsessive attention to period detail, from cat-eye glasses to slangy, rapid-fire dialogue ("Raz my berry!").
The result is so immersive that it's easy to trance out, letting the film transport us back to the era when our folk legends of alien visitation took shape. Plotwise,
The Vast of Night
offers no new twists on those tales, but that doesn't seem to be the point. This is a story of dead-end towns and lonely witnessings, of young people dreaming of a better life through recording technology and not realizing that their passion leads inexorably toward our world of viral TikTok videos and deepfakes.
The Vast of Night
is a one-of-a-kind film experience that a lot of people may switch off. I ended up watching it twice.
If you like this, try...
"The Twilight Zone" (1959-64; Netflix, Hulu): Why not go back to the source? While not every episode is a classic, Rod Serling's original creepy anthology series is consistently atmospheric and cleverly written.
"Twin Peaks" (1990-91; Netflix) and "Twin Peaks: The Return" (2017; Showtime): The template for all small-town-with-weird-happenings shows. The Vast of Night shares some DNA with the surreal 1956 New Mexico sections of "The Return."
"The Magnus Archives" (2016 to present; more info here): I'm breaking my rules, because this is a podcast. But anyone who wishes that spooky radio plays would make a comeback needs to listen to this superlative UK horror series about an organization that collects supernatural witnessings. Like The Vast of Night, it's also a reflection on recording technology and the power of voice.