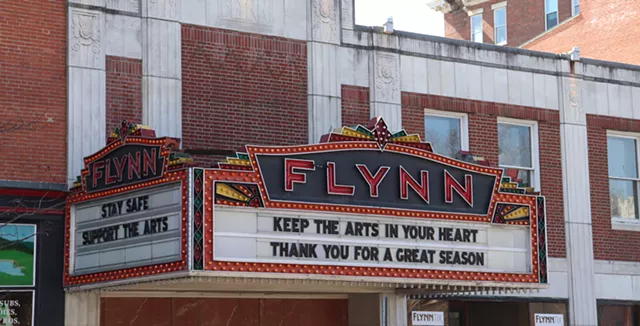 Margaret Grayson
The Flynn marquee
The Flynn
in Burlington announced on Thursday that it will not hold any performances on its Main Stage for the remainder of 2020 due to operating restrictions related to the coronavirus pandemic.
"This was not a decision made lightly, and we explored many possible alternatives before concluding that we cannot safely host performances in the theater for the remainder of this year," said interim executive director Charlie Smith in a press release. "Right now, we are unable to open to normal operations, but we're eager to resume activity and will do so as soon as possible."
The release states that the fate of performances scheduled at the Flynn in 2021 is still being considered and that the Burlington nonprofit is also exploring additional programming options.
Those options might include performances at the smaller Flynn Space theater, according to the Flynn's director of marketing and communications Kevin Titterton.
"We haven't given up on Flynn Space at this point," wrote Titterton in an email. "It depends heavily on safety guidelines, and what happens in our state and country over the next several months." Titterton explained that the Flynn Space requires much less production lead time than does the 1,400-seat Main Stage, which can require several months to a year to present shows.
Recently, Burlington live music
venues such as Nectar's and Club Metronome have reopened
under strict operating guidelines.
On March 13, the
Flynn canceled the remainder of its 2020 season
. A week later it
laid off or furloughed at least 12 employees
. In April, the Flynn
announced the cancellation of the 2020 Burlington Discover Jazz Festival
. It was
replaced with a virtual version of the fest
, the Burlington ReDiscover Jazz Festival.
In other coronavirus-related performing arts news,
Vermont Stage
also announced on Thursday that it was postponing the start of its 27th season until spring of 2021. The professional equity theater company was the resident theater company at the Flynn Space from 2000 to 2018, when it moved to the Main Street Landing Performing Arts Center in Burlington.