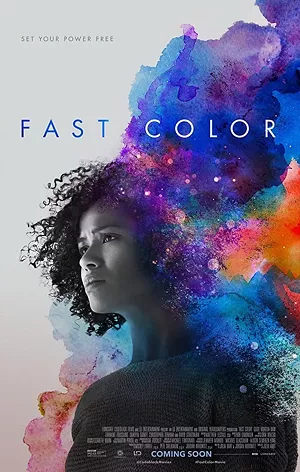 Where do we find entertainment these days? On our laptops and in our living rooms. The streaming options are overwhelming — and not always easy to sort through. So, in this weekly feature, I review a movie or series that might otherwise be easy to overlook.
The movie:
Fast Color
(2018)
Where to see it:
Amazon Prime Video, Hulu; rentable on iTunes.
The deal:
The future is here, and it's parched. In the world of
Fast Color
, rain hasn't fallen for eight years, water is strictly rationed, and grocery-store shelves are sparsely stocked.
But Ruth (Gugu Mbatha-Raw) has bigger problems to worry about: We meet her fleeing from a warehouse with rope burns on her wrists. As she drives across the wasted landscape, we soon learn who imprisoned her and why: Ruth has seizures that can cause earthquakes, opening new seismic faults. Hunted by government agents, she's continually being betrayed by a power she can't control.
Out of options, Ruth eventually makes her way to her childhood home, an isolated farmstead where her mother, Bo (Lorraine Toussaint), welcomes her with misgivings. Bo has devoted herself to providing a safe haven for preteen Lila (Saniyya Sidney), the daughter whom Ruth abandoned in her infancy.
In recovery from drug addiction, Ruth is eager to reconnect with Lila, who has her own powers. While Lila tries to teach Ruth to channel her power safely, though, the government scientists are busy closing in.
Will you like it?
Cowritten and directed by Julia Hart, and given a meager theatrical release in 2019,
Fast Color
is a superhero film with the budget and values of an indie. As Ruth tells Lila, "We're not superheroes. We're just trying to get by." In this human-scaled story — with just enough CGI to offer magic when it's needed — the superpowers are passed down quietly through a family of Black women who might just be able to save an ailing world.
Initially, as it follows Ruth on the road,
Fast Color
feels a bit underpopulated and disjointed, despite some gorgeous shots of Mbatha-Raw in the New Mexico desert. But when it reaches Bo's farm, the film hits its stride.
That's due partly to the convincing familial chemistry of the three leads and partly to the evocative setting. Isolated Middle American farmsteads are a staple of superhero lore: think Ma and Pa Kent's home in the Superman mythology. Bo's home is lovingly designed, full of vintage furnishings and family mementos — a fitting container for the legacy she carries.
For one Black critic's compelling take on that legacy, check out
Monique Jones' review on Shadow and Act
; she links the powers in
Fast Color
to "the recognition of the traumas Black women inherit through their bloodlines."
The ending of the film leaves more teasing questions than answers. Clearly there's more to explore in this story and, with any luck, it will be explored: As of 2019, a TV series based on
Fast Color
was in the works at Amazon Studios.
If you like this, try...
Miss Juneteenth (2020; rentable on various services): While it doesn't involve any literal magic, critics are praising the tender mother-daughter story in this directorial debut, along with Nicole Beharie's performance as a pageant winner turned single mom. It all pivots around a scholarship pageant celebrating the titular holiday.
A Wrinkle in Time (2018; Disney+, rentable on various services): Literal magic does figure prominently in Ava DuVernay's adaptation of the Madeleine L'Engle classic, featuring Storm Reid as the resourceful, STEM-loving heroine and Mbatha-Raw as her mom.
Beyond the Lights (2014; Netflix, rentable on various services): Mbatha-Raw has been due for stardom for a long time, as anyone knows who's seen her incandescent turn as a self-destructive pop star in this romantic drama directed by Gina Prince-Bythewood.