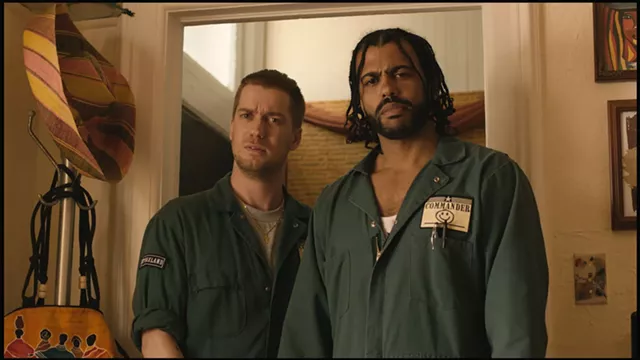 Courtesy of Lionsgate
Rafael Casal and Daveed Diggs as childhood friends in Blindspotting
Where do we find entertainment these days? On our laptops and in our living rooms. The streaming options are overwhelming — and not always easy to sort through. So, in this weekly feature, I review a movie or series that might otherwise be easy to overlook.
The movie:

Blindspotting
(2018)
Where to see it:
HBO Max, HBO Go; rentable on other services.
The deal:
In this explosive indie film from first-time feature director Carlos López Estrada, Daveed Diggs (Tony Award winner for
Hamilton
) and Rafael Casal play Collin and Miles, best friends who grew up together in Oakland, Calif. They work for a moving company, reluctantly facilitating the influx of affluent hipsters who are reshaping their beloved city. Together they banter, talk shit and freestyle about their frustrations.
But sometimes their concerns diverge. Collin is black; Miles is white. Collin is a convicted felon who is determined to stay out of trouble for the last three days of his year of probation. Miles is a fast-talking hothead who sometimes carries a gun.
Alone at night, Collin sees a cop shoot down a fleeing African American man. Aware that stepping forward as a witness would threaten his own freedom, he says nothing. But the violence haunts him, and over the course of those crucial three days, growing tensions draw him and Miles toward a reckoning.
Will you like it?
Big, bold and stylistically striking, with hot neon accents and occasional hyperreal touches,
Blindspotting
brings the energy of Spike Lee's
Do the Right Thing
to today's indie scene. While it's not an ensemble piece, it's strongly rooted in love for an ethnically diverse city, and it mixes comedy and tragedy with aplomb.
If you watch
Blindspotting
expecting something heavy, you may be surprised to find yourself laughing at Miles and Collin's clowning around and their pointed mockery of hipsters and tech bros. If you watch it expecting something light, the recurring motifs of violence and institutional racism will soon set you straight. Some scenes are funny until they take a dark turn, making us contemplate the thin line between the absurd and the awful. Others grapple so directly with painful subjects that they're tough — but rewarding — to watch.
Written by Casal and Diggs, who are themselves lifetime friends, the screenplay could sometimes be accused of melodrama. But the characters feel real and lived in, like the setting; it's not surprising that
Starz has announced plans for a spinoff series
.
Blindspotting
is not a movie about injustices that are safely in the past, or wrongs that are righted before the credits roll. It's an absorbing, powerful film about the joys and limits of interracial friendship in a contemporary setting where racism is still very much a given.
If you like this, try...
The Last Black Man in San Francisco (rentable on various services): While Blindspotting satirizes the gentrification of the Bay Area, this winning indie elegizes all that was lost in the process. Jimmie Fails plays a young man obsessed with the childhood home he can no longer afford to own.
Sorry to Bother You (Hulu; rentable on various services): Like Blindspotting, Boots Riley's anarchic comedy takes big risks as it tells the story of a young telemarketer (Lakeith Stanfield) who finds unheard-of success after he starts using his "white voice." Both films feature discussion-worthy scenes involving white guilt and the use of the N-word.
"When They See Us" (Netflix): This miniseries from director Ava DuVernay is a harrowing dramatization of the stories of the five defendants in the 1989 Central Park jogger case, whose convictions were later overturned. Detail by chilling, damning detail, DuVernay shows how far justice can go astray. As vital companion pieces, don't miss DuVernay's documentary 13th (Netflix) or her Martin Luther King Jr. biopic Selma. You'll find the latter in a special Amazon Prime Video collection called "Black History, Hardship & Hope"; many of those films currently rent for free.