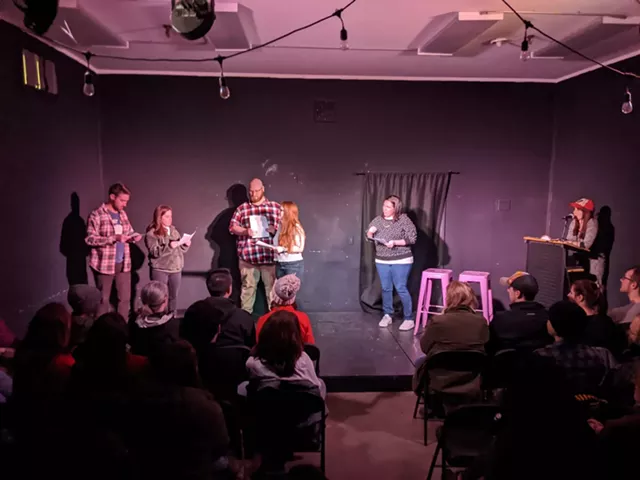 Courtesy of Anthony Apodaca
The last show at Revelry Theater on March 7
Revelry Theater, a 35-seat black-box venue in Burlington's South End known for hosting intimate comedy shows, is closing "indefinitely" as a result of the pandemic. Founder and artistic director Anthony Apodaca said the board decided it didn't make sense to keep the nonprofit theater open when the future of public events remains uncertain. He hopes to preserve funds to hold pop-up shows this summer and someday reopen in a new space.
"We don't think it's wise to keep burning cash or going into debt just to have to shut down again in the fall," Apodaca said, referring to the possible resurgence of coronavirus outbreaks. "We don't think we're close to being out of the woods of the pandemic, especially on a national level."
Apodaca said he received a Cultural Relief Grant from the Vermont Arts Council and Vermont Humanities and had enough cash on hand to make rent for another six months. But nobody is sure how long the pandemic will last.
"If we can't open at more than 25 or 50 percent capacity, and it seems like, based on science, there seems to be a really high likelihood we'll have to shut down in the fall … Is that the best use of money that people have donated to the theater? To keep it on life support?" he asked rhetorically.
Dan Bolles
Anthony Apodaca and his dog, Seamus
Apodaca founded Revelry in September 2018. A longtime student and performer of improvisational theater, he wanted a space to produce shows similar to those he'd worked with in Seattle and Brooklyn. The options in Burlington were too large or too expensive.
He saw a small, garage-like space on Howard Street for rent on Craigslist, and decided to go for it. Apodaca financed Revelry himself for nearly a year before converting the organization to a nonprofit.
"One of the cool things about Revelry is, it was totally free for anyone to produce a show there," he said. "I think that's what made it a really cool community asset. Our goal was to remove any economic barriers to the performing arts."
The revenue from the first 20 tickets sold would go to the theater, the remaining money to the performers and producers. The all-volunteer board of Revelry didn't do any programming.
"If people have ideas for a show, they can put it up," Apodaca said. "We don't want to be the arbiters of what's funny."
Revelry was home to regular performances by the Burlington improv group Boom City and a monthly variety show by University of Vermont sex educator and Revelry board member Jenna Emerson called "Sex w/Jenna."
Apodaca and a group of performers co-wrote and produced a show called
Abortion: The Musical
that sold out a one-night production last December. Revelry also hosted a monthly standup comedy showcase for comedians of color.
"Over the couple years, there's been a lot of things that I was really proud of that we put up," Apodaca said. He's confident that Revelry's regular performers will continue to find ways to reach the community through shows at other venues or outdoors and online video shows. He looks forward to pooling resources with other theaters.
As for the future of arts organizations in the state, Apodaca is less sure. "I don't think too many places yet have made the decision. But I think we're going to see a wave," he said. "I just think we're gonna lose a lot of important, little tiny organizations."
According to the Vermont Arts Council and Vermont Humanities, arts and cultural organizations statewide have reported $26.7 million in projected losses through 2020.