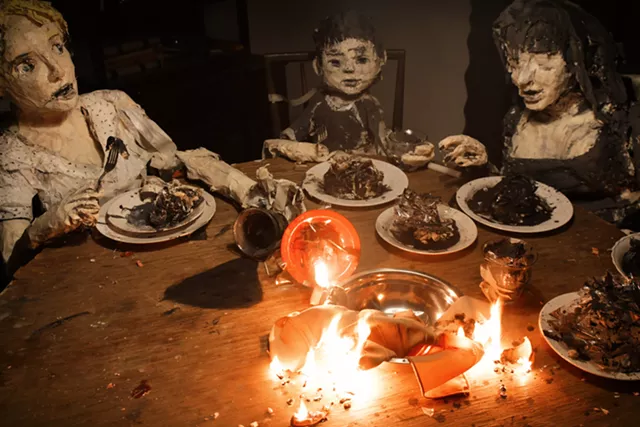 Courtesy of KimStim
María tries to feed her "family" in The Wolf House.
Where do we find entertainment these days? On our laptops and in our living rooms. The streaming options are overwhelming — and not always easy to sort through. So, in this weekly feature, I review a movie or series that might otherwise be easy to overlook.
The movie:
The Wolf House (La Casa Lobo)
(2018; released in the U.S. 2020)
Where to see it:
Currently available for rent on the
Vermont International Film Foundation's Virtual Cinema platform
.
The deal:
This 73-minute stop-motion animation took Chilean artists Cristóbal León and Joaquín Cociña five years to create. It's immediately clear why — every second is mesmerizing.
Imagine a film that appears to take place in a single continuous shot, à la
1917
. Now imagine a setting that looks solid and three-dimensional, yet constantly transforms itself like the fabric of a dream. Windows and pictures liquefy and flow across walls. Humanoid puppets made of papier-mâché or other materials are swaddled in masking tape and reduced to scrap materials before our eyes. It's like watching the formation and dissolution of ideas in a very disturbed brain, without being able to look away.
The plot is a dark fairy tale. A prologue describes the film as a product of "La Colonia," a fictitious settlement of Germans in the Chilean countryside. María (voice of Amalia Kassai) escapes from the strict discipline of La Colonia into the woods, where she takes refuge in a house with two stray pigs. There she strives to transform the swine into human children, the house into a home. But a wolf (voice of Rainer Krause) waits at the door — whispering to María, calling her home.
León and Cociña created the film in a series of temporary studios that they set up in art galleries from Santiago to Mexico City to Amsterdam. They based La Colonia on the real-life
Colonia Dignidad
, an émigré settlement founded by a former Nazi corporal. For decades, it was a place of slave labor and other human-rights abuses; Chile's military dictator, General Augusto Pinochet, used it as a prison and torture camp.
While none of that history is explicit in
The Wolf House
, León
told Hollywood Soapbox
that "We played a role-playing game in which we imagined being filmmakers inside the community [Colonia Dignidad]."
Will you like it?
The Wolf House
is not an animation for children, unless said children are serious aficionados of stop-motion, puppetry and surreal horror cinema. Not much happens, there is no comic relief, and the whole film is intensely creepy, with a climax that shares its logic and terror with nightmares.
Courtesy of KimStim
One of the many shifting versions of María in The Wolf House.
Despite its fairy-tale setup, this is a painfully contemporary story, a parable steeped in reverence for borders and fear of the outside world. María's travails suggest a cautionary tale crafted by a fascist regime obsessed with security and control. The filmmakers leave it for us to draw the real moral of the story: that the monsters we try so hard to keep out are probably already inside with us — or in us.
In the Hollywood Soapbox interview, Cociña calls
The Wolf House
"not a film that you will forget that easily. It kind of gets stuck to you, even if you do not want [it] to." He's absolutely right.
If you like this, try...
Alice (on Fandor; rent on iTunes): One of León and Cociña's influences was Czech stop-motion animator Jan Svankmajer, who made this 1988 surrealist version of Alice in Wonderland.
The Babadook (on Hulu; rent on various services): A live-action horror flick just as claustrophobic as The Wolf House, Jennifer Kent's 2014 film about a widow trying to protect her home and son features a horrifying animated monster and a nuanced message.
The Boxtrolls (rent on iTunes, Vudu, Amazon Prime): For a more kid-appropriate stop-motion animation about fear of the unknown, try this whimsical 2014 fantasy from Laika. And, if you happen to have HBO Max, this could be the time to introduce your family to the whole stunning Studio Ghibli catalog!