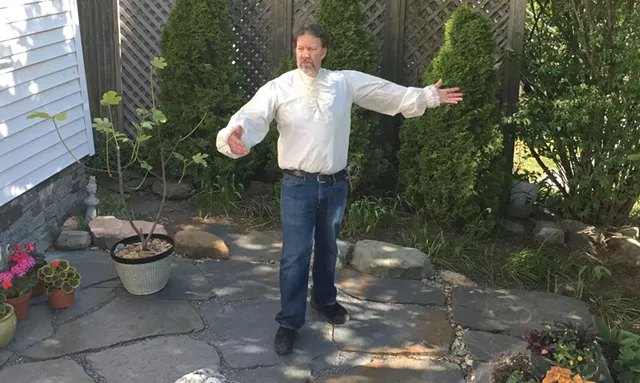 Pamela Polston
John Nagle as Don Armado
Clad in a frilly white shirt and jeans, a sword dangling from his belt, Don Armado tore into his scene. Passion drove his speech, dramatic gestures his actions. Smitten by secret love, the Spaniard conveyed his heart's desire to, um, an audience of two on a patio shielded by a magnolia tree on South Winooski Avenue.
My patio. My magnolia tree. Don Armado, aka actor and
Vermont Shakespeare Festival
cofounder John Nagle, presented one of the first home deliveries of "Shakespeare to You" on Saturday afternoon — a monologue from
Love's Labour's Lost
. Somehow the play, written by William Shakespeare in the 1590s, seemed just right for a warm spring day during a pandemic in 2020. All socially distanced and everything.
Pamela Polston
John Nagle as Don Armado
Like all fairs, festivals and theatrical events this summer, VSF was shut down by the coronavirus. This was a particular bummer for Nagle and his wife, cofounder Jena Necrason, given that they had taken 2019 off to regroup and recharge. They and the actors already cast in this year's production of
The Merry Wives of Windsor
were excited to get the show on the road. Alas, it was not to be —
Merry Wives
has been rescheduled for 2021.
But actors wanna act. And, as Nagle put it later, "I can't make masks, but this is what we can do." He and Necrason came up with the idea of offering brief private performances — à la singing Valentines — to "reach out to people who are isolated, or just need a little lift," Nagle said. So far, four such home deliveries are booked for this week. And they are completely free.
Not even a private patio, yard or deck is required. These adaptable thespians — 14 of them — are also willing to perform over Zoom, or even on the phone. So, really, they could Bard at anyone anywhere in the country.
One of Shakespeare's earliest comedies,
Love's Labour's Lost
was first performed in 1597. Its fantastical, byzantine plot was based loosely on people who were known at the time but have since faded from historical significance. That obscurity and the twisty wordplay, difficult for modern audiences to follow, account for a declining number of productions of the play over the centuries.
But Nagle still knows
Love's Labour's Lost
, and pretty much all things Shakespeare. Performing his chosen scene on Saturday, he did right by the play's themes of masculine desire and the hilarious futility of abstinence. At one point, on his knees, he pretty much kissed the flagstone, and if that does not say masculine desire, I don't know what does.
Anyone interested in a Shakespearean pick-me-up — or a unique graduation or birthday present — can select from a
menu of options
on VSF's website: famous speeches, love scenes, politics and more. I asked for "anything comedic," because quarantine. But, looking down at this performance from my deck, I realized that Romeo would have been right at home.