Courtesy of the Vermont Jazz Center
Attila Zoller
Earlier this month, the
Vermont Jazz Center
in Brattleboro was granted nearly $41,000 from the Virginia-based
Council on Library and Information Resources
to preserve a special chapter in jazz — the Attila Zoller Collection of Historical Audio Recordings: 1955-1996.
That cache contains hundreds of hours of largely unheard recordings featuring Zoller, the legendary guitarist and Vermont Jazz Center founder, as well as many of his equally notable pals from the New York City jazz scene. These include hepcats such as drummer Bob Moses, saxophonist Joe Farrell, trombonist Albert Mangelsdorff, pianist Don Friedman, guitarist Jimmy Raney and saxophonist Lew Tabackin, to namedrop a few.
Those are just
some
of the celebrated players found on Zoller's 200 reel-to-reel recordings of which the Jazz Center is aware. Even more tantalizing are the performances still to be unearthed. Recently, a recording was discovered of what appears to be an undocumented concert with the Oscar Peterson Trio.
"We really don't know what else we might find," said Vermont Jazz Center director and pianist Eugene Uman. He noted that Zoller's organizational skills weren't exactly on par with his handiwork on guitar. "He was
not
a good record keeper," Uman said.
Zoller was born in 1927 in Hungary but fled to Austria after World War II as Russia occupied his home country. He moved to Germany in the 1950s and played with jazz pianist Jutta Hipp and saxophonist Hans Koller. Zoller also befriended American players such as saxophonist Lee Konitz — who recently died from COVID-19 — when they would pass through on tour. Zoller eventually landed in the U.S. to attend the Lenox School of Jazz in Massachusetts. His roommate was free-jazz pioneer Ornette Coleman.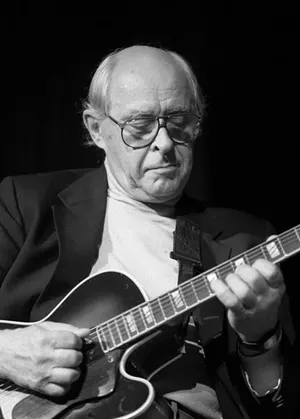 Courtesy of the Vermont Jazz Center
Attila Zoller
Zoller became a prominent player in the New York City jazz scene in the 1960s, performing and recording with everyone from Benny Goodman and Ron Carter to Herbie Hancock and Jimi Hendrix. He captured a great many of his musical adventures along the way.
"He carried a tape recorder with him everywhere," Uman explained. "He knew he was an important persona, so he really wanted documentation of his abilities and the people he played with."
Seeking an escape from city life, Zoller moved to Newfane in the early '70s. He'd invite friends such as Konitz, Carter, Friedman, George Mraz, Gene Rush and others to Vermont to play and unwind. Those sessions evolved into a summer workshop series, which eventually turned into the Vermont Jazz Center. Zoller passed the VJC reins to Uman in 1997 and died the following year.
Once the Zoller collection is preserved and clears various copyright hurdles, it will become part of the center's online archives and be accessible to jazz aficionados and academics.
"We feel like we have a lot of material which would be very interesting for people who are doing jazz research into the history and culture," Uman said.
"Attila Zoller is someone who was really important in the music," he continued, noting that last year
Zoller was named among the 10 most underrated jazz guitarists in history by JazzTimes
. "He was a living legend and we're preserving the recordings he went to great pains to keep," Uman concluded, "because he had a feeling that at some point people would realize he was a living treasure."