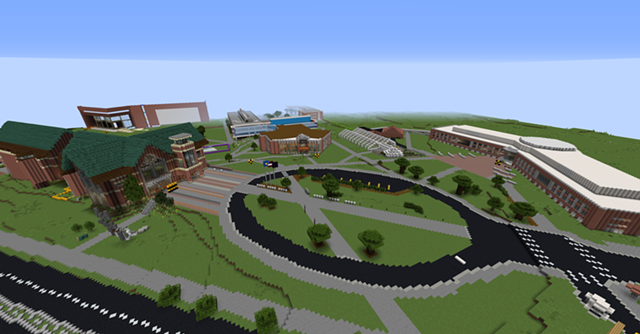 Courtesy of UVM CampusCraft
The in-progress UVM Minecraft campus from above
The University of Vermont campus is a quiet place these days. With online learning in place, most students have returned home to 47 states and 67 countries. For students like Lauren Posklensky, it was lonely to be suddenly separated from campus and her friends there. Transitioning to online classes, she said, was "pretty rough."
But Posklensky kept in touch with a group of friends from UVM and often played Minecraft with them. That's a video game in which players can build and manipulate a blocky, 3D world.
Posklensky heard about a school in Japan hosting a virtual graduation ceremony in Minecraft. She half jokingly suggested to her friends that they should try to recreate the UVM campus in the game.
And UVM Campus Craft was born. The students have built the Dudley H. Davis Center, complete with a cozy version of Henderson's Café, and have made progress on the Old Mill and Waterman buildings. Their main goal is to finish the UVM Green, adjacent to Waterman, so graduating seniors can virtually walk across it like they would during a normal UVM graduation ceremony.
"For me, it's a lot about getting back to that familiar scene," Posklensky said. "[And] it just feels so productive when you get something done … It was amazing watching the Davis Center go up."
Courtesy of UVM CampusCraft
Henderson's Café at UVM, complete with fireplace
Unbeknownst to Posklensky, students 35 miles south had the same idea. Middlebury College senior Lizzie Friesen plays Minecraft with her younger brother, and she became interested in using geography data to overlay the campus into the game. Friesen downloaded open-source data that contained the heights and distances of buildings on the Middlebury campus and input it into the game to make a rough map to start from.
"I made it but didn't know what to do with it," Friesen said. She had no idea how to host a Minecraft server and get other players involved.
She posted about her project in a Middlebury Facebook group and quickly found two other students who were interested. Matthew Ottomano had never played Minecraft before, but he missed campus and thought Friesen's project might get more traction if it had a website. John Cambefort had experience with Minecraft servers and plug-ins to make the game more easily manipulated.
Together, the students launched MiddCraft. They're working to find funding — maybe even from the college — for a permanent server setup, and to fund students who don't have $27 to shell out for a Minecraft download.
Friesen said 26 people have registered to help build the campus. In a group Zoom call, the three students described how much they've learned from the project already.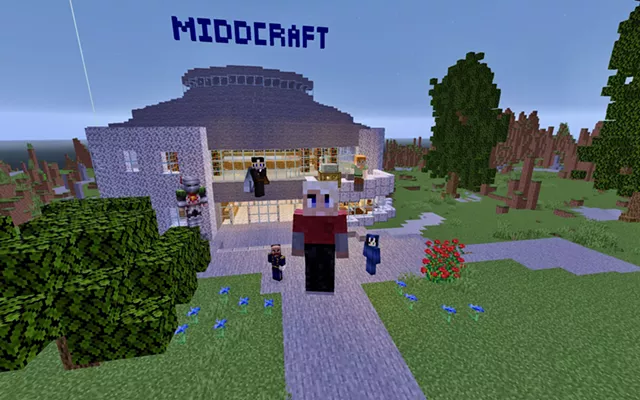 Courtesy of MiddCraft
MiddCraft creators and builders, in digital form, posing on their Minecraft campus
"I didn't know how to host a website up until now," Cambefort said.
"I just realized I can put that on my résumé!" Ottomano said.
Both groups had to find a way to organize people who were interested in building. Posklensky had help getting UVM Campus Craft off the ground from fellow students Jarrod Lee, Hunter Jensen, Tim Fitzgerald and Luke Nawrocki, as well as alum Brandon Goodwin and Champlain College student Alex Aoun. Their map is big enough that they eventually could build Champlain College and downtown Burlington.
Posklensky said some students are eager to make a virtual "'Sputie's" — Rasputin's, a bar on Church Street. About 20 students now work regularly on the virtual campus.
Courtesy of UVM CampusCraft
The in-progress Old Mill building at UVM
In the meantime, just building the game has been a great quarantine activity for Posklensky. "It's not stressful. It's a very calm game, and it's got nice ambient music and there's little pressure," she said.
For Friesen, who graduates this spring, Middcraft has connected her to students she didn't know very well during her time at Middlebury — including her cofounders, Cambefort and Ottomano.
"For students who don't have a campus to connect over … it's really hard sometimes to just hop on Zoom or FaceTime and have something to talk about. I think Minecraft creates a common goal," Friesen said. "It really reminds us of what we share."