Eva Sollberger
The Sunset Drive-In
Since late March, the only movies playing in Vermont have been in people's living rooms. That changes this weekend. Peter Handy, owner of the
Sunset Drive-In
in Colchester,
announced on Facebook
Wednesday that he will start showing movies on Friday and continue all week.
The announcement arrived the same day as Gov. Phil Scott's latest
press conference
on the state's COVID-19 response. After discussing the possibility of drive-in graduations, Scott was asked about drive-in movie theaters.
"I'm not aware of drive-in theaters being precluded from opening at all," the governor responded. He noted that the state has "encouraged drive-in religious services," then reflected that the coronavirus response might lead to "a revival of the past in many respects. We're seeing carhops and curbside service and so forth, and we may see more of the drive-in theater approach."
A May 13 memo
from Vermont's Agency of Commerce and Community Development confirms that "Drive-in operations including, but not limited to, movie theaters, restaurants, religious services, graduation ceremonies, and other gatherings may occur," subject to safety guidelines.
This is good news for Handy, who opened his drive-in's snack bar for weekend takeout in mid-April, offering burgers, fries, chicken tenders and "Hot Buttery Home Movie Night Popcorn," according to a Sunset Facebook post. On April 29, the Sunset started offering Dinner and a Movie: Each vehicle of takeout customers gets "a ticket good for one admission to any screen of your choice once we are able to show movies again," notes the website.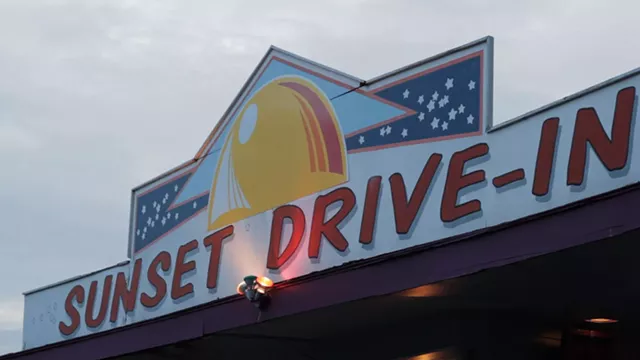 Sales of food shot up, and now Handy hopes to revive his business while following the Agency of Commerce guidelines. The Sunset will operate at 50 percent capacity, he told
Seven Days
, with 14 feet between vehicles. (The guidelines require a minimum of six feet.) Moviegoers will buy tickets online, scan them through the window at the entrance and get snack bar items delivered to their vehicles, where they'll be required to remain during the show. The Agency of Commerce also specifies that "Restrooms on-site must be cleaned regularly."
"You can drive in ... and sit in your car, and you're isolated," Handy said. "It's the safest and most natural social distancing there is."
With Hollywood's new releases currently on hold, Handy will draw on films that were released in early 2020, just as the coronavirus threat closed theaters. This weekend, for horror/action fans, the Sunset will offer
The Invisible Man
followed by
The Hunt
; for families,
Trolls World Tour
followed by
Dolittle
.
Vermont has
two other drive-in movie theaters
, the Upper Valley's
Fairlee Drive-In Theater and Motel
and the
Bethel Drive-In
. The latter doesn't normally open until Memorial Day.
Erika Trapp, who owns the
Fairlee Drive-In
with her husband, Peter, said that schools all over the Upper Valley have contacted them about the possibility of hosting drive-in graduation ceremonies. The couple has been waiting for a go-ahead and guidance from the state. "No one has ever contacted us," Trapp said Wednesday.
Equipped with the new guidelines, the Trapps plan to open for Memorial Day weekend, the traditional big kick-off to the drive-in season.
For many, the first warm spring night at the drive-in is a welcome ritual, a farewell to winter. Families may be eager to escape from the "twilight zone" of quarantine, as Trapp put it, into the light of the big screen. While milling around and chatting between cars won't be safe for the foreseeable future, the core of the drive-in experience is back.