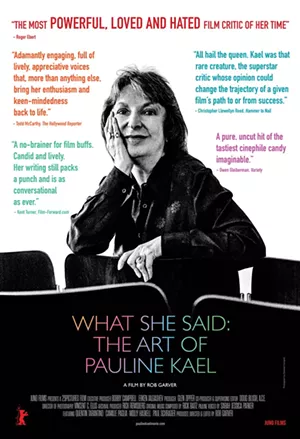 Photo Courtesy of Deborah Feingold
Where do we find entertainment these days? On our laptops and in our living rooms. The streaming options are overwhelming — and not always easy to sort through. So, in this weekly feature, I review a movie or series that might otherwise be easy to overlook.
The movie:

What She Said: The Art of Pauline Kael
(2019)
Where to see it:
Until May 15, stream the movie for $10 per household as part of the Vermont International Film Foundation's
Virtual Cinema
program. On
VTIFF's page
, you'll find instructions for viewing the movie on your TV, plus an interview with the director from
Seven Days
contributing writer Luke Baynes.
The deal:
If you were a movie lover in the 1970s or '80s, you already know the work of Pauline Kael (1919-2001), who reviewed for the
New Yorker
from 1968 to 1991. Her opinions were strongly worded, contrarian and frequently very funny. They carried so much power that Bob Fosse and George Lucas, both directors she'd skewered, inserted parodic references to her into their work (remember evil "General Kael" from
Willow
?).
Rob Garver's documentary supplements material from Brian Kellow's 2011 Kael biography with archival footage, readings from Kael's work by Sarah Jessica Parker, and interviews with fellow critics and Hollywood luminaries such as Quentin Tarantino, Paul Schrader and Alec Baldwin. Some were inspired by Kael; others had run-ins with her.
This was a woman who took opinions about movies seriously and wasn't afraid of making enemies. In one clip, Kael notes that she broke up with her date after they saw
West Side Story
together (she hated it).
Will you like it?
:
While Garver covers some of the criticisms of Kael — such as Renata Adler's epic takedown — the documentary is primarily a celebration of her life and work. Fans will enjoy it; non-fans may not be won over.
For the uncommitted or curious, however,
What She Said
is an entertaining introduction to an era when movie critics for major publications wielded far more sway than they do today. There's a feminist angle: Female critics were rare in Kael's time, and her tastes and manner were not demure. Angry reader responses to her reviews often featured sexist language and assumptions, to which she riposted mercilessly.
Garver breaks up the monotony of talking heads with clips from a slew of classic movies. These are great when they illustrate Kael's writings: For instance, it's enlightening to see clips from the obscure Katharine Hepburn film that inspired Kael to digress on what she called the "intelligent woman's primal post-coital scene." Other clips feel silly or distracting, such as a jokey implied comparison of Kael (not a
Star Wars
fan) to Princess Leia.
The doc offers a key reminder that admiration for a critic is not the same as agreement. One interviewee, cultural critic Camille Paglia, recalls becoming a convert after reading Kael's brutal critique of the films of Michelangelo Antonioni, which Paglia loved for all the same reasons that Kael hated them.
I had a parallel experience in 1982, reading Kael's review of my then-favorite film,
Blade Runner
. She was not kind — in
What She Said
, we learn that director Ridley Scott is still sore about that. But she described the movie with such intelligence and passion that I couldn't stop reading. And she accurately predicted that its distinctive look would give it a "place in film history."
I had never before encountered a woman in public life with such an unapologetic voice and so much to say. In my teen years, Kael was my role model, introducing me to the films of David Lynch, Pedro Almodóvar, Jonathan Demme and other directors who otherwise would never have crossed my radar.
Kael may have demanded absolute loyalty from the critics who emulated her (known as "Paulettes"), but her influence extended to many who disagreed with her as frequently as they agreed. (Much of what she says in her witty pan of
The Shining
is spot on, and I love the film anyway.) The best film critics spark reflections that teach us something about both film and ourselves, and even when Kael was way, way off, she made readers think. So will this doc.
If you like this, try...
Bonnie and Clyde (rent on various services): Kael made her name with her wide-ranging 1967 defense of this Arthur Penn film, which other critics disparaged as heartless and violent. Or, on YouTube, watch "Ménilmontant," the silent short that Kael described as her favorite film ever.
Life Itself (rent on various services): Roger Ebert (1942-2013), another movie critic who inspired a cult of personality, is the subject of this 2014 biodoc. (Read Rick Kisonak's review.) Not to be confused with the very bad drama of the same name.
The Story of Film: An Odyssey (on Hulu and Kanopy): Critic Mark Cousins helmed and narrated this British documentary series that offers a fascinating, idiosyncratic intro to film studies, reminding viewers there's a film world outside Hollywood. (Read my review of the first three episodes.)