Jan Reynolds
Five-year-old Rinpoche
Sometimes a kids' book comes along that contains some important reminders for grown-ups.
Loving Kindness
is one such book.
Jan Reynolds
, a Stowe-based writer, photographer and adventurer — particularly the mountaineering kind — has written for both adults and children. Though an eighth-generation Vermonter, she has a proclivity for hanging out with indigenous cultures far, far away.
Several of her previous 16 books are centered on the Himalayas, and so is
Loving Kindness
. It tells the story of Ngawang Thrinley Palbar (aka Rinpoche), a 5-year-old Sherpa boy in Nepal who's studying to be a great lama, or teacher.
"Rinpoche knows that when kindness comes from your heart, and you wish for OTHERS to be happy, that is loving kindness," reads the caption under a photograph of the boy with a group of older teachers.
Reynolds said she was in Nepal in February and early March, putting the book together, and then the pandemic arrived, turning everything upside down, including conventional publication plans. So, she said, "I made the decision to finish it on my own." For now the "book" is digital, viewable on
YouTube
.
She also made the decision to make it available at a time when people could stand to both give and receive some loving kindness. "I created this book for kids so they could at least learn the concept," Reynolds said.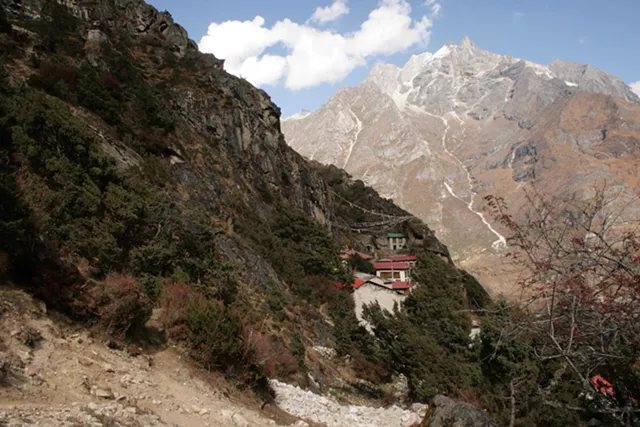 Jan Reynolds
Rinpoche's Gompa (school) in the Himalayas
"I put together a free book for kids to read at home during the pandemic, that teachers and librarians can use for their classes, along with an author study," she noted in an email. "All my school presentations were cancelled this spring when schools closed. So this is how I decided I could give back during the crisis."
Reynolds has long worked with teachers and librarians to offer cultural education workshops for children. Her Pinterest page alone notes more than three dozen such adventurous lessons, spanning the globe from igloo dwellers to vanishing tribes in the Amazon basin.
Loving Kindness
similarly explores a "foreign" location and culture, albeit one introduced to many worldwide through the teachings and ambassadorial travels of Tenzin Gyatso, the 14th Dalai Lama. And to that point, Reynolds' book is "almost Buddhism 101," as she put it.
But
Loving Kindness
is not a theology text. "A child is more interested to see another child," she said. "They can follow along with this little boy. Adults reading to a young child can read along with the concepts in the back of the book.
I'm not trying to convert anyone," Reynolds continued. "But adults can … show young kids that these concepts exist on the planet."
Not least, Reynolds' photographs of Rinpoche's Himalayan home and school make for a stunning digital tour of the Earth's highest peaks.