Courtesy of Megan Rose
Setting up for a previous Essex Craft Show at Champlain Valley Exposition
Megan Rose was a toddler when her mother, Kathy, and a group of other volunteers founded the Essex Craft Show in 1981. That first show took place in the Essex High School gymnasium as a yearbook fundraiser. When the bazaar outgrew its venue, Kathy Rose and Sally Washburn professionalized it and launched
Vermont Craft Workers, Inc
. Nearly 40 years later, the craft fair is one of Vermont's largest. It takes over the expo center at the Champlain Valley Exposition every spring and fall.
Well, except
this
spring. Instead, due to the coronavirus, the craft show is moving online. On Saturday, May 2, the Roses will launch a webpage at
essexcraftshow.com
where over 175 exhibitors will have virtual "booths" featuring photos of their work, links to websites and ways to order.
While many exhibitors are offering special deals through Sunday, May 3, Megan Rose said the website will remain live through June, so Vermonters can shop at their leisure.
Megan grew up helping her mother set up the show, marking out spots for booths with shoe polish on the gym floor. But now she's living in Denmark, where she's learning website creation and uploading vendor info to the Essex Craft Show site.
"I am realizing how much attending craft fairs and markets are an integral part of local artisans' sales and exposure," Megan wrote in an email to
Seven Days
. She added that "a good percentage of crafters have no online presence and only sell their products through craft fairs, shops, galleries, and markets." Not having those outlets, she continued, "will have a huge impact on everyone's income."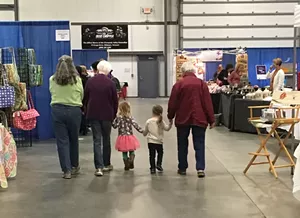 Courtesy of Megan Rose
Shoppers at a previous Essex Craft Show
The virtual craft fair doesn't require vendors to have a website or social media accounts. Interested buyers might be directed to a vendor's email address or phone number where they can reach out directly and order. Vendors also don't even have to have a product for sale. They can offer gift cards or take custom orders.
Participation is free for vendors and shoppers alike — though Megan said there will be a link for people to donate an "admission fee," if they choose.
Both Megan and Kathy Rose are craft show regulars. Kathy sews and knits under the moniker
Kilravock Krafts
, and Megan makes paper crane ornaments for her business,
One Thousand Cranes
. Putting together the online show has been a "whirlwind," Megan said.
"We are hoping that if folks aren't able to sell or shop now, we can at least connect people to promote future sales and fans of art," Megan explained. "If the event is successful and exhibitors are interested, we will keep the online fair up for as long as it takes to get the world back on its feet again."