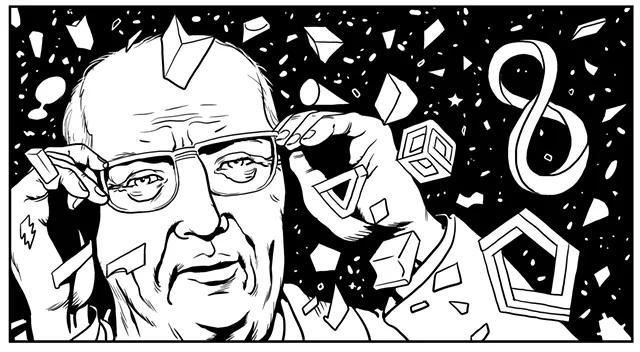 Rick Veitch
Self-portrait by Rick Veitch
Today, April 2, current Vermont cartoonist laureate
Alison Bechdel
officially passes the laurels to West Townshend resident
Rick Veitch
. He is the fourth, following Bechdel,
Edward Koren
and
James Kochalka
.
But Veitch is the
first
cartoonist laureate to be inaugurated via livestream — and in the middle of a pandemic. The ceremony that usually takes place in the Vermont Statehouse this time foregoes a congratulatory handshake from the governor, and the audience is virtual. A link to the 3 p.m. ceremony is
here
.
Gov. Phil Scott, of course, is battling the biggest opponent of not just a career but a lifetime: the coronavirus. Even so, he managed to issue a short message to Veitch: "Congratulations, Rick. Your honor is well deserved."
Alison Bechdel and Rick Veitch
The passing of the laurels, Vermont style
Vermont is the only state to appoint a cartoonist laureate, an idea "concocted," as Veitch put it, by the
Center for Cartoon Studies
in White River Junction and officially sanctioned. The three-year term is honorary, aka unpaid.
Fellow cartoonist
James Sturm
is cofounder, with Michelle Ollie, of the center. Sturm explained in an email why Veitch was selected for the laureate.
"With his roots in underground comics, Rick has forged a singular career that includes groundbreaking genre work for the big superhero companies, his own creator-owned graphic novels, educational comics, and explorations into the subconscious that would make the great Winsor McCay proud, " he wrote, referring to the early 20th-century cartoonist and animator best known for his strip "Little Nemo."
"And just like McCay," Sturm added, "Rick's imagination is commensurate with his stunning craftsmanship."
Veitch is a native son, born in Bellows Falls in 1951. His first published work was in the
Vermont Cynic
, the student newspaper at the University of Vermont. As he explained in a phone call with
Seven Days
, Veitch had the good fortune to receive funding to attend the
Joe Kubert School of Cartoon and Graphic Art
in New Jersey. That fortuitous education, and location, led him to the epicenter of cartooning in New York City.
Veitch went on to work for, as he put it, "just about everybody" — most notably two giants of the genre, (pre-Disney) Marvel and DC Comics. "I was fortunate that fantasy and heavy metal were growing," Veitch said. He made enough money, he added, that he could afford to return home and work remotely — which in the pre-digital era meant "via FedEx."
Veitch has had roles as an artist and/or writer for some of the iconic characters of the genre, including S
wamp Thing
,
Teenage Mutant Ninja Turtles
and
Sgt. Rock
. (One of his fellow students at Kubert and colleagues at
Swamp Thing
was Vermont-born
Stephen Bissette
, now on the faculty at the Center for Cartoon Studies.)
In addition, Veitch has published numerous comics and graphic novels of his own. Titles include
Heartburst
,
Brat Pack
,
The One
,
Can't Get No
,
The Big Lie
and
Army@Love
. He has also long journaled, and then drawn, his dreams, turning his fascination into the 1990s series
Rare Bit Fiends
. Though that publishing venture "ran out of gas in 1996," Veitch said he is renewing it with a new issue.
The purpose of dreams "is trying to keep the conscious mind stable," he said. Veitch noted that dream working, beginning during a depressed period in his early twenties, set him on his productive path. "I really pulled my life together," he recalled. "Pretty soon I got a grant [to go to] school. It helped to reboot myself."
When he began to draw his dreams in
Rare Bit Fiends
, Veitch said, "it attracted other people's dreams. My little comic book began to attract people from all over the world."
About a decade ago, Veitch launched Eureka Comics, which creates cartoons for corporate and education-based clients, including textbook publishers. "They're more open than ever to using comics," he said. "A well-drawn comic — you can't not read it. It engages at an emotional level. And you can get complex information across more simply."
A recent client was the International Monetary Fund. Closer to home, Veitch is working with UVM Extension's Center for Sustainable Agriculture on a project called
Who Farms?
Asked what he expected to do as cartoonist laureate, Veitch didn't hesitate to suggest advocacy for supporting education — including in the arts. The federal job training grant he received to attend the Kubert school made a huge difference in his life, he said. And he became not only a successful cartoonist but a productive, tax-paying citizen.
"I would like our legislatures to think along those lines — to pay kids to go to school," Veitch said. "It's crazy to go to school and graduate 50, 60, 100 thousand dollars in debt. It's madness. We have to invest in our kids."
That worthy mission might require moving mountains. But the staggering amount of student debt in the U.S. — a core issue for presidential hopeful Sen. Bernie Sanders (I-Vt.) — is certainly one of the financial crises underscored by the present pandemic. So perhaps Veitch's ideas will find some traction — after it's safe to go outdoors.
Meantime, Veitch might find the same joy in being the cartoonist laureate that Bechdel shared in an email to
Seven Days
:
"It's given me a really profound feeling of being included, of being part of this state," she wrote. "I love Vermont so much, and to get this kind of official recognition by the place that has become my home is very, very gratifying."
Asked why Vermont should even have a cartoonist laureate, Bechdel said, "Why should poets have all the fun? Besides, we have an unusually high rate of cartoonists per capita here. I think because of the topography — all these remote dells and hollows create the perfect habitat."
In tiny West Townshend, Rick Veitch would no doubt agree.
Note:
Seven Days
is a media supporter of the Center for Cartoon Studies' laureate presentation.