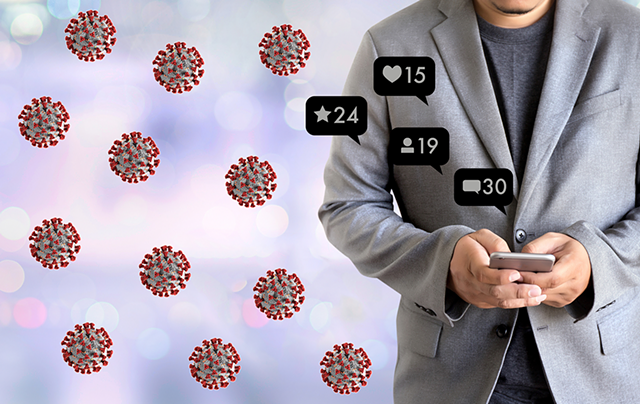 Illustration by Diane Sullivan; image of person ©Dreamstime/One Photo; coronavirus images Courtesy of the Centers for Disease Control and Prevention
If you scroll quickly through the
802 Stay Safe and Strong Informational Group
on Facebook, it almost reads like a regular community forum. Its members post, comment on and react to updates on Vermont businesses, offer praise for thoughtful neighbors, and laugh over the occasional joke or animal video. A single post might get hundreds of likes and dozens of shares.
The group, formerly called 802 Stay Safe and Strong Updates, was created on March 13 by Morrisville resident Tammy Wells and now has more than 15,500 members. Wells had created Facebook groups before and saw this one as a good way to share information with friends and family about local impacts of the coronavirus. She had no idea it would blow up the way it has.
"I've been a moderator for five [Facebook] groups that I'm connected with. So I've been doing this a long time," Wells said. "But this one is serious."
There's no way of knowing what percentage of the group's members are Vermont residents. But if they all were, it would mean Wells had acquired an audience of more than 2 percent of the state's population in just two weeks. For contrast, in the three years since Gov. Phil Scott created his Facebook page, he has amassed 20,000 followers.
Wells' group is not alone. Several Vermont-based Facebook groups have sprung up in the last two weeks focused on gathering information and organizing aid efforts in the face of the COVID-19 pandemic. But, as a
Seven Days
reporter observed the groups recently, cracks had already begun to show. People sniped at each other in the comment sections and argued over such points as whether everyday Vermonters should be wearing masks. When comments were deleted or closed, moderators were accused of censorship.
Facebook groups provide an opportunity to find communities with shared interests, but they
can easily turn toxic
. That's especially true when emotions run high — like, say, during a pandemic. Vital organizing and resource sharing takes place in these online spaces, but the question often arises: Who owns the forums, and who makes the rules for what can be said there?
Wells, who's laid up waiting for a postponed hip-replacement surgery, spends pretty much all day monitoring her group and vetting new posts, and that's while also helping her son care for her young grandchildren. She said moderating the group helps distract her from pain and stress. Wells fact-checks every post before allowing it to go public on the discussion page.
"Every post that comes in, I [have to] approve," she said. "If they say Subway is closed, I go to the Subway website."
Wells developed a policy of closing comments on most posts in her group. Facebook uses algorithms to order content on a group's feed, and new comments might push a post to the top, bumping more recent posts down the page. Wells said she wanted to prevent this from happening. Many members have posted in annoyance about their inability to comment.
A March 23 post by Tammy Wells.
"I'd get instant messages and posts calling me all kinds of names, saying their freedom of speech has been cut off," she said. One man made a post comparing her to Hitler. Wells thought briefly about just cutting the group loose and quitting moderation altogether. But she "regrouped," she said, and decided that maintaining a reliable forum for information was worth it.
Wells added two friends as group administrators in case the flow of new posts becomes too overwhelming. But ultimately, 802 Stay Safe and Strong remains her group and it runs by her rules. Those rules include no debating, well, anything, and no politics.
"No bashing," she said. "No Trump bashing, no Scott bashing."
Wells also posts occasional jokes and funny images — which she said is nonnegotiable. "Humor is very important in my life," she said. "Some people like it, some don't. If they don't, they can un-join."
In another rapidly growing Facebook group, called
How Can I Help #prepare (Vermont-based, all welcome regardless of borders)
, moderators have taken a divide-and-conquer approach. State Rep. Mari Cordes (D-Addison) started the group on March 9 and has since added 15 other administrators to oversee more than 7,300 members.
"My initial wish was to just start coordinating with a group of people on Facebook about how can we start building a network to provide supplies, medication [and] food to people who are homebound," Cordes explained.
She's also a cardiology nurse at the University of Vermont Medical Center, and she looked for other moderators with experience in different fields that would be relevant to the pandemic, such as social work and disability activism.
Cordes set up keyword alerts so that moderators get a notification when a comment or post might be problematic. Some of the keywords — including "stupid," "idiot," "bully" and "rude" — are flagged to ensure group members stay civil.
A March 23 post by Mari Cordes.
Other keywords are intended to prevent the spread of false information, such as "colloidal." Recently, claims have circulated online suggesting that ingesting colloidal silver will help cure or prevent coronavirus. (
It won't.
)
Falling prey to social media misinformation is easy, especially when a post is attributed to someone's friend/cousin/sister-in-law who's a nurse/doctor/epidemiologist. But the How Can I Help #prepare group had bigger issues than bogus medical claims.
This week, some members began expressing disappointment and frustration with the way moderators handled certain posts, such as ones about the Burlington Tenants Union's calls for a rent freeze. Burlington resident Matt Gardner, who doesn't work directly with the tenants' union but said he supports its goals, questioned the moderation process. Cordes and other group moderators replied that he was welcome to start his own group with his own rules.
"It's clear to me that for a group that grew so quickly, the moderation structure on #prepare was not sufficient to ensure that it was a useful resource," Gardner wrote in a message to
Seven Days
. He called for more transparency in moderating and clearer rules.
Other members seconded his frustration. "When folks talk about 'Vermont strong,' or 'We are all in this together,' there's this sort of sick implication that somehow this pandemic is post-racial, has nothing to do with class, etc.," wrote Jas Wheeler, another group member and activist.
"When Facebook groups limit the organizing (which includes being tone police) of those most harmed within capitalism (who are then those who will be most wrecked by this pandemic)," Wheeler continued, "they are ultimately contributing to the marginalization and isolation of those people."
Cordes later wrote an apology post in the How Can I Help #prepare group, saying she was sorry "to anyone that has been silenced, excluded or [made] unsafe by my or this group's actions."
Cordes told
Seven Days
that she had found conversations with protesting members helpful in changing her understanding. A member explained tone policing, for example, which refers to criticizing or dismissing a person's message because it showed emotion; Cordes said she recognized that expecting people to keep their posts emotionally neutral was unreasonable. And she said that activist groups, including the tenants' union, "need to be the ones lifted up and prioritized in the group.
"Technically, yes, I'm the one who started it, so I could shut it down," Cordes continued. "I don't want to do that. I believe that we do need to make it as democratic as possible."
Coronavirus-focused groups aren't the only ones dealing with the influx of pandemic-related posting. Noah Schlein created a food-sharing group called
Burlington Leftovers (Food Gifting)
on March 9 to combat food waste in the service industry. Though Schlein said the timing was a coincidence, he attributed the group's quick growth to more than 570 members to coronavirus news. Schlein now asks that members take their coronavirus-related posts to other groups intended for such content, so that his group's feed can solely focus on food offerings.
On the Reddit group r/vermont, moderators have created separate tags labeled "coronavirus" and "Vermont," so that visitors may browse local news and photos without reading about the pandemic. A moderator said in a message that the intent is to allow Redditors to temporarily escape from the news cycle and distance themselves from panic.
"I see folks kind of spinning out a little bit, or a lot, in the group," said Emily Ahtúnan, another administrator of the How Can I Help #prepare Facebook group. "That is completely warranted. And I know that other admins are making sure no one's being mean to each other, but also giving people space to freak out a little bit."
Ahtúnan said social media are incredible organizing tools, and the benefits outweigh the drawbacks. She's stepped back from actively moderating because she's busy coordinating aid efforts in Montpelier. Ahtúnan thinks Cordes' group helped spark many of the town-level organizing efforts now taking place in the capital city.
"I've been seeing members act as moderators, too, and help lift each other up, and recognize that there's a high level of anxiety in our state, in our communities," Cordes said. "And often people don't respond from their best selves when they're in that space."