Screenshot of "The Corona Virus Song (5 Feet)"
Edward Hall (left) and Adam Hall
When the music teacher at Edmunds Middle School in Burlington emailed parents to suggest that families make music videos together to pass the time, professional tenor
Adam Hall
got right to work with his daughter Ruby, 13, and son Edward, 9. The trio transformed the Proclaimers' "I'm Gonna Be (500 Miles)" into "The Corona Virus Song (5 Feet)."
The hilarious piece of work on YouTube made it to the local evening news the same day Hall emailed it to the music teacher.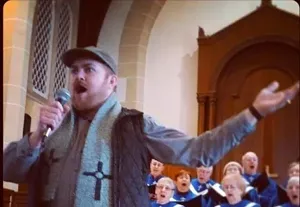 Courtesy of Simone O'Flaherty
Adam Hall and choir
Hall, the minister of music and media, as well as the youth director, at
First United Methodist Church
in downtown Burlington, used the free audio software Audacity to record himself singing the song to a whole new raft of lyrics. ("When I wake up, well, I sure ain't gonna be, ain't gonna be the man who wakes up next to you," his version begins.)
He edited it with Vegas, accessed through the church's license. Then Edward filmed his dad lip-synching the song to a series of scenes. During musical interludes, Ruby, dressed as a cloaked and hooded Coronavirus bearing a squishy ball stuck with colorful pushpins (her idea, says Hall), chases their father around the yard.
Edward is seen sitting progressively farther from Dad on the couch in a rapidly edited sequence. By the end of the song, Hall is singing about staying apart from "you and yours" by 500 miles, not just five feet.
A trained tenor, Hall said he adjusted his voice to sound exactly like the original singers (Scottish identical twin brothers Charlie and Craig Reid both sang) and imitate their style. He also added reverb to make it sound more like a studio recording.
How is a tenor surviving these coronavirus times? Work is "not great," Hall admits. Normally, he would be preparing services at the church, teaching voice at home, and teaching private voice students at the University of Vermont and Saint Michael's College. For now, the only work left is remote employment with the church and the remaining college students.
When summer comes, Hall won't be able to rely on the singing gigs that usually get him through — solos with choruses, leads in local operas and so on.
"I'm OK for the next month or two," he said. "When we get to three or four, that's when the concern begins."
Hall adds that there are "plenty of people who are way worse off than me," including his friends in the Metropolitan Opera Chorus, which was just laid off. "That's their full-time job," he said sympathetically.
How can the Vermont community help? Hall noted that some musicians have CDs for purchase on their websites, and people are already buying next year's season tickets to the Flynn in Burlington and other cultural institutions to keep them afloat.
Hall also has a Patreon account to support his two blogs: Tenor Dad and The Winooski. "It is stressful," he said of this stay-at-home time. "So we laugh and make fun music videos."