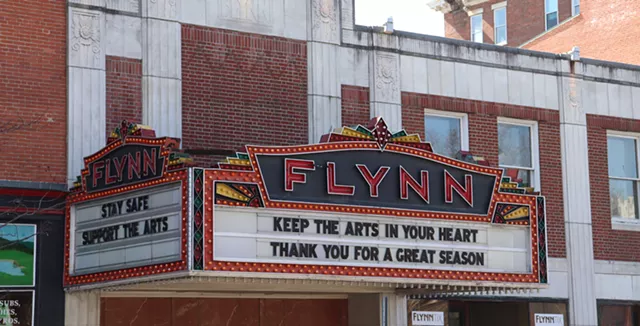 Margaret Grayson
The Flynn marquee
The Flynn
has laid off six employees and furloughed six others, according to interim executive director Charlie Smith. In a phone call Friday with
Seven Days
, Smith said "many of those" employees have an estimated return-to-work date, though he cautioned that Flynn administrators "don't have a clearer crystal ball than anyone else" and couldn't speculate when that date might be.
On Friday, March 13, in response to concern over the spread of COVID-19,
the Flynn canceled the remainder of its 2019-20 season
, including all shows and programming through May 31.
"We hope and expect that these aren't permanent changes, though in some cases they are," he said. "We're just doing our best to prepare the Flynn to come back strong when we're able to."
Smith declined to identify which specific people or positions within the nonprofit performing arts organization were affected by the move, but said that cuts were made across departments and include both newer and longer-tenured employees, as well as management.
He added that, in addition to those laid off and furloughed, two other employees' hours have been cut in half. Of the Flynn's remaining 25 "core employees," those two have so far been the only ones whose hours or pay has been cut.
"We're trying to limit the actions that we have to take to the ones we've taken so far. But again, we don't know what's around the corner, " he said. " If we were to conclude that we're going to be delayed in launching the next season, I would say that there is a distinct possibility of more curtailments or cutbacks."
At the moment, the Flynn's next scheduled performance is on September 19, opening its 2020-21 season. However, the
Burlington Discover Jazz Festival
, which the Flynn produces, is scheduled to open on Friday, June 5. The organization had
previously announced
that the fate of the 10-day festival will be decided in mid-April, and Smith confirmed that is still the plan.
Smith explained that laid off and furloughed employees who had health insurance through the Flynn will keep it for "about a month," until they are eligible to join Vermont's COBRA continuation health insurance coverage.
Smith joined the Flynn as its interim executive director on January 31
, replacing outgoing ED Anna Marie Gewirtz,
who left the organization after 18 months on the job
.
Smith, 65, served in the Vermont House of Representatives in the 1970s. He joined the staff of the Vermont Public Service Board in 1980 and later served as secretary of the Vermont Agency on Human Services. He was also district vice president and regional president of the KeyBank National Association.
Previously, Smith served interim roles with Vermont PBS, the Vermont Symphony Orchestra and Vermont Energy Investment. He's served on numerous boards, including Cathedral Square, the New England Culinary Institute, Vermont Energy Investment, the United Way of Chittenden County and the board of trustees of Champlain College. Smith is currently the chairman of the board at Blue Cross Blue Shield of Vermont.
For all his varied experience, he's never encountered a situation quite like this.
"I don't think anyone has," Smith said. "It's one thing to deal with a layoff situation. It's another to deal with a global pandemic with so many unknowns about where this goes next. If this lasts 18 months, we need to be prepared for that."
Smith stressed that all arts organizations around Vermont need support.
"This isn't just about the Flynn," he said. "In the performing arts, where it's all about events and people coming together, there are a lot of organizations who will find this fully as difficult as we do."
He continued, "We hope that lovers of the arts and patrons of the arts will be supportive of their local organizations — donate their tickets back, renew their memberships, do the things that they can do — during this really rough period to strengthen the organizations that they love."