Facebook profile photo
Peter Kuli
It's been a weird few weeks for Peter Kuli. The 19-year-old Champlain College sophomore has been caught up in a massive social media wave that has sprung from the video-sharing app TikTok to the pages of the
New York Times
, from high schooler Instagrams to the New Zealand Parliament. It all boils down to two words: "ok boomer."
In early October, Kuli made
a song
on his laptop. It was a remix of clips made by his friend Jonathan Williams, a college student in California, including lyrics mocking baby boomers ("You think I respect your opinion when your hairline looks that disrespectful?") and a clip of Williams yelling, "Ok, boomer!" Those same lyrics became the song's title.
The phrase went viral in October, with teens across the country using it as a comeback to older people on issues as small as their condescending remarks about ripped jeans and as big as climate denial. Young entrepreneurs started selling "ok boomer"
T-shirts and stickers
. The meme approached peak fervor when the
New York Times
posted an article
about it on October 29.
A lawmaker in New Zealand
used the phrase
to shut down a colleague on the floor of Parliament. Baby boomers
decried the phrase
as ageist and rude. The
National Law Review
weighed in to warn everyone that saying it
could get you sued
for age discrimination.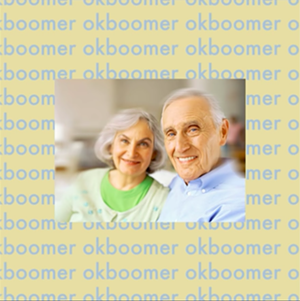 Kuli, originally from Lexington, Mass., has a large online community of other music makers. When Williams posted links to his tracks on Twitter, the group went wild sharing remixes back and forth. Kuli made his version in about 30 minutes, on his bed in his dorm room.
Wanting to poke fun at the over-the-top bass that sometimes populates electronic music, he spent half that time warping the sound, making it as ridiculous as possible. "I wanted to make sure that when the bass kicked, it went into your stomach," Kuli said.
For him, it was mostly like a fun exercise — a break from making "real music," which he does a lot as a creative media student. Kuli finished the song quickly, and wasn't worried about it being polished or even really sounding good. It was the musical equivalent of a meme: a riff on a trending online joke, and a small window into his psyche at a particular moment.
Kuli added the audio to TikTok, a video-sharing app where people, particularly teens, make short, informal videos that often incorporate music clips. He sent a tweet encouraging people to use the audio in their TikTok videos. His sales pitch: "My song is on TikTok. Do something stupid with it."
Then
it blew up
.
Kuli had tossed his board into the water at exactly the right moment to catch the tsunami that was "ok boomer." Within three days, 700 videos were using his song, and only increased from there. As of today, more than 20,000 videos have been made with Kuli's audio. It hit No. 3 on Spotify's United States Viral 50 chart and has been streamed more than a million times. The
Times
called. So did the
Boston Globe
. NECN
interviewed him
, and got a comment from a baby boomer.
"This song comes from a specific voice and a specific generation that sort of lines up with TikTok's demographic," Kuli said. "It's been kind of fascinating … I'm surprised that it's still going, which in a way is pretty powerful."
Between classes, hanging out with his friends and other standard 19-year-old activities, Kuli is sitting down for coffee with reporters and signing record deals. That's right — over the weekend, Kuli signed with Elektra Records. The deal will allow the label to distribute the "ok boomer" song and potentially invest in Kuli's future musical endeavors. While he declined to say exactly how much money he's expecting when the royalties start rolling in — which typically takes a few months — Kuli admitted the song could be the beginning of a very lucrative career.
"It's an interesting turning point," he said. "No matter what I decide to do, it's going to give me a lot of leverage … It's been a crazy little ride."
Going viral is a unique kind of fame. Kuli said he's still mostly invisible around Burlington, and his friends see the song's meteoric rise as surreal. It's impossible to predict what exactly will hit the right buttons online, and even when you do get it right, those moments of fame are often fleeting.
But real music careers have been launched on TikTok. Twenty-year-old Lil Nas X, a rapper and singer, said he originally marketed his song "Old Town Road" as a meme and a TikTok dance challenge. He ended with a No. 1 hit and the
cover of Time magazine
.
Kuli, who has been making music for years, said he debated whether to go to college at all before discovering Champlain's program. It allows him to specialize in sonic arts. He said he's already seeing the way streaming and social media are changing the way artists write music. Musicians are often front-loading the first 15 seconds of their song with the catchiest lines of the chorus.
With the skip button so easily accessible, Kuli said musicians have the same mentality as TikTokers: "You have this time limit, and you have to make sure you fit everything you can," he said. "We're sort of in a post-pop world. Or a post-post-pop world."
Kuli said he doesn't plan to make another meme song anytime soon, but the experience has broadened his idea of what kind of music he wants to make.
"I have been sort of experimenting more," Kuli said. "If this stupid song worked, then just about anything can."