File: Sarah Priestap
Callie Brownson
On most Sunday afternoons during football season, a certain subset of NFL fans routinely descends upon Ruben James, the college-y sports bar and dance club on Main Street in Burlington. Unofficially, RJ's is the city's "Bills bar," where Buffalo Bills die-hards gather to root on — and in recent years, largely lament — the downtrodden AFC East club.
It's been a rough couple of decades for Bills fans since the early-1990s glory days of Jim Kelly, Thurman Thomas and Marv Levy, when the team ruled the AFC and made it to four consecutive Super Bowls. But in early September, at least, hope springs eternal for NFL fans. And as a new season begins this week, there's reason for guarded optimism in Buffalo — and by extension, at RJ's.
When fans tune in to watch the Bills play the division rival New York Jets this Sunday, much of the intrigue will center on Buffalo's nimble, rocket-armed, second-year QB Josh Allen and a feisty defense. But locals might also recognize a familiar face roaming the Buffalo sidelines.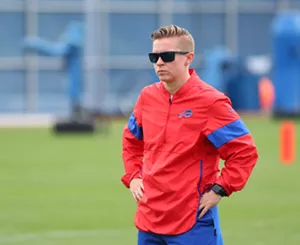 Courtesy of the Buffalo Bills
Callie Brownson
Last month, the Bills announced the hiring of Callie Brownson as a full-time offensive coaching intern. Brownson made national headlines last year when she
became the first female coach in NCAA Division 1 history
as an offensive quality control coach for Dartmouth College. Brownson is the third woman in four years to join Bills head coach Sean McDermott's staff, and she
joins a growing number of female coaches around the NFL
.
Brownson met McDermott in February at the
Women's Careers in Football Forum
, an annual convention hosted by the NFL to increase female participation at all levels of the league's operations. She and Dartmouth head coach Buddy Teevens spoke there on a panel about coaching, after which McDermott invited Brownson to shadow his staff at the Bills' training camp this summer. Following training camp, she was offered a position on staff, where she'll take on similar quality control duties as she performed at Dartmouth.
Seven Days
recently chatted with Brownson by phone about her move from college to the pros, the prospects of U.S. Women's Soccer star Carli Lloyd as an NFL kicker and some Bills-related fantasy football tips.
And here's a hopeful note to Bills fans: Before Brownson was officially hired last season, the Dartmouth Big Green was predicted to finish sixth in the Ivy League. With Brownson on coach Buddy Teevens' staff, the team finished second in the league with a 9-1 record. Just sayin'.
This interview has been edited and condensed for length and clarity.


SEVEN DAYS: When players transition from college, you always hear about how much faster the game moves at the pro level. What has your experience been from a coaching perspective?
CALLIE BROWNSON: That's definitely the case. This is the cream of the crop, the best players in the country, and they're pros for a reason. But it's a different culture. In college you're dealing with collegiate athletes, students. They're not punching the clock and what they do with you is not necessarily putting food on the table for their families.
In the NFL, these guys are here to work. They're professionals. Not that college kids don't conduct themselves professionally. It's just a different culture, a different pace.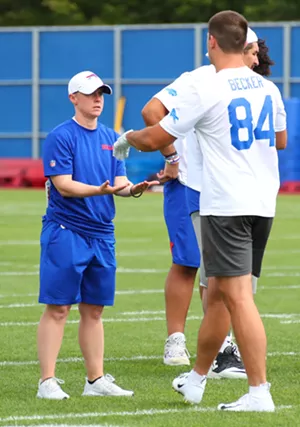 Courtesy of the Buffalo Bills
Callie Brownson
SD: Is it intimidating? You're dealing with some guys who are legends, like LeSean McCoy.
CB: I can't really [compare] it to any other team. I did intern for a couple weeks with the Atlanta Falcons. But I think this team and organization is so special that my answer to that is no. It wasn't intimidating.
I was housed with the tight ends, and still am. And it's been a lot like my welcome to Dartmouth. They were curious to meet me, and extremely supportive and welcoming. They treated me just like any other coach who would have walked in the door.
As for Shady [McCoy], he's a funny guy. Nobody holds themselves with an esteem like,
I'm LeSean McCoy; I'm Josh Allen; I'm Frank Gore
. It's a family.
I think in some cases on some teams, it can be like that. But I'm lucky that it's not the culture here. The culture here is welcoming, and Coach McDermott's goal is to emphasize with everybody that this is a family and everybody is on a level playing field in terms of how they're treated.
[Ed. note: The Bills released McCoy shortly after this interview. He
later signed
with the Kansas City Chiefs.]
SD: Did the fact that the Bills had previously hired two female coaches make the transition easier for you?
CB: Definitely. Kathryn Smith was the first years ago. Then Phoebe Schecter was with them last year, and I know both of them through the women's football world. We've got a cool little network going.
I talked to Phoebe a lot before I left for the training camp internship. And she gave me tons of advice so that I could jump right in and be able to add some value. She was super helpful about who I'd be working with and the things I'd be doing. Even the little things that you don't think about. Like, "Hey, what should I wear to breakfast for an away game?" Those are things that should maybe be assumed, but you only learn once you get into the process.
And Kathryn reached out when I was hired. And my response to both of them was appreciation. Because without the [impression] they left, I don't know that this opportunity would have been possible for me. This women-in-football thing is so delicate that to do a bad job, or even an average job, can hinder the door staying open for somebody afterwards. And both of them had done such a phenomenal job that Sean and the rest of the staff were willing and open to doing it again.
SD: Bills kicker — and Middlebury College alum — Steven Hauschka recently said he would coach Carli Lloyd if she wanted to train to be an NFL kicker. What would someone who is coming from a soccer background, regardless of whether they're male or female, need to do to make the transition to NFL kicker?
CB: Steve is a great guy. But it's a tough transition, because you're kicking with pads, which is a tough thing. And then a live-kicking situation involves an offensive and defensive line, which can be intimidating. Kickers will say they act like the lines aren't there, but they're there and coming at you. So it's more than just walking up to a holder and kicking.
She's phenomenal. If she did want to make the transition, those are the areas she'd have to have assess: How does it affect your form when you put pads on? Then, operating mentally and visually with a line in front of you blocking and having rushers coming at you.
Courtesy of the Buffalo Bills
Callie Brownson
SD: Do you think she could do it?
CB: Yeah. I've seen a lot of the chatter that's been going on about it and a lot of it is, "Yeah, but she can't tackle." And my favorite [response] to that was, "OK, name your top 10 best-tackling kickers."
If you can kick, you can kick.
SD: Last question: I just had my fantasy football draft. Which Bills players should I have been looking at?
CB: Cole Beasley is gonna have a great year, just because of how his style of play fits into what we do. That slot guy is so popular in the NFL right now and he's a great route runner with a great feel for coverage. He's gonna be a fun toggle guy to watch.
John Brown has had a great camp and preseason. He's such a dynamic player and teams are gonna try to adjust to him, which then opens it up for Beasley. And when they adjust to Beasley, it opens it up for Brown. So that will be a fun situation to watch and I anticipate him having a great year.