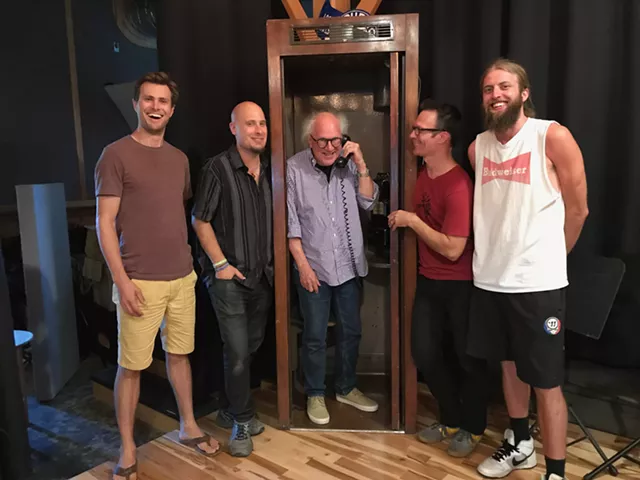 Courtesy of Allan Nicholls
Big Heart, from left: Tyler Mast, Clint Bierman, Allan Nicholls, Peter Day, Ryan Clausen
Allan Nicholls wants to save the world. Or at least inspire a positive attitude adjustment. So the songwriter's new band, Big Heart, is launching a unique collaborative video recording project that aims to lift spirits, one smartphone camera at a time.
This Friday, August 23, at noon, Big Heart — which also includes the
Grift's Clint Bierman and Peter Day
, as well as veteran local players Tyler Mast (Bearquarium) and Ryan Clausen (Haley Jane and the Primates) — will debut their new song "This Much Is True" on the steps of Middlebury's Town Hall Theater.
At the performance, which is part of the
Middlebury New Filmmakers Festival
, Nicholls and co. will invite anyone who shows up to not only sing along, but document the tune with their phones. The crowd-sourced clips will then be uploaded to a website and edited into a single music video.
Bierman and Nicholls, who is also a member of the local musical-vaudeville act the
Hokum Bros.
, joined forces in January and started working on a catalog of about a dozen songs, which they've been recording over the summer. "This Much Is True," which the two co-wrote, is a recent addition to the repertoire. Nicholls says it was inspired by increasingly troubling current events, particularly where kids are involved.
"It just came out of this thought about how we're messing everything up," says Nicholls, "and everything we're doing to children, or not doing
for
children."
As they were writing, Bierman likened the tune to another feel-good anthem, "We Are the World." That comment spurred Nicholls to dream up ways to involve people outside the band in the song.
While watching a Beatles documentary for the MNFF — Nicholls, a longtime collaborator of the late filmmaker Robert Altman, is a festival judge — he had his aha moment: Instead of playing on a rooftop like the Fab Four, Big Heart could play on the steps of the theater during the film festival and invite anyone who shows up to help with a community-made video.
"It's kinda weird that film festivals haven't done that before," he says.
Nicholls has grand designs for the final product.
"The idea for this song is to possibly go global at some point and get people to join us on the last chorus," he explains. "I'm not sure how I'm going to do that yet, but it's in my head."
He adds that the song's lyrics will soon appear in a UK literary journal. And he's contemplating performing in England to replicate the Middlebury shoot overseas.
"I have a feeling that if people sing the last chorus, who knows?" he says.
The chorus lyrics are certainly intended to uplift: "We promise the children we will do our best / We'll leave you a world that isn't a mess / We promise to teach you what's right and what's wrong / And love is the answer and you're not alone."
"It's like a promise," Nicholls continues. "I don't want to be woo-woo about it, but I have a feeling that it's the right way to go about this thing."
Listen to "This Much Is True" by Big Heart below.
This_Much_is_True_by_Big_Heart.mp3
Update Required
To play the media you will need to either update your browser to a recent version or update your
Flash plugin
.