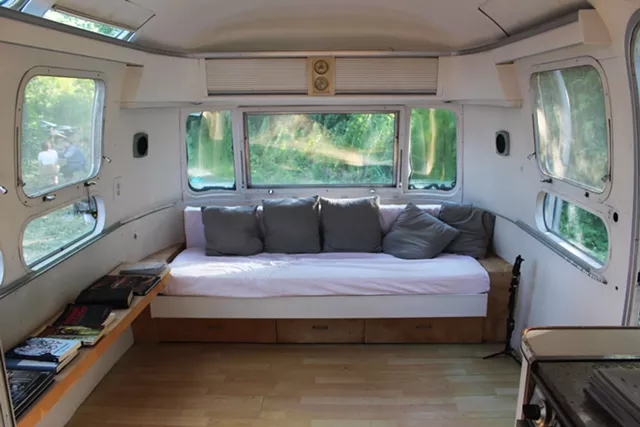 Bridget Higdon
Inside the "library" of "Liminal States"
The heavy doors of the shipping containers creaked as Chris Thompson opened them one at a time. After lifting a spool of thick yellow extension cord from inside each container, he walked the plugs about 10 yards to an outlet.
As soon as connection was made, projector screens inside the two containers whirred to life, and soft voices soon echoed against the trees.
"Liminal States: What Were Some of the Things You Missed From Home?" is a two-channel video installation and library located outside of
Generator
, the makerspace in Burlington's South End. Thompson is the nonprofit's executive director.
The exhibition, which examines the long history of separating families and incarcerating children in the U.S., opened August 9. It's on view just through Friday, August 16, 5 to 9 p.m.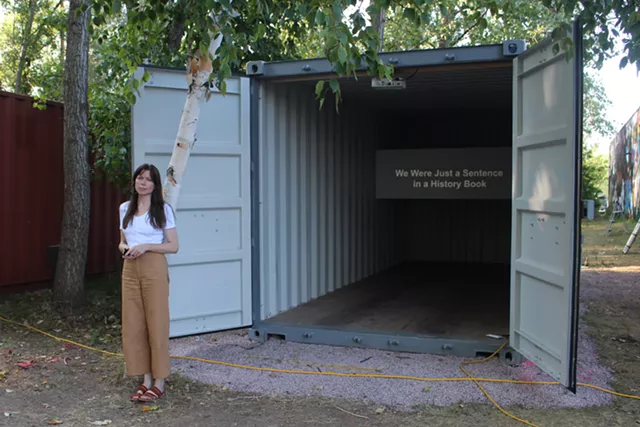 Bridget Higdon
Abbey Meaker
"Liminal States" was created by artists
Maya Jeffereis
and
Elliott Katz
and organized by
Overnight Projects
, a local artist-run exhibition program. OP founder
Abbey Meaker
was the curator.
The exhibition is housed inside two shipping containers the Generator had already purchased for another project, as well as in Katz's vintage Airstream trailer.
Meaker, who usually works with artists with whom she has a personal connection, has been friends with Jeffereis and Katz separately for years, she said. She introduced them to each other, thinking their shared family histories would make for a meaningful collaboration.
Katz, who lives locally and works as the operations manager at Generator, is a self-described abstract sculptor. Jeffereis lives and works in Brooklyn, N.Y., making video and performance art that focuses on social activism and engagement.
"They have very different practices," Meaker said, "but they share family history in that both of their grandparents were survivors of Japanese American internment."
In 1942, after the attacks at Pearl Harbor, the United States government ordered more than 100,000 Japanese Americans to leave their homes, detaining them in camps across the country.
"My mother has always been fascinated by our family history," Jeffereis said. "When I was a child, she took me to Heart Mountain, where members of my family were detained."
Katz said his family history has always informed his artistic work, but before this project that history had never been the main focus.
"It just seemed like the right fit for right now," he said. "I got to reconnect with my great-uncle, who was so grateful that his story was being told."
While doing research for "Liminal States," both Katz and Jeffereis became interested in Fort Sill, a detention center outside of Lawton, Okla., that was used for Japanese American internment in 1942 and serves as an ICE detention center for immigrant and refugee children today.
"There is an ongoing tradition and history in this country of separating families," Jeffereis said. "And that tradition causes intergenerational trauma. It effects children and grandchildren."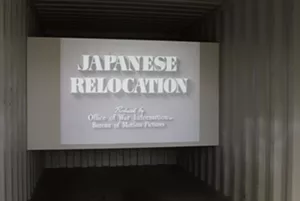 Bridget Higdon
A film in "Liminal States"
The first of the two short films in the exhibit is a montage of documentary-style interviews with Bert Asato Nakao, Katz's great uncle, and Akiko Nishimoto, Jeffereis' great-aunt. Family photographs from 1942, found by the artists in albums and old yearbooks, are interspersed throughout the film.
"I cried many times while making the project," Katz said. "Hearing these family stories and then sharing them was a new experience for me."
The other film in the exhibition alternates between archival U.S. government footage from 1942 and clips from a Tsuru for Solidarity protest at Fort Sill in June this year.
Tsuru for Solidarity is a Japanese American activist group working to end mass incarceration in the U.S. The group is led by Dr. Satsuki Ina, who was incarcerated as a child.
Each film is projected inside its own shipping container. Visitors can walk right inside to watch and listen.
Inside the Airstream, which is eerily spare in its furnishing, is what the artists call an "itinerant library," or a space where viewers of the exhibit can flip through the pages of the books the artists used for research.
To Thompson, the shipping containers and trailer are evocative of the internment camps and detention centers.
"Other groups say they do site-specific work, but Overnight Projects
really
does site-specific work," he said.
For Meaker, it was more important for the exhibit to be held outside.
"Plopped in this natural space with this natural light, I just think people can move around more freely," she said. "There needed to be space for people to talk about the work, a neutral space to engage."
"Liminal States" drew about 100 visitors on opening night, Meaker said.
"I spoke with a number of people that night, and obviously the content is difficult, it's somber, but it's really important that it be known and talked about," she said. "Maybe if [viewers] can't connect politically, I would hope they could connect as a human and feel empathy."
Jeffereis, who said she cares deeply about expressing social activism through art, also hopes the installation sparks conversation.
"Vermont is a fascinating place; it has a strong history of activism," she said. "And even though Vermont is a long way from the southern border, and incarceration is not part of our daily lives, it is something we must re-educate ourselves about."
Thompson said he was excited that "Liminal States" was a collaborative project; not only was it the joint work of two artists, but it was a meeting of art and technology.
"In a way we are getting back to the original intention of Generator," Thompson said. "Exposing scientists and engineers to artists, and artists to scientists, is one of the best things you can do."
The installation is funded by the Generator's Maker in Residence Program, as well as a grant from the Vermont Community Fund. It is on view Thursday, August 15, 5-7 p.m., Friday, August 16, 3-7 p.m., and Saturday by appointment.