Courtesy of Matt Benedetto
Matt Benedetto
Crocs has issued a cease and desist order against Burlington's
Matt Benedetto
. He's the creator of
Unnecessary Inventions
, a line of made-up products that he showcases online and through social media.
A recent invention,
Croc Gloves
, drew viral attention when it was released, and even hit No. 1 on
Reddit
. But the fingerless plastic gloves also caught the attention of Crocs, the plastic-footwear company, which Benedetto says ordered him to remove the gloves from his website and social media feeds.
Benedetto addressed the cease and desist order in a YouTube video on Friday.
In the video, Benedetto explains that despite Crocs' claims of copyright violation for using the Crocs name and the Crocs logo on his gloves, he believes that Unnecessary Inventions is in the clear, legally speaking. His inventions are parody, he argues, which is explicitly protected as fair use under U.S. trademark laws. That's why, say, "Weird Al" Yankovic can release songs that parody Nirvana or Madonna and not get sued.
"If you look at my inventions, it's very clear that all of my products are made completely out of parody," he says.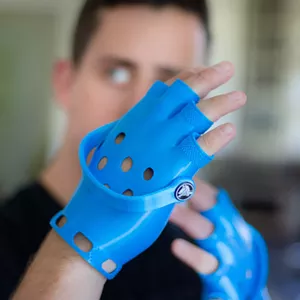 He goes on to cite his second-most-viral invention as an example — another glove, coincidentally. The
Infinity Saucelet
was a glove modeled on the Infinity Gauntlet from
The Avengers
movies. But instead of all-powerful, universe-annihilating Infinity Stones, Benedetto's version holds fast-food condiments. After the Saucelet was released, McDonald's sent Benedetto a stack of free-meal coupons.
As evidenced by the cease and desist order, not every company or product that Benedetto parodies gets the joke. Still, he appears to hold no grudge against Crocs.
"I definitely understand them sending this to me," he explains in the video, adding that he "sort of" expected to hear from the company — and that if he did, it would have one of two outcomes.
"One of them would be, 'Wow, that was so great. Here's a bunch of free Crocs,'" he says. "Or, 'Take it down immediately.'"
Benedetto hopes his experience can be instructive for other online content creators. Particularly with the rise of social media, he says, the line between what is and isn't fair use increasingly unclear. That means it's more important than ever for creators to be careful.
"I think a lot of smaller creators will fold under the pressure of just not knowing what they should do next," he says, "instead of just taking a step back, looking at the situation and seeing where you were in the right and where you were in the wrong.
"I still think they're a great company," Benedetto says of Crocs, " and I still think my invention is absolutely hilarious."
The inventor says he's responded to Crocs but has yet to hear from the company.
Seven Days
' attempts to reach Crocs for comment were unsuccessful. Benedetto did not immediately respond to our requests for comment.