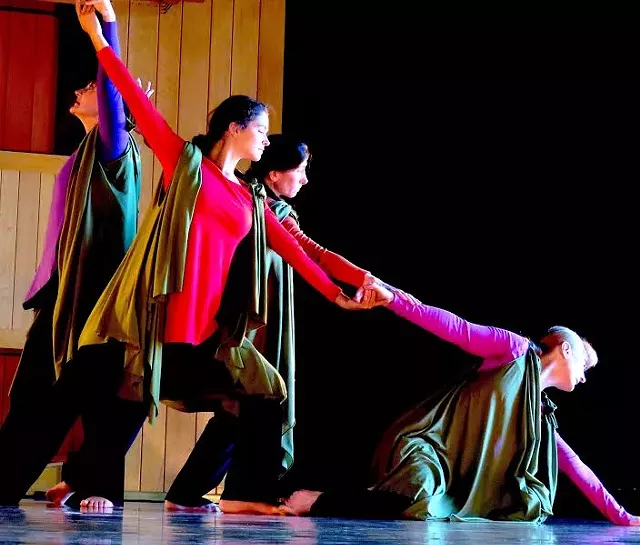 Courtesy of Peg Brightman
Dancers rehearse Sarabande
Poetry, said Mary Oliver in a
rare 2015 interview
with the radio program "On Being," "is very old. It's very sacred. It wishes for a community. It's a community ritual, certainly. And that's why, when you write a poem, you write it for anybody and everybody."
Oliver won the Pulitzer Prize for Poetry in 1984 and the National Book Award for Poetry in 1992. She also had New England connections, teaching at Bennington College from 1996 to 2001 and living in Provincetown, Mass. for many years.
Oliver's work is ubiquitous across Instagram, and read at both weddings and funerals. A
New York Times
obituary
called her "a phenomenon: a poet whose work sold strongly." When she died in January, the loss was felt not just by the poetry community, but by many fans outside it.
"Mary Oliver's poetry is [about] more than other poets reading her," said Vermont poet
Laura Foley
. "She didn't put herself up on a pedestal. Her words are very clear, she uses images from nature. And she has a message, which is, 'Slow down, look around you.'"
Foley wrote a poem called "It Matters" upon hearing of Oliver's death that borrows and appreciates various lines of Oliver's poetry, which are presented in italics. Foley said she knew these lines by heart when she sat down to write the poem.
"It matters that I clutch / my stack of her books—those fields of light—" she wrote, "now that her body has gone /
into the cottage of darkness
."
Foley's poem and others will be featured in
Homage to Mary Oliver in Poetry and Dance
on Thursday, July 25,
ArtisTree Community Arts Center & Gallery
in South Pomfret at 7:30 p.m. The multidisciplinary performance kicks off
Bookstock
, an annual literary festival that takes place in Woodstock from Friday to Sunday, July 26 to 28.
This marriage of poetry and dance was the idea of
Peg Brightman
, a dancer and choreographer who's also a member of the Woodstock Poetry Workshop. Many of the workshop's members were struck by Oliver's death, she said, and wanted to do something to honor her. Brightman suggested incorporating some of Oliver's work, tributes to her by eight poets from the workshop and dances she choreographed into a singular performance.
Courtesy of Peg Brightman
Moving Spirit Dancers
"My sense is that people are starved for hearing poetry. It's not enough to just read it on a page," Brightman said. "Poetry demands listening intently, and with dance you're watching. It's a different sensory experience."
The dancers are from Brightman's dance company,
Moving Spirit Dancers
, which is entering its sixth year performing in the Woodstock area. Among the dances is one she choreographed previously, when her mother died. Brightman said she associates it with "mourning a beloved person's death."
The Oliver tribute sets off a jam-packed weekend — and it's not the only Bookstock event to feature poetry out loud. On Friday, July 26, also at ArtistTree, poet
Geof Hewitt
hosts the All Ages Anything Goes! Slam. Comedians, musicians and magicians are also welcome on stage.
"It's quite jovial," said festival coordinator Jordan Engel of the poetry slam. "You know, hooting and hollering."
The festival features workshops and panels with at least 45 writers, including
New Yorker
cartoonist
Edward Koren
, former Vermont governor-turned-memoirist
Madeleine Kunin
and
Tracey Medeiros
, author of the
Vermont Non-GMO Cookbook
.
Bookstock also engages new forms of delivering narrative. For the third year, the festival will feature a virtual reality tent. On Saturday, July 27, students from the Woodstock Union High School and Middle School computer science program will provide demonstrations with VR headsets and allow attendees to experience virtual worlds.
Bookstock takes place on and around the village green in Woodstock. Tents fill the main space, and events pop up at venues surrounding it. The tents feature a large used book sale on Friday and Saturday.
"One of the very nice things about Bookstock is that it happens in a small village," Engel said. "You park your car and you sort of enter this world … [on] Saturday, it's bedlam."
Find a full schedule for the festival at
bookstockvt.org
.