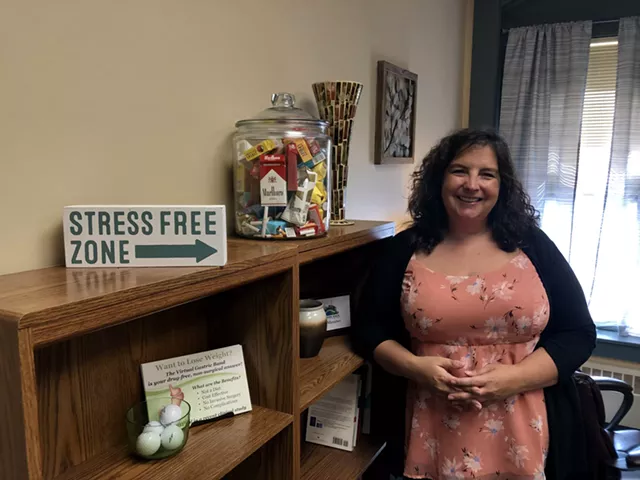 Sabine Poux
Karen Gray
Note: This story is a companion to this week's Work column about certified professional hypnotist Karen Gray. Read the column here.
Throughout my last semester of high school, acquiesced beyond repair to my senior year slump and basking in the independence of my new driver's license, I often spent weeknights at my friends' houses until three or four in the morning. At that point, I'd exhaustedly summon every drop of my remaining energy, get in the car and make the five-minute commute home.
Eventually, driving back from these hangouts became second nature, each stoplight and turn through my sleepy suburban hamlet deeply familiar. Most nights, I would end up as if by magic in my driveway, with no recollection of even driving back at all.
During each of these zoned-out drives, Karen Gray told me, I was in a hypnotic trance. My conscious mind had strayed from the situation at hand, like it does in hypnosis, while my
sub
conscious mind slipped into autopilot. A person can drive home without really
thinking
about it, as unsettling as that is.
When Gray hypnotized me, I felt a lot like I did on those late nights, my body doing its job without my active input. But before we got to any of that, Gray and I did another exercise that
did
involve my active participation: a technique called neuro-linguistic programing, or NLP.
Gray uses NLP with clients — like the guy with the fear of eggs she talked about in our interview — who want to re-associate a particular action or thing with a new, more pleasant reaction. My egg, so to speak, was a recent speeding ticket snafu, still fresh enough that the thought of it made my blood boil.
Gray asked me to visualize my emotions regarding the incident, and I pictured a warm red ball of energy that hovered right by my chest. She then instructed me to play around with that manifestation until I found a version that made me feel calmer. I settled on a small, blue orb that hummed like a vibrating cell phone an arm's length from my body.
Tuck that away, she told me, and I would find that this new reaction to the ticket would actually
replace
my previous one. Sure enough, the tenseness and warmth I felt when I thought about the event cooled; from then on, any thought of the ticket triggered the more neutral reaction.
Way cool.
After the NLP exercise, I was ready as hell to be hypnotized. We finished the interview and Gray flicked off the light. Behind where I sat in a comfortable easy chair, a sound machine started droning.
Gray took out a small glass ball on a chain, which I half expected her to dangle in front of my eyes as she told me I was getting
veeeery
sleepy. Instead, she showed me that the pendulum would swing clockwise if she envisioned it was swinging that way, or counterclockwise if she envisioned it
that
way. She had me do the same.
"It's not slight of hand and it's not mystic," she said, her voice gentler and less conversational than before. "I'm thinking about it and my subconscious mind is creating that physical reaction."
I was surprised when Gray told me I didn't have to tune out the rest of the world, and that I'd be aware of what was happening the entire time. Even so, as she counted down and told me to tighten my eyelids more and more, I did, somewhat involuntarily. And when she told me to relax, I sunk deeper into the chair, though I was barely aware of my own movements. It was like my subconscious was overriding the system, and I was completely OK with it.
At one point, Gray had me count backward from 100, doubling my mental relaxation with each number until I got to 98. Then, she told me, let the other numbers fall away.
"Because you expect that to happen, you want that to happen, that's what will happen," she said.
It did, and I counted without really pushing myself to do so, the thought of the numbers hardly registering in the forefront of my mind. Since I was hungry, I thought about what I was going to get for lunch, my drive back home — basically anything but the situation at hand. But I could still
hear
what she said to me, and responded accordingly.
A few more physical exercises and then Gray told me I would come out of the session feeling confident, energized and more concentrated. Seeing the color red would reinforce these suggestions in my mind, she said, wherever I saw it. Got it? Good.
She gave me a moment to internalize what she said and then counted me out, beginning at one, two. With each number, my energy built. As if on cue, I heard a bus roar by the office on three. Four, five. I opened my eyes and I was back.
The whole thing lasted around 20 minutes, though it felt half that. I can't say exactly what effect only one short session had on me, but as I walked to my car I sensed my posture straighten and I felt calm — at least for the rest of the day.
Most notably, I left feeling optimistic about the possibility of words to manifest in the material; that our bodies are not only powered by hormones and emotions, but also by thoughts embedded in our subconsciouses. And that these thoughts can actually be
reprogrammed
.
Sometimes, as Gray showed me, we can will something to happen and it will, in fact, happen.
Is that not the most reassuring thing in the world?