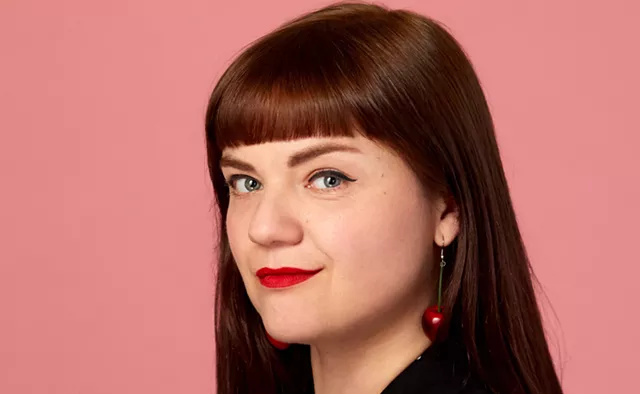 Courtesy of Lauren Mazzotta
Christy Mitchell
It seems only right that someone who's been an artrepreneur on Burlington's Pine Street the last 15 years of her life should rise up to helm the
South End Arts and Business Association
. And that's exactly what has happened.
Christy Mitchell, founder/director of
the S.P.A.C.E. Gallery
in the Soda Plant, was today named executive director of the nonprofit organization that brings us the annual South End Art Hop. She will replace interim director Jeanne Kirby, who will rejoin the board. Previous ED Adam Brooks stepped down last December.
A graduate of the Savannah College of Art and Design and an artist herself, Mitchell has been an active member of the city's art scene since her arrival in it. In addition to launching S.P.A.C.E. — which in addition to the gallery offers studio space to emerging artists — she has opened additional working artist spaces in the South End and was the
director of maker space Generator
in its early years. She was also instrumental in designating the official term "South End Arts District."
"My passion for the arts and love of creative endeavors has led me down a path of connecting artists to opportunity," Mitchell writes in a press release. "My vision for the South End consists of building up relationships and paving new ways for artists and entrepreneurs to connect and communicate with each other and the broader community."
Seth Mobley, president of the SEABA board of directors, said, "Christy is the right person to guide SEABA, to nurture its strengths, and to support the innovation taking place across our community."
One of the first orders of SEABA business is planning the 27th annual Art Hop — this year September 6 through 8. But in addition the board is engaged in a longer-term process of honing goals for the organization, as well as priorities for serving businesses and artists in the ever-evolving South End.
According to Mitchell, one goal will be to find a new home. Last December, SEABA's lease at 404 Pine Street
was not renewed
(
ArtsRiot
has expanded into the space), and it has been operating from a significantly downsized office in Generator on Sears Lane.
Meantime, Mitchell writes on Facebook: "I can't wait to lead this organization, creating a platform to raise awareness and give a common voice to artists and businesses, so that we all may thrive. I'm looking forward to many exciting days ahead!"