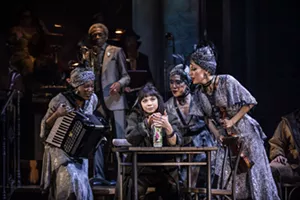 Matthew Murphy
Eva Noblezada and the Broadway cast of 'Hadestown'
Anaïs Mitchell
's
Hadestown
has
received 14 2019 Tony Award nominations
. The Vermont native's "folk-rock opera," which opened on Broadway this month, nabbed more nominations than any other production this year, edging out the musical
Ain't Too Proud
, which received 12 nominations.
"This is
such
a total and complete honor! What I feel most of all this morning is enormous gratitude," wrote Mitchell in a statement following the nominations announcement. "
Hadestown
really took a long and winding road to Broadway, and so many creative, soulful people have put their hands on it along the way and kept it moving forward."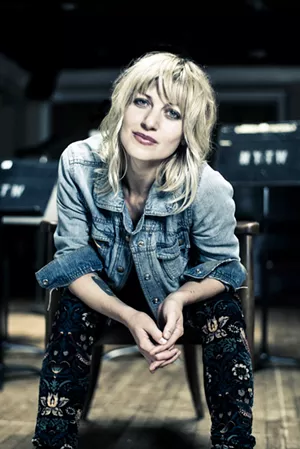 Jay Sansone
Anaïs Mitchell
In an email to
Seven Days
, she added, "I'm so proud, when people ask about the origins of this show, to be able to describe the scene of our DIY community theater project in Vermont, with Ben Matchstick,
Michael Chorney
, all our friends, the silver school bus, the Barre Labor Hall! "
Indeed
, Hadestown
, an artsy and ambitious musical retelling of the Greek myth of Orpheus and Eurydice,
has had a long road from Vermont to Broadway
. A bare-bones version of the musical debuted at the Old Labor Hall in Barre in 2006. The following year,
a more fully realized production saw eight performances
at several locations around Vermont, as well as Somerville, Mass.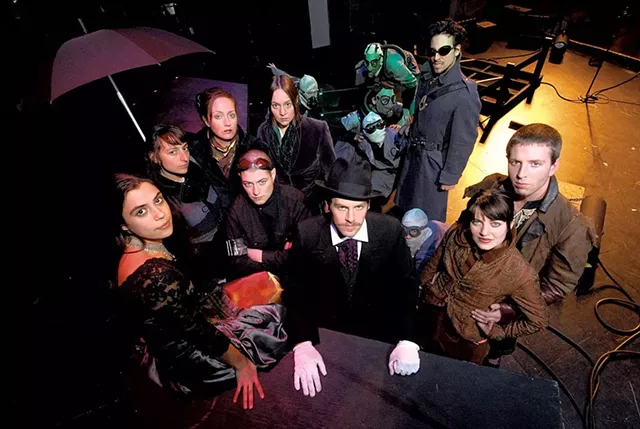 File: Jeb Wallace-Brodeur
2007 'Hadestown' cast, left to right: Miriam Bernardo, Sarah-Dawn Albini, Lisa Raatikainen, Sara Grace, Nessa Rabin, David Symons, Ben t. Matchstick, Anaîs Mitchell, Ben Campbell
That version featured an all-local cast, including Vermont songwriter Ben Campbell as Orpheus, Ben T. Matchstick as Hermes and Mitchell as Eurydice. Chorney, a Lincoln-based avant-garde composer, wrote the original score and has remained an integral collaborator throughout the play's numerous iterations.
Matchstick was a key creative force in the early development of
Hadestown
and is credited as a co-conceiver on the Broadway production. Bassist Rob Morse was a member of the original Hadestown Orchestra and, along with Chorney, is part of the Broadway band as well.
In 2010, Mitchell released the album
Hadestown
, on Ani DiFranco's
Righteous Babe Records
. The 20-song album, produced by New York musician
Todd Sickafoose
, was a star-studded affair featuring Bon Iver's Justin Vernon as Orpheus, Greg Brown as Hades, the Low Anthem's Ben Knox Miller as Hermes, DiFranco as Persephone and Mitchell, again as Eurydice.
Matthew Murphy
Reeve Carney and Eva Noblezada in 'Hadestown'
In 2013, Mitchell began collaborating with Obie-winning director
Rachel Chavkin
to develop
Hadestown
as an off-Broadway production. That included writing new music with Chorney, bringing the total number or songs in
Hadestown
to 34.
After three years of development,
Hadestown
opened to positive reviews at New York Theatre Workshop in May 2016. The show was then performed at Canada's Citadel Theater in 2017 and the National Theatre in London in 2018.
Hadestown
made its Broadway debut, with the principals from the London production and Chavkin as director, at the Walter Kerr Theatre on April 18.
Among the 14 Tony Award nominations for
Hadestown
, Mitchell received nods for Best Book of a Musical and Best Original Score. Chavkin was nominated for Best Direction of a Musical. Chorney and Sickafoose were nominated for Best Orchestrations.
"Noah [Hahn, her husband] and I both cried when we saw that Michael Chorney and Todd Sickafoose had been nominated for an Orchestrations Tony," wrote Mitchell. "Long road, old friends. Sending love from Broadway to Vermont."
The 73rd Tony Awards take place at Radio City Music Hall in New York City on June 9.
Hadestown
is currently running at the Walter Kerr Theatre.