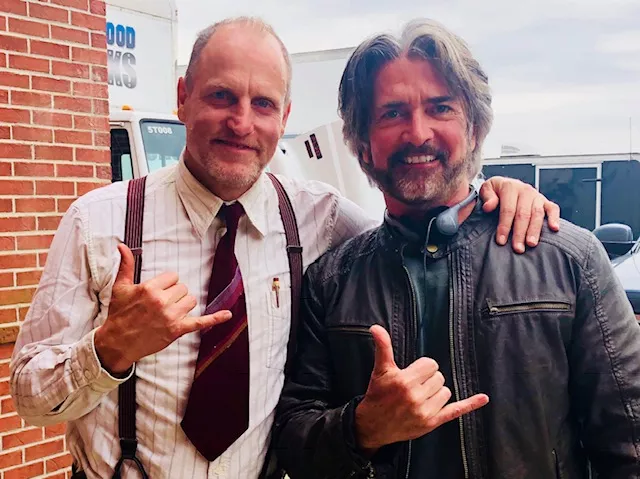 Courtesy of John Fusco
John Fusco with Woody Harrelson
Dropping out of high school at age 16 doesn't guarantee international fame and fortune. At the same time, it hasn't exactly held John Fusco back. Nope, he's squeaking by.
The
Vermont-based screenwriter
, producer and series creator is leading a ridiculously rich existence, in fact. If there were a prize for most movie-like life, it would be sitting on his mantel beside the ones he received the year before and the year before that.
Here's an example: After he dropped out of school, Fusco traveled the American South in search of Delta blues musicians who'd never had a top-10 record but were pioneers and innovators of the form. He played music himself here and there and took factory jobs to finance his research. He got his GED. He went to New York University's Tisch School of the Arts. His bachelor's thesis was the 1986 Columbia Pictures hit
Crossroads
, starring Ralph Macchio as a young guitarist traveling through the South to learn about the blues.
Life has only gotten more movie-like for Fusco since then. He's written the scripts for such films as
Young Guns
(1988) and its 1990 sequel,
Thunderheart
(1992);
Spirit: Stallion of the Cimarron
(2002), which was nominated for a Best Animated Feature Oscar;
Hidalgo
(2004); and
The Forbidden Kingdom
(2008).
Additionally, Fusco has authored two
novels
and a children's book. He's studied martial arts in China and holds a Black Sash rank in Northern Shaolin Kung Fu. He's the founder of the Indian Horse Conservancy. In 2014, he struck a deal with Netflix for the series
"Marco Polo"
(season one's budget: $90 million).
Oh, and Fusco has a hit record. Of course, it's a blues album. John Fusco and the X-Road Riders (get it?) released their self-titled debut last month, and it's getting
rave reviews
.
So, you'll not be shocked to learn he hasn't been resting on his laurels. Fusco somehow found the time to research and rewrite one of the most infamous chapters in American history: the saga of Bonnie Parker and Clyde Barrow. As it turns out, almost everything we think we know about the criminal couple comes from the 1967 Arthur Penn film, and almost everything in that film never happened.
Courtesy of John Fusco
John Fusco
I had a chance to chat by phone recently with the underachiever. Fusco shared the story behind his latest Netflix collaboration,
The Highwaymen
, starring Kevin Costner and Woody Harrelson. Currently playing at Merrill's Roxy Cinemas in Burlington, the movie sets the record straight.
SEVEN DAYS:
We just went through an awards season in which the debate over streaming versus traditional exhibition factored more than ever before.
Roma
gained some ground for the disruptors, but no sooner had it won its Oscars than Steven Spielberg declared war, promising to campaign for changes to the Academy rulebook. Any thoughts?
JOHN FUSCO:
I'm a big-screen romantic like Spielberg. I have worked with Steven and love him. I get his stance. But I believe that viewing
The Highwaymen
can be like watching the football game. You can choose to watch it at home or go to the stadium for the epic experience; the outlets can coexist. For me, I'm just a wandering minstrel looking for the venue that's going to let me set up shop and tell my story. Netflix is allowing me to tell a story that has personal meaning to me, to make a movie for grownups when that's not easy to get done these days. They are good to filmmakers.
SD:
I think audiences are going to love
The Highwaymen
, particularly moviegoers who can switch off the fixation with comic books and superheroes long enough to wrap their heads around an unhurried, thoughtful, beautifully acted drama.
JF:
This is a side to the story I've felt for so many years needed to be told. I wanted to tell it on its own terms and to let the procedural breathe. And to see Frank Hamer and Maney Gault get their due.
SD:
I think both the story — the historically accurate one, this time — and the performances are a revelation. Costner, in particular, brought something borderline magical to his portrait of Hamer. I can't think of many actors who could have tackled the part credibly.
JF:
You're right, Kevin nailed it. He really captured Hamer. There are so few American actors out there who can capture that Western ethos.
SD:
And it's taken so many forms through his career — obvious ones like
Silverado
,
Dances With Wolves
,
Wyatt Earp
and
Open Range
, but subtle variations run through his work in
The Untouchables
,
JFK
and other films, too. Frank Hamer's a fabulous character, unlike any I've seen Costner play. And yet he absolutely inhabits the part; it fits him perfectly.
JF:
Hamer was a fascinating guy. He was a real old-timer and knew Pancho Villa, was shot 17 times but never liked to talk about his work as a Texas Ranger. Nobody ever got the drop on that man.
SD:
Unlike the famous scene in Arthur Penn's 1967 smash
Bonnie and Clyde
…
JF:
Exactly, that scene when they kidnap him, taunt him sexually and take his photo by the car to humiliate him.
SD:
Never happened, right?
JF:
Never happened. In fact, his family sued Warner Bros. for defamation and won a settlement.
SD:
I remember seeing that film when it was released. The media went crazy about the level of violence. What I don't remember, strangely, is anybody at the time pointing out that almost everything that happens in it was fabricated.
JF:
I saw
Bonnie and Clyde
in 1967, too, at the drive-in with my parents…
SD:
Now there's a family film!
JF:
Ha! I grew up with a real interest in outlaws and gangsters — rebels outside of society. I want to make clear that Arthur Penn's movie is one that I love. I recognize it as a watershed cinema event and cultural touchstone. I was part of the generation that was turned on by that film. It was one of the movies that made me want to make movies.
SD:
So, while
The Highwaymen
sets the record straight as to what Bonnie and Clyde were really like, how small-time and psychotically cruel they were, your intention was never to discredit Penn's film as a work of art?
JF:
I've seen my movie described as a "conservative corrective," but that was never on my radar. Many years ago, when I starting digging into the true stories about all this, the photos haunted me. It all started with the photos. They really were natural born killers.
SD:
An irony that I imagine wasn't lost on Woody Harrelson. [He starred in the 1994 Oliver Stone film of that name.]
JF:
Right! There was something truly spooky about them. Bonnie drank heavily and was addicted to the opiate laudanum. She dragged one leg, which she'd injured in a car accident. They just left this trail of destruction. The press portrayed them as anti-establishment heroes, but that was just to sell papers. Meanwhile, think of the number of children they left on the bread lines.
SD:
And how many more they might have if Frank Hamer hadn't come out of retirement to track them down. Their reign of terror lasted three years. Hamer brought it to an end in three months.
JF:
He was a fascinating man. Tom Mix wanted to make a movie star out of him afterward, but he turned him down. Hamer didn't want to talk about it or make money off it.
SD:
So, this is a story you've wanted to tell for a long time. The picture has been, what, 16 years in the making?
JF:
I was out in the desert making
Hidalgo
with Viggo [Mortensen], and the producer asked me what my dream project was. I said the Frank Hamer story, and he, of course, said, "Frank who?" Then I told him the true story behind the hunt for Bonnie and Clyde. Immediately, he said, "Let's do it!"
After I'd completed my research and written the script, I sent it to Bob [Robert Redford]. He loved it and told me, "Don't send this to Paul [Newman]. I'm going to fly out and show it to him." It was going to be their final collaboration. But Paul became too ill to finish it.
SD:
Did your vision of the film change at all over time?
JF:
Sure. My original drafts took the form of a cradle-to-grave story. Eventually, though, the producer (yup, same one) and I decided it was too unwieldy. I stripped away everything and focused on the hunt for Bonnie and Clyde, along with the relationship between these two guys.
SD:
Costner and Harrelson are wonderful together. There's some industrial-strength gravitas going on there.
JF:
You've got to remember they had a terrible gift, the talent to be manhunters. They'd gone through long careers, had carried this weight and then had to do it one more time. That's the element that attracted [director] John Lee Hancock, by the way. There was no joy in Mudville, believe me.
SD:
I've got to ask one last thing: Kathy Bates plays real-life Texas governor Ma Ferguson. Early on, when the notion of contacting Hamer comes up, she scoffs, "Why don't we just go dig up Wyatt Earp?" That's a joke you put in there for Costner, right?
JF:
Honestly, no. It was in the original script.
SD:
Well, that's just eerie. And, hey, nice work getting Netflix to include Burlington along with LA and New York for the film's theatrical release. Someone's got a little clout.
JF:
I love Burlington. It's a place where people really are passionate about movies.