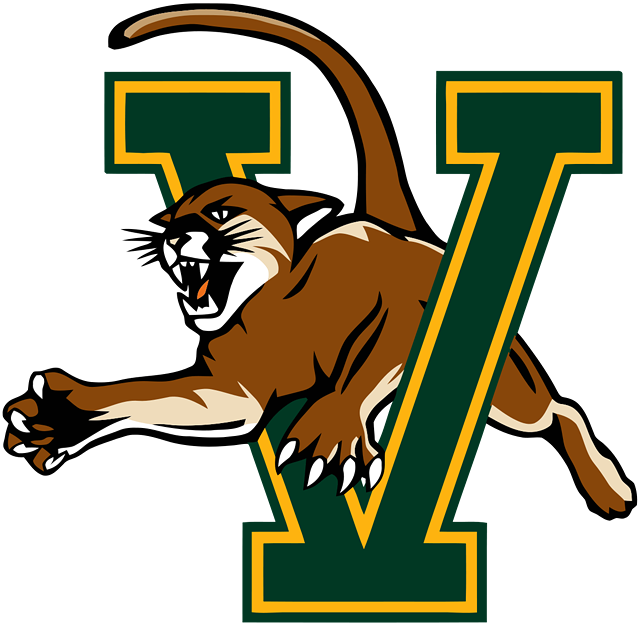 University of Vermont
University of Vermont Catamounts
Put on your dancin' shoes, Cats fans. Saturday, the University of Vermont men's basketball team earned a ticket to the Big Dance, aka the NCAA Division 1 tournament, by dominating the University of Maryland Baltimore County Saturday in the America East conference finals. As an added bonus, in doing so the Catamounts avenged last season's crushing finals loss to those same UMBC Retrievers — if you recall, UMBC went on to make NCAA tournament history in 2018 as the first 16 seed to beat a 1 seed.
UVM's reward? (Other than sweet, sweet vengeance?) A 13 seed in the tourney and a date with fourth seeded and heavily favored Florida State at 2 p.m. on Thursday, March 21, in Hartford, Conn.
As the Hoop Cats bandwagon understandably fills to capacity, we thought it might be helpful for casual fans to take a look at the team's first, and hopefully not last, 2019 March Madness opponent, the Florida State Seminoles — and how UVM might pull off one of the tournament's first big upsets.
College:
Florida State University
Location:
Tallahassee, Florida
Nickname:
Seminoles
Mascot(s):
Osceola and Renegade; Cimarron
Notable Alumni:
actor Burt Reynolds, the Doors singer Jim Morrison, NFL cornerback/MLB outfielder Deion Sanders, volleyball player Gabrielle Reece, Creed singer Scott Stapp, celebrity fitness guru Richard Simmons, writer Hunter S. Thompson
Wait. The dude from Creed went to FSU? That explains so much.

Florida, right? Stapp met the rest of Creed at FSU — presumably with arrrrms wide opennn-uh. And the Lizard King, Morrison, did a couple of years at FSU before he moved to Los Angeles in 1964. In fact, a bunch of famous musicians have passed through FSU over the years, including Sam Beam of Iron & Wine, members of country groups Florida Georgia Line and the Zac Brown Band. Also, Leonard Skinner, aka Lynyrd Skynyrd's namesake, is a FSU alum — though he was actually a hippie-hatin' gym teacher, not a musician.
FREEEEEEEBIIIIIIIIIIIRRRRRRD!
Stop it.
As is New England tradition, angrily rooting against a team is as fundamental to our fandom as rooting for one — also usually angrily. Any good reasons to dislike FSU?

Welllllllll, that depends on how you feel about the appropriation of Native American culture and iconography in sports. (Hot take: It's racist AF and it's a national embarrassment that this is still even a conversation.)
(Cue trolls shrieking in the comments section in 5, 4, 3…)
As many FSU fans will rush to tell you, the school has an agreement with the Florida Seminole Tribal Council that essentially sanctions the Seminoles nickname and the school's mascots, Chief Osceola and his horse, Renegade.
All good, then, right? Not exactly.
As sportswriter
Dave Zirin wrote for the Nation
in 2014, said agreement with the FSTC is problematic on a number of levels. Not the least of which is that several other Seminole governing bodies — such as the Seminole Nation of Oklahoma, where the vast majority of actual Seminoles live — remain steadfastly opposed to the use of American Indian mascots in sports. There's also some unseemly business about casinos, because college sports — and because Florida. But let's move on, shall we?
So, just how good is FSU?
In a word: very.

The Associated Press ranks FSU as the 10th best team in the country, and most sportsbooks peg them as 10.5-point favorites over UVM, which is a lot. They finished the season hot, losing only twice in roughly the last two months. Those losses were against Duke and North Carolina, elite, blue-blood teams you'll find at the very top of your office March Madness bracket. FSU also beat four top 20 teams in that stretch, including second-ranked Virginia.

While FSU is not an offensive powerhouse, it should be able to cause problems defensively for UVM with its size. The team has length and athleticism that UVM has rarely encountered this season — specifically 6-foot-10-inch forward Mfiondu Kabengele and 7-foot-4-inch center Christ Koumadje.

Jesus.
Exactly.

In other words, the Cats don't have a snowball's chance in Tallahassee of winning, do they?
Actually, they might. Stay with me here.

One sneaky advantage for UVM is that the game is in Hartford. So the atmosphere should be something close to a home game for the Catamounts. When UVM upset Syracuse in 2005 — yet another 4 vs. 13 matchup, BTW — the game was played close to home in Worcester, Mass., which made it easier for Cats fans to travel. Crowd energy matters in March. Expect a strong, vocal Vermont contingent in the stands on Thursday afternoon.

But as the motivational slogan emblazoned across the white T-shirts of nearly every Cats fans at Patrick Gym on Saturday read: "Everything Is Earned." To beat FSU, UVM will indeed have to earn it.

(Side note: ESPN's awestruck broadcasters continually referencing the "whitewash" in the stands at Patrick Gym on Saturday might have been the greatest moment of unintentional comedy in the history of Vermont sports. They were of course referring to the T-shirts but … well, you know.)

FSU will undoubtedly do everything it can to slow down America East Player of the Year Anthony Lamb. But that's way easier said than done. There's a reason NBA scouts from teams like the Oklahoma City Thunder and Boston Celtics have reportedly been showing up at UVM games of late. Just ask Kansas coach Bill Self.

Lamb dropped 24 points against 17th ranked Kansas earlier this season. UVM lost, but Self came away a true believer in the junior forward.

"[Lamb] just toyed with us all night long," said Self. "He got the best of everyone who was guarding him."

Lamb is a lethal and multitalented scorer. He is not, as one enthusiastic sign waving Catamounts fan suggested at Saturday's game, better than Duke super-phenom/second coming Zion Williamson. But Lamb is already one of the finest players UVM has ever had and might well end up as the best before his career is over.

Still, for Vermont to win, they'll likely need to get something out of their second and third scoring options. If UVM wins Thursday, it probably means that guard Stef Smith or one of the team's 17 Duncan brothers had big games. That's a joke, but only slightly: UVM has three of the five Evansville, Ind., Duncan brothers on its roster: Robin, Everett and Ernie, the last of whom is the best bet of the trio for heroics.

As previously mentioned, FSU is a talented defensive team. But do you know who else is also good on D? UVM. A time-honored ingredient in the recipe for a classic March Madness upset is a squad that plays strong team defense and can keep the score close, especially against an offensively limited team — like, for example, FSU. Because that's when crazy shit like this happens.

Go Cats go.