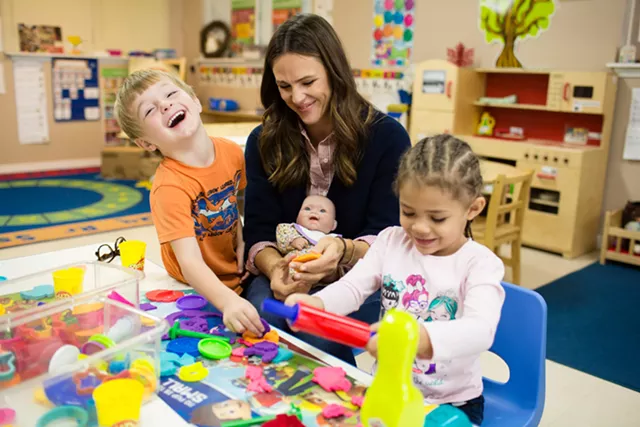 Courtesy of Save the Children Action Network
Jennifer Garner and two friends
Jennifer Garner is known for her ass kicking on "Alias," her winsomeness in
13 Going on 30
, her red-carpet outfits, her celebrity marriage to (and recent
divorce from
) Ben Affleck and, perhaps slightly less prominently, her work as an ambassador for the international charity
Save the Children
. This Thursday, that charity work brings the movie star to Burlington, where the public can see her — space permitting — at a "special conversation on the importance of high-quality child care" at Merrill's Roxy Cinemas in Burlington.
Garner's conversation partners will be Save the Children Action Network CEO Mark Shriver and Aly Richards, CEO of
Let's Grow Kids
, a Burlington-based organization that aims "to ensure affordable access to high-quality child care for all Vermont families by 2025," according to its website.
Earlier the same day, Garner and Shriver will appear at the
Robin's Nest Children's Center
in Burlington "to highlight the educational and economic impacts of increasing access to high-quality, affordable child care" as guests of Gov. Phil Scott, House Speaker Mitzi Johnson (D-South Hero) and Senate President Pro Tempore Tim Ashe (D/P-Chittenden), according to a press release from the governor's office. That event is limited to members of the media.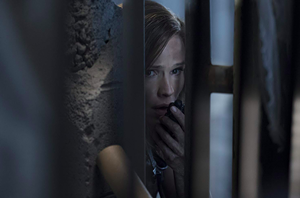 Garner in a still from Peppermint.
As celebrity watchers know, being a devoted mom and a defender of kids is a big part of Garner's image. In her most recent vehicle, last year's
Peppermint
, she played a mother who transforms into an action hero to seek revenge on the slayers of her husband and daughter.
While that was a vigilante fantasy (from the director of
Taken
), Save the Children Action Network aims to address threats to kids in more concrete and constructive ways. The organization's website describes it as "building bipartisan support to make sure every child in the U.S. has access to high-quality early learning and to save lives of mothers and children around the world."
Asked why SCAN chose Vermont for this event, Nicole Haley, media and public relations manager at Let's Grow Kids, wrote in an email that the organization is "excited about what's happening in Vermont. Jennifer Garner is a longtime and passionate advocate for early care and learning and SCAN is bringing her to Vermont to highlight the work being done here because they recognize our state can lead the nation on this issue."
How is Vermont leading the nation? Haley cites such developments as the governor's proposal to increase funding for the Child Care Financial Assistance Program and the "tripartisan" support for
H.194, a bill
aimed at improving access to childcare. (
Seven Days reported
on the "statewide childcare crisis" in December.)
So you might just have a chance to combine your star watching with do-gooding at the public conversation on Thursday, February 21, 2:30-3:30 p.m., at Merrill's Roxy Cinemas in Burlington. Doors open at 2:15 p.m.; the event is free and open to the public, but seating is limited.