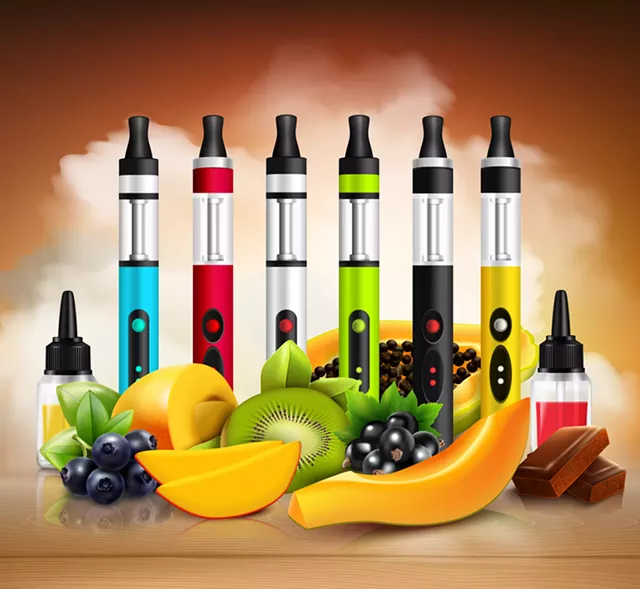 On Tuesday, February 12, middle and high schoolers who are members of
Our Voices Xposed (OVX)
and
Vermont Kids Against Tobacco (VKAT)
— Vermont's youth-led movements to reduce youth smoking and vaping — are scheduled to march to the Vermont Statehouse for a rally against the perils of electronic cigarettes and flavored tobacco among their peers.
As the U.S. Centers for Disease Control and Prevention
reported Monday
, nearly 5 million American youth used e-cigarettes in 2018. The
U.S. Surgeon General
also warned that their use is skyrocketing among minors, with one in five high school students reporting last year that they used e-cigarettes at least once in the last month. Many teens assume that vaping nicotine is a "safe" alternative to other tobacco products, such as its combustible cousin, the analog cigarette (aka, the "cancer stick"), the cigar ("ye olde stogie") and snuff and chewing tobacco ("Mr. Spitty McBrown Teeth.")
This week,
Seven Days
staffers weighed in on the e-cig craze among Vermont youngsters:
According to the Vermont Department of Health, "When tobacco products and e-cigarettes are sold in flavors kids love, like cotton candy, bubble gum and peanut butter cup, they attract youth and seem less dangerous. Currently, more than 7,000 e-cigarette flavors are available." Of the thousands of e-cigarette flavors currently on the market, which ones are the least popular among Vermont teens?
JORDAN ADAMS: Kale Medley, Kombucha Dream, Carob Chip Delight — basically all of the flavors that remind them of the food their health-conscious parents force them to eat.
DAN BOLLES: Cheery Cherry Coughing Fit, Venison Vape
CHELSEA EDGAR: Napa Cabbage Caress, Gruyere Groove
KEN PICARD: Juicy Jones, Black Lung Licorice, Malignant Melon Madness
The Vermont Department of Health says that 13 percent of Vermont youth e-cigarette users report that the primary reason they use these devices is because they're available in flavors that appeal to kids. What are some of the other reasons Vermont teens use e-cigarettes?
JA: The kids in Vermont use e-cigs for the same reason kids use them everywhere else: to distract themselves from the crushing horrors of impending adulthood in the 21st century. You know that 98 percent of kids born after the year 2000 will never own property, right?
DB: Cow-tipping is enough of a cardio blast without a pack-a-day habit.
CE: To deliberately stunt their growth so that they require fewer resources to subsist on after the apocalypse hits.
KP: An e-cigarette is just another rechargeable device to plug into their ever-growing supply of USB ports.
According to a new infographic from the U.S. Centers for Disease Control and Prevention, e-cigarettes go by various names, including "e-cigs," "e-hookahs," "mods," "vape pens," "vapes," "tank systems" and "electronic nicotine delivery systems." What are other popular e-cigarette nicknames we've overheard from Vermont youth?
JA: Sugar on fog, blizzard sticks, heady poppers — at least that's what my teenage neighbor calls them.
DB: iSmoke, Lung Spotify, Li'l Wheezy
CE: Steezy stylus
KP: Darth Vaper, Camel's Bump, Nick O'Teen, Crayola coffin