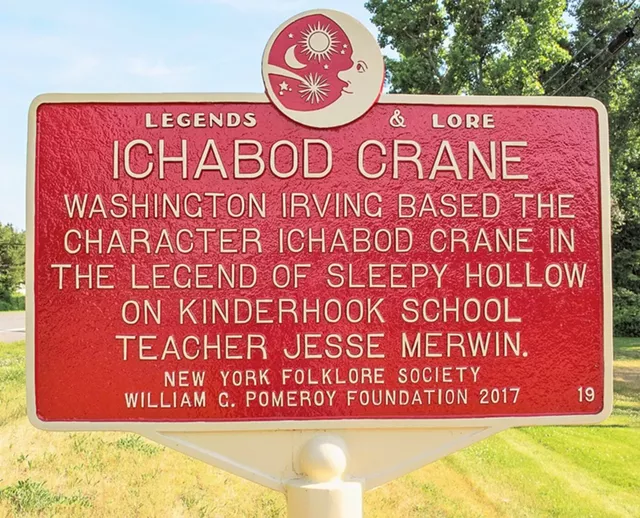 Courtesy of the Vermont Folklife Center
A Legends & Lore marker in New York state
The
Vermont Folklife Center
has partnered with the Syracuse-based
William G. Pomeroy Foundation
to bring the latter's
Legends & Lore Marker Program
to Vermont. The VFC is the sixth cultural center to join the program, along with organizations in Alabama, Connecticut, New York, North Carolina and Oregon.
According to the Pomeroy Foundation website, the program is "designed to promote cultural tourism and commemorate legends and folklore as part of cultural heritage." It does so by placing markers at sites of local cultural, if not precisely historic, significance. Like, as in the example pictured above, the
site of the Ichabod Crane Schoolhouse in Kinderhook, N.Y.
, where Jesse Merwin taught. Merwin was the real-life inspiration for the protagonist Ichabod Crane in Washington Irving's classic "The Legend of Sleepy Hollow."
"It's an effort to use the model of a historical site marker to commemorate things related to traditional regional culture," explained VFC associate director Andy Kolovos. "Whether that's legends like hidden treasure, or ghosts or cryptids, or things about significant traditional artists or things that appear in traditional content like old traditional songs, that's what the project is directed at thinking about."
VFC will serve as a grant evaluator for the Legends & Lore project, vetting proposals for Vermont site markers to be funded through the Pomeroy Foundation's
Legends & Lore Marker Grant Program
. Site marker grants are available to 501(c)(3) organizations, nonprofit academic institutions and municipalities in Vermont.
To aid in the selection process, the Middlebury-based Folklore Center has enlisted Vermont's "Ghostmaster General," author and folklorist
Joseph A. Citro
. Citro is the author of several books on hauntings, paranormal phenomena and folklore throughout Vermont and New England.
"A strong proposal from my perspective is one that can concisely describe the thing, the lore," said Kolovos, "but also one that really reflects unique things about Vermont."
He added that VFC is prohibited from nominating sites or soliciting organizations directly. "But we can certainly encourage!" he said.
Kolovos pointed to the
Chittenden home of 19th-century Spiritualists the Eddy brothers
as a significant site that might make for a good marker. A marker commemorating
Phineas Gage
in Cavendish could be another.
"He's — I probably shouldn't put it this way — a no brainer," quipped Kolovos of Gage, who famously survived an 1848 explosion in which a railroad tamping iron was driven through his skull and has since become a folk legend.
"It's not just about historical significance of a thing, but how people talk about it today, how it resonates in the culture," Kolovos explained. He added that he'd love to see a sign reflecting on the H.P. Lovecraft story "The Whisperer in the Darkness," which is set outside of Bellows Falls, but deemed it "a stretch."
Kolovos went on to say that VFC is not only looking for "
Atlas Obscura
-quality stuff, but hyperlocal things that are significant to a particular town."
But he concedes the
Atlas Obscura-
quality
stuff would be pretty cool, too.
"I'm interested in historical cryptids, I'm interested in ghosts," Kolovos said. "I'm interested in stories of the supernatural."
Or, as Citro put it in a press release, "While history might be the body of a state, legends and lore are its spirit."