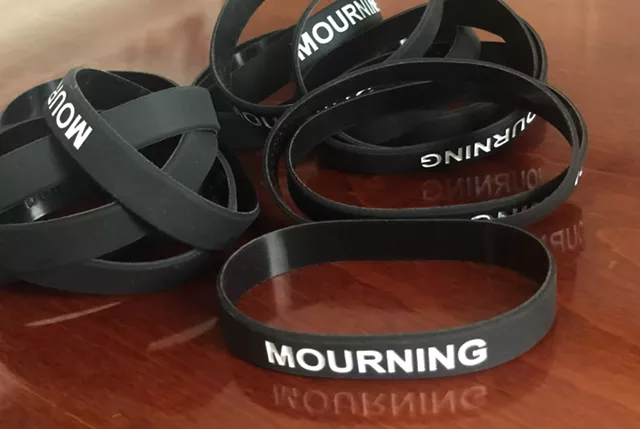 Courtesy of Anne-Marie Keppel
Mourning bracelets
As a
death doula
and a funeral celebrant, Anne-Marie Keppel doesn't shy away from talking about death. But for most of us, death is a difficult subject to broach. That's often especially true for those who have recently lost loved ones.
Long gone are the days when people would wear mourning clothes, so it isn't always obvious when someone has suffered a loss. "There's no signal to each other that [we] are in pain," Keppel noted. "I think it's a societal change that we need to have."
Last week, the 41-year-old Craftsbury Common resident introduced the
mourning bracelet
. It's a visual cue to others that the wearer needs space, understanding and solidarity.
"We're never going to be able to send T-shirts nationwide that says, 'I'm mourning,'" said Keppel. The wristband is subtle, yet powerful, she continued.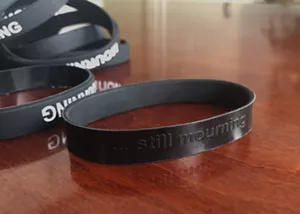 Courtesy of Anne-Marie Keppel
Mourning bracelets
The design of the wristband is simple. It's black and marked with the word "MOURNING." When their grief has lessened, the mourner can wear the bracelet inside out, which bear the words "… still mourning."
Bracelets are
available in packs of 10 for $20
. Keppel said she sells the bracelets in packs because death doesn't only affect one person. Families, friends and community members can wear the bracelets to show support. It's also not cost-efficient or practical to sell just one bracelet, she pointed out. So far, orders have come from California, Indiana, Oregon and South Carolina.
Courtesy of Anne-Marie Keppel
Anne-Marie Keppel
Keppel, who is an account manager for a jewelry company by day, said she's thinking about designing different versions of the mourning bracelet. There could be one in red writing for gun violence awareness and another in purple writing for suicide awareness.
The doula is not patenting her design and doesn't mind if others copy it.
Much like the yellow wristband popularized by cyclist Lance Armstrong that's synonymous with cancer awareness, Keppel hopes that the black bracelet will catch on.
"The point," she said, " is to start a social movement."