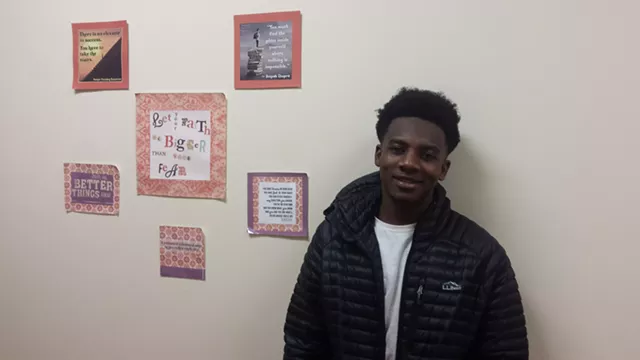 Kymelya Sari
Kahambwe Prince Felekeni
Local rapper Kahambwe Prince Felekeni, 22, said he first heard Tupac Shakur's music when he was in a refugee camp in Tanzania. The American hip-hop artist died in the same year that he was born.
"That's how powerful music is," said Felekeni, who also goes by the moniker K Prince. "You can be gone, but your voice is still heard."
Earlier this month, Felekeni released a music video for "Young King." The song's main message, he said, is this: "If you want something, you can't just wait for someone to bring it to you." Winooski-based Que Beats produced the music video, which was filmed at Battery Park and the
Boys & Girls Club of Burlington
.
Felekeni was born in the Democratic Republic of Congo. War in his native country forced him and his family to flee to Tanzania when he was 4. He spent most of his childhood there, where he wrote his first song, which was about HIV and AIDS. "It was a problem that some people had," the rapper said.
Felekeni and his family moved to the U.S. in 2010, and he graduated from
Burlington High School
in 2015. He moved to Texas in 2017 but didn't stay there for long. These days, as soon as he finishes his shift at the
University of Vermont Dining
, he works on his music.
Before he writes his lyrics, Felekeni gets beats from his friends. "You're inspired by the beat," he explained. "The message that you have goes with the beat."
Through his music, Fekeleni said he wants to inspire youths to be critical thinkers, appreciate life and put in the hard work necessary to fulfill their goals.
He records his songs at
Creamy Goodness Productions and Studio
, which is owned by David Cooper, a member of
Mellow Yellow
and manager of hip-hop group
A2VT
.
Just as Tupac wrote "Dear Mama" as a tribute to his mother, Felekeni has written two songs — "Mama Don't Cry" and "I'm Sorry Mama" — for his own mother. The former is in English, while the second is in English and Swahili. Fekeleni has been separated from his mother since he was 4. He believes she's still in Congo.
Felekeni said he performed a few times in Texas but hasn't been onstage much since he returned to Vermont. Like most other musicians, he finds it difficult to juggle work and music, and to get his songs out to a larger audience.
But he has a strategy: to make more music videos, which requires more work and money. But he stands by his ethos: "Anything that's good," noted Felekeni, "it takes a little time."
Cultural Mosaic is a series about performing artists in Vermont from diverse ethnic and cultural backgrounds. Got an artist we should know about? Let us know!