Courtesy of Green Candle Theatre Co.
Josh Bridgman
If you've lived in Burlington at any point over the last 30 years or so, you likely knew Josh Bridgman, even if you never actually met him. He could often be found haunting the margins at one of his usual spots — Uncommon Grounds, Radio Bean or the Other Place.
Or you might have encountered him taking tickets at the downtown parking garage, where he worked for years. Perpetually rumpled and typically clad in his distinctive glasses and trench coat — and known for his equally distinctive and
loud
laugh — Bridgman was a Queen City fixture.
"He was a guy that a lot of people knew just because he was out and about and had a peculiar look about him," said filmmaker Bill Simmon, former director of media services at
VCAM
. "So, whether you knew him or not, you knew
of
him if you lived in town."
Bridgman, 51, died unexpectedly earlier this week. As of this writing, the cause and time of death is unknown, pending an autopsy. Neither foul play nor suicide is suspected.
Bridgman was a talented and prolific writer and actor with a lengthy list of local collaboration credits. He was in the original cast of Stephen Goldberg's
Curb Divers of Redemption
, and acted in and helped produce filmmaker Keith Spiegel's film
Junior Defenders
. Bridgman appeared in the 2008 production of Aaron Masi's
The Nose
, and in a 2012 play,
Napoleon 2012,
by John Milton Oliver.
His talents extended beyond the stage and screen. Bridgman wrote a song, "Broken Hand," for the 1990s Burlington band Construction Joe. He appeared regularly as a guest on the local public-access TV show "Matty and Stech Variety Hour," and was a contributor to Rael One-Cloud's zine,
AlphaBitch Afterbirth
.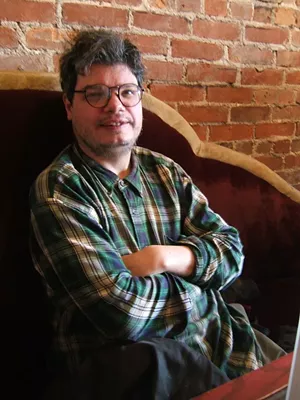 File: Cathy Resmer
Josh Bridgman in 2006
"If I ever write anything for the
New Yorker
,"
Bridgman told Seven Days in 2006
, "I want
AlphaBitch Afterbirth
in my bio."
The
New Yorker
never came calling. But as a writer, Bridgman made an indelible mark locally with innumerable monologues and at least two well-received plays: the 2006 semi-autobiographical sci-fi romp
Silent Invasion
and 2010's
Concrete Kingdom
. Both used alien invasions to touch on larger themes of paranoia and isolation, and both were produced by Burlington's
Green Candle Theatre Company
.
Those two plays were part of a trilogy, the final installment of which Bridgman had recently completed and Green Candle has committed to producing.
"I've never met anyone so full of life, so fearless and so unapologetic for who they were," said Tracey Girdich, an actor and member of the GCTC who performed "countless" Bridgman monologues over the course of their long friendship. "His heart was so big and every emotion was present. And that inspired me."
"As a friend and theater artist, working with Josh has been a singularly authentic experience," said Alex Dostie, Girdich's husband and a collaborator of Bridgman's who sits on the GCTC board of directors. "Josh was a profoundly independent thinker and the most present conversationalist I have ever met."
"He fully lived within every moment," said Girdich. "And that energy is what made him so memorable. He was quirky, he was mischievous, he was brilliant."
Those qualities added up to a unique figure in the Queen City — a "Burlington icon," according to the aforementioned
Seven Days
article.
"Every city has characters that distinguish it from any other place," wrote
Seven Days
' Cathy Resmer about Bridgman in 2006. "They're not always wealthy or influential; they're just people everybody knows, if not by name, then by sight. Even if you don't like them, you take a certain pride in recognizing these people, because that knowledge identifies you as a local."
"He was such a part of the fabric of the city and just a genuinely odd duck in a fantastic way," said Simmon. "A friend of mine texted me and said 'Burlington just got a little less Burlington,' and I think that's a good way to put it."
"The world and Burlington and are a little more normal and a little less special without him," wrote Radio Bean owner Lee Anderson on Facebook.
An unofficial public memorial for Bridgman will be held on Thursday, December 27, at 6 p.m. at
Radio Bean
in Burlington. Details for an official memorial will be announced at that event.
Correction, December 19, 2018: This post has been updated to reflect that Bill Simmon is a former VCAM employee, and that Josh Bridgman was 51.