Last month, I wrote about how
Vermont College of Fine Arts in Montpelier has been cleaning up when it comes to literary honors
, producing a wealth of National Book Award winners and finalists. Seems this year is no exception. Yesterday, the college announced that two more of its affiliates are finalists in the prestigious competition.
Poet
Terrance Hayes
, a past National Book Award winner and a MacArthur Fellow, will be a guest writer at the college's MFA in Writing program this December. A finalist for
American Sonnets for My Past and Future Assassin
, written during the first 200 days of the Trump presidency, he's the artist-in-residence at New York University.
Closer to home, East Calais young-adult author
M.T. Anderson
is also no stranger to the NBA roster: He won for
The Astonishing Life of Octavian Nothing, Traitor to the Nation, Volume 1: The Pox Party
in 2006 and was a finalist for
Feed
in 2002.
This year Anderson is a finalist (with illustrator Eugene Yelchin) for
The Assassination of Brangwain Spurge
, which he calls "a fairytale spy story about how we train ourselves to misunderstand each other." Mixing flights of fancy with social commentary is nothing new for Anderson: Last year
I reviewed his Landscape With Invisible Hand
, a critique of trickle-down economics wrapped in a witty, moving story of a teenage boy living under alien colonization. Local classical music fans may also know Anderson for his involvement in
music-and-text events
.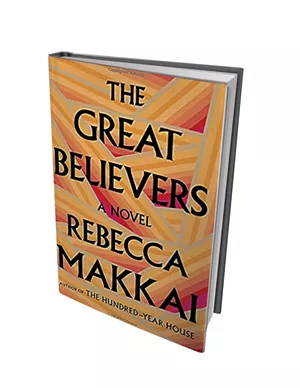 Among the adult fiction finalists is
The Great Believers
, by part-time Vermont resident Rebecca Makkai, which
I reviewed this past summer
. The novel follows a group of gay men in Chicago in the early years of the AIDS epidemic, showing the repercussions of their story in the present.
On the nonfiction side, also on the NBA's shortlist is Colin Calloway, a professor of history and member of the Native Studies faculty at Dartmouth College, for
The Indian World of George Washington: The First President, the First Americans, and the Birth of the Nation.
The book uses George Washington's life as a framework to examine the changing fortunes of Native Americans in the early days of the United States. In a
press release
from the college, Calloway says his aim was "to get Native American history into American history in a significant way so that it's not just a footnote or a sideshow."
The winners of this year's National Book Awards will be announced on November 14 in New York City.