Screenshot: Saturday Night Live
Beck Bennett and Kyle Mooney
The long-running NBC sketch comedy show "
Saturday Night Live
" opened its 44th season on Saturday with actor Adam Driver as host and musical guest Kanye West. Alongside bits on the
Kavanaugh hearings
and the video game
Fortnite
— as well as an
impromptu speech by West in support of President Trump
that didn't air in the original live broadcast — was a sketch that lampooned Vermont, the second whitest state in the country, for its lack of diversity.
The bit was set at a community center meeting of the League of the South. During the meeting, a group member named Jim, played by Beck Bennett, bemoans a perceived lack of progress since the Unite the Right Rally in August 2017, when thousands of white supremacists marched on Charlottesville, Va.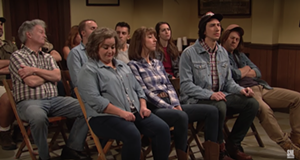 Screenshot: Saturday Night Live
Adam Driver, second from the right
His solution: Create a new "Caucasian paradise" with "no immigrants and no minorities. An agrarian community where everyone lives in harmony, because every single person is white."
Jim's description rings familiar to Driver's character, who raises hand and says, "Yeah, I know that place. That sounds like Vermont."
After a brief back and forth, Jim explains his idea further. "I'm sorry, but you don't seem to understand," he says. "What I'm proposing is a whole new society going back to a time when a white man can take things that he grew from the ground and trade them with another white man who grew things from the ground."
"Yeah," says Driver. "That's a farmers market and they're all over Vermont."
The bit continues as the white supremacist group excitedly riffs on all things Vermont-y: Subarus, dogs in bandanas, covered bridges, spiced apple compote, old farmhouses.
Then, a black security guard named William, played by Chris Redd, enters to inform the group to wrap up its "little Confederate pity party" and clear out for an A.A. meeting.
"William," asks Jim. "Have you ever been to Vermont?"
"Vermont?" William replies. "Why would I want to go there? There's no hip-hop on the radio, people to pay to run around in corn mazes and there's not a black face for miles.
Hell
no."
Watch the entire sketch below.