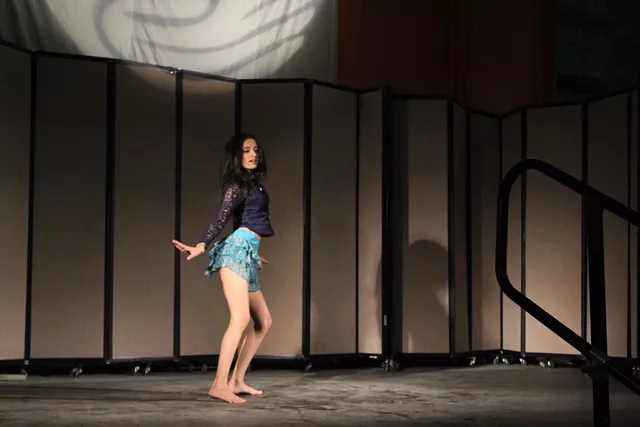 Courtesy of Susmita Dhakal
Susmita Dhakal
While some people treat "diversity" and "inclusivity" as buzzwords, for Susmita Dhakal those terms are guiding principles. Dhakal, a Bollywood dance performer, is a member of the local Afro-pop group,
A2VT
.
"I've always been the person [who] gets involved in different cultures because I feel that's the way I grow," said the
University of Vermont
sophomore. A native of Nepal born to Bhutanese refugees, Dhakal is the only A2VT member who's not from the African diaspora. She joined the group about six months ago.
"She brings a bit of Bollywood vibe to [the group]," said A2VT manager David Cooper. "They embraced her."
Though Dhakal isn't from Africa, she came to the U.S. as a refugee, just like the other members of A2VT. "Her story is similar to theirs," said Cooper.
Dhakal, 19, started dancing when she was about 5. Her mother was her first teacher. At that time, Dhakal only knew Nepali cultural dance.
After her family resettled in the U.S. in 2010, her dance repertoire expanded to include Bollywood, hip-hop and salsa. "I had access to the internet and a laptop," Dhakal recalled. "I started dancing a lot, alone at home, just by watching YouTube videos."
Bright costumes and makeup are essential components of Dhakal's performance. "When it comes to eye shadow and eyeliner, you should make it bright so that [the audience] can see your eyes," said Dhakal, "'cause Bollywood dancing and Nepali dancing are all about expressions."
According to Dhakal, dancing allows her to remain connected to her culture as well as establish new relations with the wider community. It's also a stress coping mechanism for her.
Courtesy of Julian Parker Burns
A2VT and Susmita Dhakal
The teen performed numerous times as a member of Diversity Rocks, to help the multicultural youth group fundraise for trips to New York City and Washington D.C. She also taught dance at an after school program two years ago.
Dhakal was a board member of
Young Tradition Vermont
, a nonprofit devoted to teaching traditional music and dance.
"Susmita was invited because of her experience with the programs we offer," said Young Tradition Vermont
executive director Mark Sustic.
Dhakal has been involved in a variety of the organization's activities, including the annual Young Tradition Weekend in May and the Young Tradition Reunion concerts in January.
One of Dhakal's strengths is "her experience and knowledge about an important cultural community in Vermont, which we wanted to have represented in our planning and decision making," Sustic continued.
Dhakal and Cooper both acknowledged that there are times when her dancing style doesn't go with A2VT's music, which ranges from Afro-pop to hip-hop. She'll sit out those performances. But she makes up for it during her own solo pieces.
Working with A2VT has been a great experience, said Dhakal. The group has several performances in the coming weeks, including a Labor Day event on Monday, September 3, at the Middlebury Town Green, which Sen. Bernie Sanders (I-Vt.) is expected to attend.
"This is probably part of her development as an artist," said Cooper of Dhakal. "She's coming to this place now where she wants to be on a bigger stage."
Cultural Mosaic is a series about performing artists in Vermont from diverse ethnic and cultural backgrounds. Got an artist we should know about? Let us know!

Correction: August 18, 2018
: An earlier version of this post misstated Susmita Dhakal's role in Young Tradition Vermont.