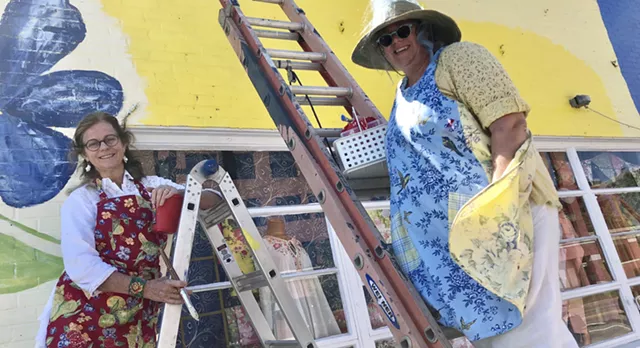 Sadie Williams
April Cornell (left) and Ginny Joyner
An already polychromatic building near the bottom of Main Street in Burlington is becoming
much
more colorful. Previously painted pastel yellow and pink, the
April Cornell
headquarters now sports more than 20 different colors. Depictions of flowers, cats and butterflies adorn the walls. Even the fire escape flaunts radiant multicolored steps.
The new look is prompted in part by a re-branding effort: The 43-year-old company just redesigned its logo. The "retro logo," as the eponymous owner calls the original, still appears on the back of the building. The new one is painted on the front. Cornell says painting the new logo on the squat, blocky building induced her to ask, "How do you take something industrial and make it joyful?" The solution: more color.
Sadie Williams
Freshly painted steps for April Cornell's fire escape
"We were just ready to do some happy stuff," she continues, brush in hand. Cornell designed all of the new murals and is painting them with help from local artist
Ginny Joyner
and a few commercial painters.
The building's exterior is beginning to more closely reflect the products in its interior, which hosts the company's retail operation and offices. Cornell's clothing, linens and accessories celebrate florals, lace and intricate patterns.
The new murals include larger-than-life butterflies (which the owner hopes kids will use for photo ops), planters brimming with bright flowers, a nature girl with curly red hair similar to Cornell's tumbling tendrils, and laundry baskets for a clothing-line mural she painted a few years ago.
When asked how long it will take to complete the murals, Cornell gives a wry smile. "We're going to stop before the snow falls," she says. And when it does, the building will be a perfect pick-me-up for anyone driving by.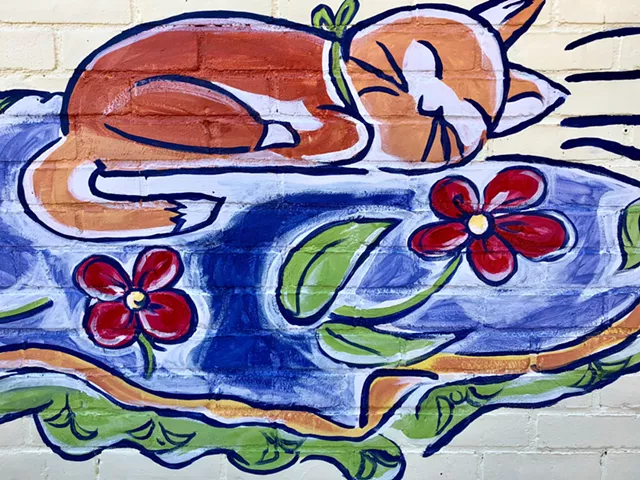 Sadie Williams
A sleeping cat mural at April Cornell