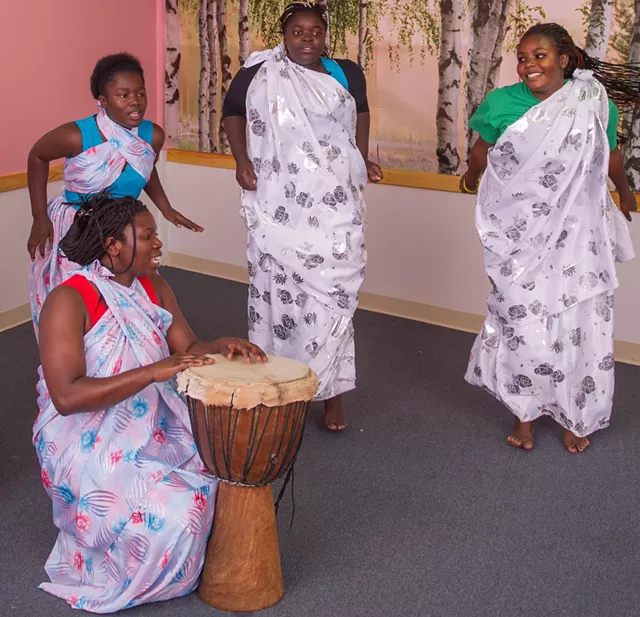 Courtesy of Jeff Woodward
Aline Mukiza (with drum) and Burundian dancers
The
Vermont Arts Council
is on a mission to broaden the definition of who a Vermont artist is, said director Karen Mittelman. "There are new groups of Americans who are enriching [the] landscape in ways that most people don't see and recognize," she said.
Mittelman is hopeful that the arts agency's latest photo exhibit will introduce residents and visitors to the state's diverse cultural landscape.
With help from the
Vermont Folklife Center
, the VAC has assembled a collection of photographs for its Spotlight Gallery that feature the music, dance and fiber traditions of local Bhutanese, Bosnian, Burundian, Karen, Somali and Tibetan communities.
The exhibition is in part a tribute to the Folklife Center's former director Greg Sharrow, who died earlier this year. Sharrow worked in a number of capacities at the center for 30 years.
One of his most notable legacies is the
Vermont Traditional Arts Apprenticeship Program
, which he developed in 1993 with backing from the arts council and funding from the
National Endowment for the Arts
. Through this program, master artists teach and pass on their traditional art forms to apprentices, who are committed to practicing them. The initiative has supported more than 300 apprenticeships in 25 years.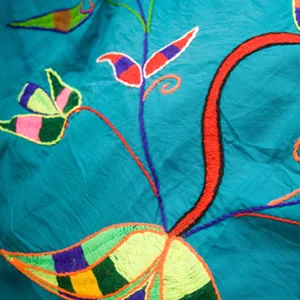 Courtesy of Ned Castle
Somali Bantu embroidery
The program has been instrumental in helping many New American artists, including those featured in the current exhibition, to get the resources they need to continue and share their artistic traditions, said VFC director Kathleen Haughey.
"This exhibit does a great job of broadening the average Vermonter's expectations about what type of artists exist in Vermont," said Haughey. "And it can introduce people to a diversity of really exciting cultural traditions that are being renewed and invigorated here."
The photos are accompanied by an introductory text and quotes from interviews that Sharrow had done with the master artists over the years.
One such artist was Aline Mukiza, the leader of Inyange, a Burundian women's chorus and dance group. In an interview with Sharrow, she said, "The group gives these young women a chance to come together and talk about their culture. They can say, 'This is ours. This represents who we are.'"
The photographs of Karen weavers, young Tibetan musicians and a Somali wedding band will be among those on display at the Spotlight Gallery through August.