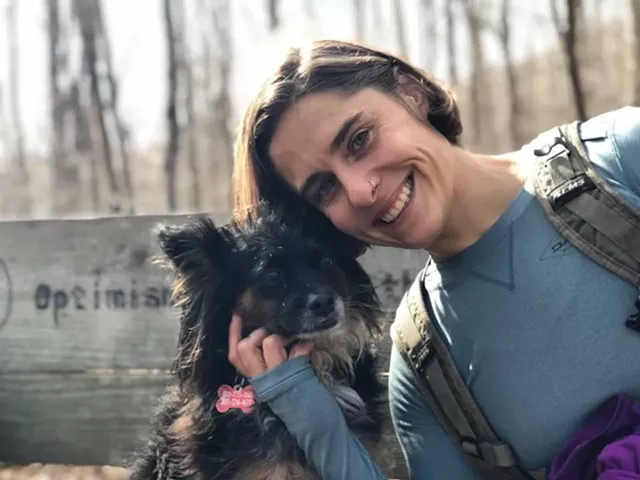 Courtesy of Betsy LeBlanc
Betsy LeBlanc and Sam
Elisabeth "Betsy" LeBlanc remembers being five years old and scrawling "I want to die" on plastic decorative balloons in her room. Months later, the self-abuse began. When she was in third grade, her family doctor noticed the bruises and bite marks on LeBlanc's arms. She had her first major crisis in high school and got help through therapy.
"You might ask why would a five-year-old want to die," says LeBlanc, now 40, in a video that she uploaded on Facebook. "I genuinely believed people would be better off without me."
LeBlanc continues that she was "properly medicated" for the first time when she was 27. It was also the first time she was able to experience anything other than depression, she adds.
On Friday, June 29, LeBlanc, a classically trained musician and fitness instructor, will begin hiking the Long Trail to raise awareness of suicide and suicide prevention, and to "foster an open conservation about suicide" in an "inclusive and stigma-free environment." Her dog, Sam, will accompany her.
Suicide was the eighth-leading cause of death among Vermonters and the tenth-leading cause in the U.S. in 2015, according to a
data brief
published by the
Vermont Department of Health
in December 2017.
Openly discussing mental health and suicide is taboo in many cultures, the United States included. But the recent deaths of Swedish musician and DJ Avicii, fashion designer Kate Spade and celebrity chef Anthony Bourdain by suicide have pushed those issues into the national dialogue. "The signs are not obvious when someone is in crisis," says LeBlanc.
LeBlanc has named her project
"No One Has to Walk Alone."
The
candid video
in which she describes her experience with depression is one of five she's uploaded to the project's Facebook page.
Her endeavor is also a
fundraiser
for the
Vermont Suicide Prevention Center
and UMatter, a youth suicide prevention training program. The
Northwestern Counseling & Support Services
, a human services agency serving Franklin and Grand Isle Counties, is helping LeBlanc with publicity.
With the help of her friend, Dr. Christine DiBlasio of Stone House Associates, LeBlanc conceived the idea of the hike and fundraiser in April. "I really came out publicly about my struggles around the same time," LeBlanc explains.
LeBlanc met with
Seven Days
last week to talk more about her "No One Has to Walk Alone" endeavor, as well as share stories of her struggles.
SEVEN DAYS: What made you decide to be open and honest about living with depression?
BETSY LEBLANC: I've struggled with depression and suicide my entire life. In the past couple of years, I've opened up about it a little more and discovered that many other people struggle with the same issue.
Depression is
really
isolating. I know everybody struggles with something, but I didn't know so many people struggle with depression and even had thoughts of suicide or were survivors of suicide. When I started hearing other people's stories, it helped me. So I thought sharing my story would help other people.
Suicide is increasing nationally and in Vermont as well. Isolation is a breeding ground for depression because you're not connecting. I wanted to connect with people over it and create awareness for suicide prevention.

SD: And how would your project allow people to make those connections?
BL: I've shared videos of my personal experience through Facebook. It has got people talking, people sending me messages, and when seeing me in person, just wanting to talk about it.

 I've connected with a lot of people — those whom I knew previously and those I've met while I'm hiking.
I'm happy to talk. I don't give advice. I'm not a professional and don't feel comfortable giving advice. I'm really just someone who has the experience. The Vermont Suicide Prevention Center can provide the statistics and the Northwestern Counseling & Support Services can provide services. I'm just a relatable person.
SD: What are some of the preconceived notions people have of someone with depression?
BL: I can only speak for my experience. I have never been able to just change how I feel. I've tried thinking more positively. I've tried many different strategies to change how I feel, denying how I feel, and I can't do it. I have done a lot of hard work through therapy to understand my thought pattern, to understand my triggers. But even with medication, I can't change what naturally comes up in the way that I think and in the way that I feel. The best I can do is understand it and prepare myself.
There have been expectations for me to feel or think differently, and it's not always something I can switch on and off. It's really hard for everybody. It's hard for the person who's struggling. It's also hard for the family and loved ones. They feel helpless. When I'm in a bad place, I can just see the helplessness. They want to offer advice, they want to make it go away and they can't. And it can sometimes be expressed in anger and frustration. It's a big challenge for everybody.
SD: How can family members or loved ones support someone who has depression?
BL:
For me, depression is
really, really
isolating. I struggle with self-destructive thoughts and behavior. I know it's not healthy to have those things. But I have them anyway and I can't change them. And that makes me feel shame, thinking that I do this, it's my fault or have done this to myself.
If loved ones can be patient and understanding, that helps a lot. People with depression already feel shame. There's a lot of internal judgment going on. To couple it with judgment and criticisms from the outside makes it doubly hard. And that's not to dismiss their frustration and their experience, but sometimes just being there quietly can be enough for me. Awareness and understanding are key. We can all work on walking in each other's shoes a little more.
SD: What will be in your hiking backpack?
BL:
I'm going to try to keep it as light as possible. I'll have all the standard gear like a tent, sleeping bag, sleeping pad and a lot of dry food. I can take ramen noodles because I'll have a little stove to boil water. And I'll actually have coffee. First aid kit, head lamp, the practical safety stuff. And food for my dog, obviously. I'm bringing a journal, too.
SD: The name of your project is "No One has to Walk Alone." Who'll be helping or accompanying you during the hike?
BL
:
Every four days, someone will meet me with new food, maybe new clothes. My dad is helping. A friend that I sing with. Friends of mine from the gym. I have a mentor who has hiked the trail before and she's helping me with what I need and [giving] advice for being out there. I am going to stay at her house for one day just so we can catch up. Colleagues from my wind group [Heliand Consort] that I play with will meet me also. And my hiking partner will meet at the end to walk the last day with me. I really feel a lot of love and support. It means a lot.
SD: What's next for you after hiking the Long Trail?
BL: I want to keep the conversation going. I think it's one that needs to be in people's thoughts. I see this as the beginning.
September is suicide awareness month.
Northwestern Counseling & Support Services
has a half-hour television program once a week on the local public access channel in Franklin County. One of the four shows will be dedicated to my hike.