Courtesy of the Henry Sheldon Museum of Vermont History
Silhouettes of Sylvia Drake and Charity Bryant, circa 1805–15
Vermont's pioneering fight to legalize civil unions in 2000 cemented the state's place amidst the landscape of American queer and civil rights history. Within just the past several years, the Green Mountain State has emerged as home to another gay cultural landmark: a handmade silhouette considered to be the earliest image of a same-sex couple.

The small, intimate portrait of Charity Bryant and Sylvia Drake, which dates to the early 1800s, is now on view in "Black Out: Silhouettes Then and Now" at the Smithsonian Institute's National Portrait Gallery in Washington, D.C.

Curated by Asma Naeem, the show weaves together early, pre-photography silhouettes of people usually relegated to history's margins — slaves and women among them — along with works by contemporary artists who engage with the form, including Kara Walker. The silhouette of Bryant and Drake is on loan from the
Henry Sheldon Museum of Vermont History
in Middlebury.
"In most [silhouettes], you see men, women and married couples — [but] mostly, of course, men," said Henry Sheldon Museum archivist Eva Garcelon-Hart. "This is a very unusual piece because it's two women," she continued, "and it's also surrounded by human hair in the shape of a heart."

In 1807, Bryant and Drake moved in together in Weybridge, shortly after first meeting in Massachussetts. Both were in their twenties. The pair made a life together as a spiritually, if not legally, married couple until Bryant's death in 1851. Generations later, descendants of Drake donated a wealth of archival materials to the Henry Sheldon Museum, including letters, diaries, poems and other ephemera.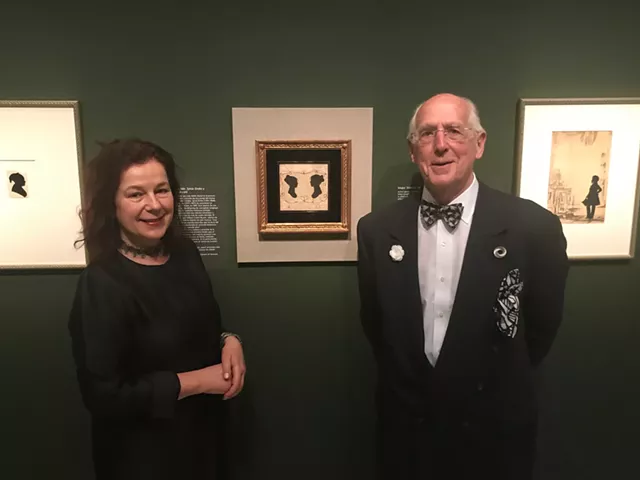 Courtesy of the Henry Sheldon Museum of Vermont History
Eva Garcelon-Hart (left) and Bill Brooks at the National Portrait Gallery
Bryant and Drake's relationship first came to the public eye through the research of University of Victoria historian Rachel Hope Cleves. "For several years, [Cleves] researched [our] collection and basically made this case that these women were a lesbian couple living together," Garcelon-Hart said.

Cleves published her findings in 2014, with the release of Charity & Sylvia: A Same-Sex Marriage in Early America, which featured the women's dual silhouette on its cover.

"The fact is that most of these stories [of early gay couples] were not documented as thoroughly as we happened to have," Garcelon-Hart explained. "That's the thrill of it. Not a long time ago, these kinds of stories were not discussed openly," she continued, "especially in relation to women who lived in a rural area."

Indeed, Bryant and Drake's choice to live in Vermont, as opposed to an urban area, is a significant aspect of Cleves' book: "Queer history has often focused on the modern city as the most potent site of gay liberation," wrote Cleves.
"Archives that are unexplored hide a story about our past that's worth exploring," said Garcelon-Hart. She added that since "Black Out" opened in May, the silhouette has received a lot of attention and publicity. "All of a sudden you see these silhouettes [shared], which I remember residing in a folder just about to fall apart," she said. "It really gives me a good feeling."
"Black Out: Silhouettes Then and Now" is on view at the Smithsonian Institute's National Portrait Gallery in Washington, D.C. until March 10, 2019.