Daniel Cardon
Image of "Output/Input" by Erika Senft Miller and Alder.
Anyone who frequents Burlington's
Maglianero
will be familiar with the hip downtown café's funky vault-cum-reading nook. Normally, the old metal vault houses shelves of books — which are all for sale and curated by
Speaking Volumes
— as well as two rough-hewn tree trunk stools and a table and chairs.
But last week, the space transformed into an unusual art installation. Now the vault boasts a fragrant carpet of slowly decaying (and alternately, sprouting) sod, barren white walls, and two interactive features. The installation, titled "Output/Input," is also the launch of artist
Erika Senft Miller's new website
, which is a collaboration of Miller and
Alder
, the design outfit of Jasmine Parsia and Chris Norris. All three work out of the
Karma Bird House
office and coworking spaces upstairs from Maglianero.
As its title suggests, "Output/Input" prompts participants to look at what we put out into the world, and what we take into ourselves. A podium in the middle of the room bears cards with short prompts to perform actions — output — through breath, movement or thought.
Behind the podium is a screen embedded in a white wall with a keyboard below. It asks for user input through questions such as "How are you grounded?" and "How do you see?" The responses are cataloged on
Senft Miller's new website
.
On the site, however, the answers users submit are not associated with certain questions. Rather, they're all a jumble. Parsia and Norris say that is intentional, and that the responses may have another life in one of Miller's future projects.
Daniel Cardon
Image of "Output/Input" by Erika Senft Miller and Alder.
Being in the installation is both calming and disturbing. The smell of the sod — which is increasingly fragrant after almost a week in the room — paired with the glow of the screen and the oddity of the actions one performs make for a wacky yet tantalizing few minutes. It asks one to consider not just how we relate to our devices, but how they relate to us, and where the signals that prompt action come from.
Parsia says not everyone has been at ease in the vault. One person approached her, frustrated at the seemingly endless cycle of questions. Parsia related that he asked her, "What is this all about? It just kept asking me questions and didn't tell me when to stop." Her response: "That's great, why did you stop? You should still be in there!"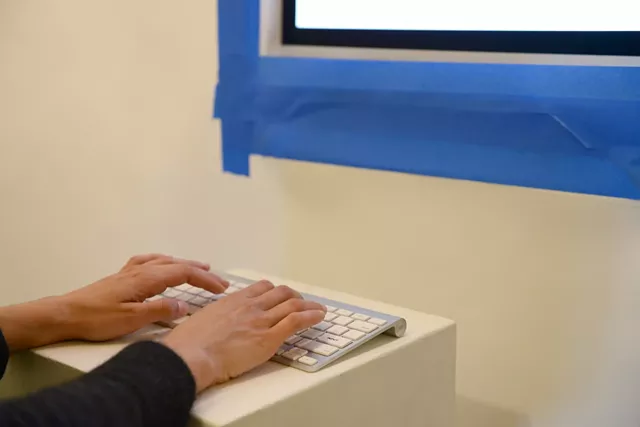 Daniel Cardon
Image of "Output/Input" by Erika Senft Miller and Alder.
Audrie Poole currently manages the Maglianero gallery space. Parsia and Norris will take over those duties next year. The Senft Miller installation is indicative of the kind of outside-of-the-box — inside-the-vault, in this case —curation they intend to foster.
"We're trying to expand the definition of the gallery to not just this room and this space — to the whole building," Norris says.
"Output/Input" will remain up through the end of the day on Monday, June 4.