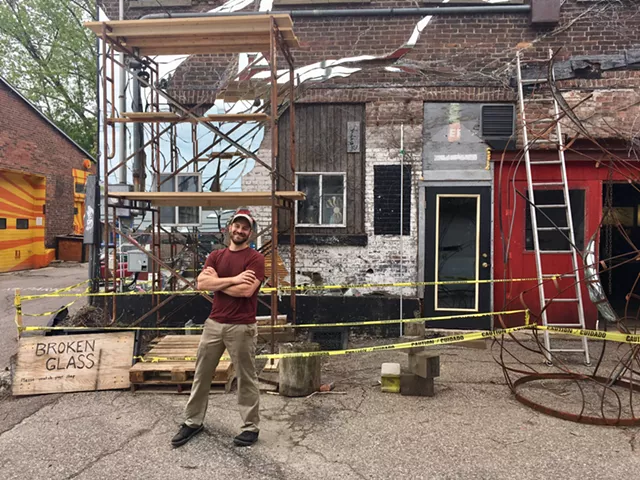 Sadie Williams
Aaron Grossman with mirror mural-in-progress
Anyone driving or walking behind
Speeder & Earl's Coffee
and the
SEABA Center
, through the warren of studios off Pine Street, might be in for a surprise. A large brick building that once looked like, well, a large brick building, now reflects the sky. The tricky mural is the work of metalsmith and glass artist Aaron Grossman, whose studio is behind a black door in the shiny façade.
Grossman started the piece about three weeks ago. He says he was inspired by the ivy that once covered the building; it was removed a year ago because it was damaging the brick.
Grossman's mural uses the remaining dead vines as a guide for arching and bending "branches" that creep across the brick wall. The mirror tree echoes the graceful lines of the ivy but, instead of being dark green, it reflects the white brick of the opposing building and the sky. The cumulative effect makes the building almost disappear.
"That's what I was hoping would happen," Grossman says.
He notes the community has been helpful. For example, a passerby noticed him working on a ladder and offered some old scaffolding; Grossman is now using to construct the upper part of the tree.
Others have contributed broken mirrors that were sitting idle in their homes. "I collect other people's bad luck," Grossman says with a laugh. Before attaching them to the wall, he rounds the edges to make sure they can't cut anyone — probably a good thing since the piece invites close reflection.
"Against the Wall" is an occasional series about murals in the Burlington area and beyond. If you see one or are planning one that we should know about, contact artnews@sevendaysvt.com.